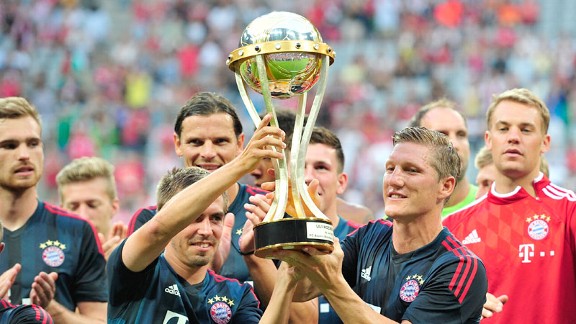 Lennart Preiss/Getty ImagesBayern Munich took down Barcelona to claim the Uli Hoeness Cup on Wednesday.
A few months after being throttled by Bayern Munich 7-0 on aggregate in the Champions League semifinals, Barcelona came back to the Allianz Arena for more of the same. Goals by Philipp Lahm and Mario Mandzukic sealed the 2-0 win for Bayern in the Uli Hoeness Cup; but the real winners were the three charities that benefited from the friendly match with a 2.5 million euro payout.

- Bayern see off Barcelona

Just under a minute in, Lionel Messi scampered through the midfield and shot just wide of Manuel Neuer, but that would be it for Barcelona's offensive output until the end of the first half. To be fair, it was the Catalan outfit's first match of the preseason, and while Messi was present, the club was missing notable stars Xavi and Andres Iniesta.

Meanwhile, Bayern Munich is deep into their season preparations and Pep Guardiola used his now familiar 4-1-4-1/4-3-3 hybrid to great effect in the first half. Although neither Franck Ribery nor David Alaba would end up on the scoreboard, the pair absolutely torched the left flank. Javier Mascherano was forced into ugly play -- and finally a yellow card -- to try and stop the Frenchman.

Toni Kroos thumped a drive at Jose Pinto before Arjen Robben came close to opening Bayern's account -- denied by Adriano at the goal line. And Alaba snapped one off, eliciting a nice save, again, from Pinto. But, the very next play would have fans around the world saying, "Did THAT just happen?"

Ribery floated a lovely cross into space in the box, and Lahm timed his run forward perfectly to flick a header past Pinto. Yes. A header. From 5'7" pocket-sized captain Lahm. It is the first, and probably only, headed goal in his career.

A couple minutes later Sergi Roberto should have equalized after breaking through the Bayern defense, but he missed his point-blank chance, while Thomas Mueller was denied by the woodwork. Rafinha would also almost equalize for Barcelona with a strongly mis-struck header, forcing Neuer in to a diving save.

The second half saw Barcelona field an entirely different starting XI, and Guardiola would slowly incorporate much of his bench -- most importantly, Bastian Schweinsteiger -- the vice-captain finally getting 20 minutes of play after undergoing ankle surgery in June.

A very impressive, very young Barcelona B squad were not cowed by the stunning array of international talent Guardiola put forth, and had the better run of play through much of the second half. But, Mario Mandzukic finished off Barca in the closing minutes with a tap in from a low Diego Contento cross.

While Barcelona lost, they perhaps gained the most from this match. To those who think that their dominance is over, one only has to look at the second half to see that there is an extremely talent group of youngsters coming right up.

And for Bayern? A decent match. Not too fantastic of a second half. But pretty much everyone got some minutes in before Saturday's Supercup showdown against Borussia Dortmund. And the world got to see the improbable Philipp Lahm header.