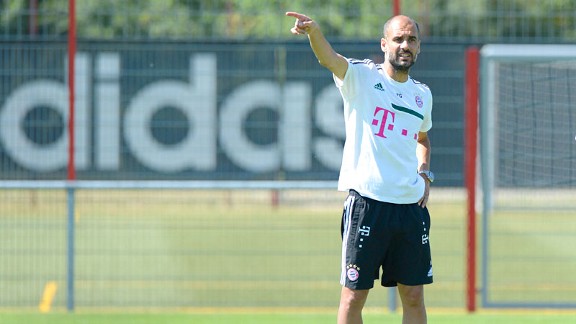 Christof Stache/Getty ImagesBayern Munich boss Pep Guardiola is planning to use a 4-1-4-1 formation during the Telekom Cup.
What was once called the T-Home Cup, then the LIGA total! Cup and now the Telekom Cup has been in existence since 2009. It is a preseason showcase of four prominent Bundesliga squads and a competition Bayern Munich has always been a part of. While I may rate it more highly if Bayern had actually ever won the trophy -- placing third, second, third, third -- the 60 minute matches are a nice little look into how the respective teams' preseasons have been going.

- Uersfeld: Only Bayern can beat Bayern

The Telekom Cup draw back in March originally had Bayern playing Dortmund the first round, but since they play each other in the DFL-Supercup a week later, they switched the opening opponents around so the two teams wouldn't be playing each other a possible three times in the preseason.

One might not care to remember that the reverse was true at the start of the 2012-13 campaign where Dortmund had secured the domestic double over runners-up Bayern. Of course, all's well that ends well, as Bayern went on to win their first competitive match in five tries against BvB in that Supercup. (More on this next week.)

So, instead of facing die Schwarzgelben, Bayern's opening match in this cup is against Hamburger SV. A team that beat Dortmund twice last year, but managed to lose to Bayern 12-2 on aggregate -- including the 9-2 shellacking in the Rueckrunde.

HSV coach Thorsten Fink told Bundesliga.com that this season's edition of Hamburg will be "a great gang of little rascals." Little, perhaps, until you consider the size of 6'5" Lasse Sobiech, brought in from Dortmund, as well as Swiss player Johan Djourou to help solidify last year's shaky back line. Add former Basel striker Jacques Zoua -- who replaces Heung Min Son -- and Fink has some fresh faces to hopefully steady last year's topsy-turvy squad.

Meanwhile, Bayern have said goodbye to Anatoliy Tymoshchuk and Mario Gomez, and welcomed Mario Goetze, Jan Kirchhoff and Thiago Alcantara into the fold. With Goetze likely out, Bastian Schweinsteiger just returning to practice, and the Confederations Cup trio just getting back to Munich, Pep Guardiola is likely to field a 4-1-4-1 formation that he's been experimenting with this preseason. It'll be interesting to see how this works out against Bundesliga competition.

The other match pits the two Borussias together. Host Moenchengladbach has seen Igor de Camagaro stay with Hoffenheim, while striker Mike Hanke has moved on to Frankfurt. But trainer Lucien Favre struck great with Freiburg's midfielder Max Kruse, and fellow mid Raffael (Dynamo Kyiv, on loan to Schalke last season).

The Foals beat Nuremberg 3-0 Wednesday, but lost to 2. Bundesliga outfit FC Ingolstadt just four days before.

Borussia Dortmund has likely had the best preseason of the four teams. Although they lost Goetze to Bayern, coach Juergen Klopp found replacements in Pierre-Emerick Aubameyang and Henrikh Mkhitaryan, and for long-term injured player Lukasz Piszczek, in steps Werder Bremen's Sokratis Papastathopoulos.

And if consistently having the most difficult names in the Bundesliga wasn't enough, management decided to hold on to want-away-to-Bayern striker Robert Lewandowski. "He's been great," said Klopp of Lewandowski, "professional." And as a personal aside, he's starting to grow on me. The man's got integrity to do the job for BvB this year. Really, what's not to like?

Mkhitaryan, who Klopp colorfully spoke of as fitting "in here like a fist in your eye", has suffered ankle ligament tears and will not be available for another month, missing also next weekend's Supercup showdown.

While this tournament is more entertainment than anything else, there is still information to be gleaned here. Especially for Bayern Munich. How far along has the 4-1-4-1 come? The players, throughout this preseason, have been scrambling to learn it.

"We're working flat out to learn and do what the coach wants as fast as we can," Xherdan Shaqiri told the team website, "We'll have mastered it by the time the season starts."

That's all fine and good, Shaqiri, but there'll be heck to pay if Bayern doesn't get a positive result against Barcelona in the midweek and then against Dortmund in the Supercup next weekend.

But for now I'll be happy with the prospect of Bundesliga football, and I am heartily glad it's back. Now if only that transfer window would close...