A murder of Munich midfielders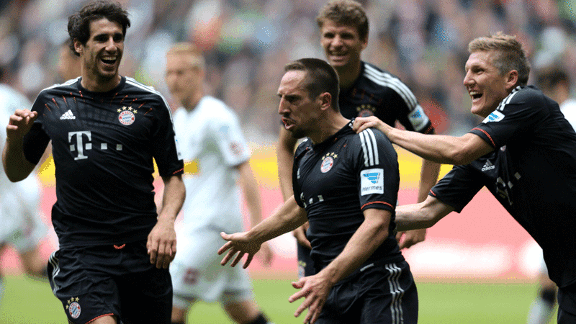 GettyImagesBayern Munich boast an abundance of midfield talent in their ranks regardless of Thiago Alcantara's addition
Collective nouns, in English, are a quirky -- yet strangely poetic -- way to classify a group of animals. While most will know a pride of lions, or a gaggle of geese, my favorites tend to be more obscure: An exaltation of larks, a convocation of eagles, an unkindness of ravens, a murder of crows.

I will borrow, here, the collective noun for crows because the alliteration works well. And because Bayern Munich is truly stacked with midfielders. A murder of midfielders.

So why Thiago Alcantara?

Karl-Heinz Rummenigge only a few days ago revealed to Sport Bild that Pep Guardiola had wanted Neymar to come to Bayern. Eventually, the Catalan coach was talked out of the Brazilian in a meeting in Zurich by Rummenigge, referencing the bad luck Bayern had in the past with transferring South Americans (Breno, anyone?) directly to Germany's biggest club. And the weather.

Perhaps under pressure to forge his own Bayern identity, Guardiola recently confirmed that Barcelona's Thiago Alcantara was on his wish list. "I want Thiago Alcantara, I have asked [Bayern to get him]," he said.

"I know him very, very well. He's a great player and can cover three, four, five positions. [He] is the only player I want, it will be him or no one. We have many players, but we need the special qualities Thiago Alcantara brings."

Hold on. What special qualities does Alcantara bring? And more importantly: At what cost?

Not to say he is without talent; he is, after all, Spain's Under-21 captain. But what on his resume stands out to challenge the majority of the current Bayern lineup?

In 2011, he extend his Barcelona contract until 2015, but failed to meet the requirements of his 90 million euro buyout clause (organized by his agent, Pere Guardiola, the brother of Pep, and his father, Mazinho, formerly a Brazil international); instead the amount dropped to 18 million euros. A bargain, one might be led to think, noting his perfect hat trick June 18 against Italy in the European Under-21 Championship final.

OK. So he plays football. Well. Better than most. But why is he so needed in a team full of superstars? You can argue about who has the better midfield till the end of time, but currently Bayern Munich and Barcelona would make the top three on anyone's list. And noting the demolition of Barcelona by Bayern in last season's Champions League, Bayern will end up No. 1 for almost all.

Every single midfield position at Bayern has at least two reliable backups. More than reliable. If Alcantara is looking for more playing time, what hope does he have in Munich's squad?

Assuming everyone, as of now, is staying. The midfield breaks down like this:

Defensive midfielders: Bastian Schweinsteiger, Javi Martinez, Luiz Gustavo, Toni Kroos, Emre Can, David Alaba.

Right wing: Arjen Robben, Thomas Mueller, Xherdan Shaqiri.

Left wing: Franck Ribery, Shaqiri, David Alaba.

Central attacking midfielder: Mario Goetze, Mueller, Kroos, Ribery, Claudio Pizarro, Schweinsteiger.

An absolute murder of midfielders, right? And this isn't even including the youngsters who may be promoted.

I've left out Shaqiri as a CAM strictly because he's too small to play the position in German football, as evidenced by his run at it last season. And there's a point to be made about height, as well. Alcantara would be taller than only Philipp Lahm, Shaqiri and Rafinha in the Bayern squad.

And in Bundesliga football, size does matter. Some have intimated that Bayern's success last season was more due to brawn than footballing brains. While flashes of brilliance come hard and fast, this is the nature of the way it's done in Deutschland. Beautiful passes come as they may, but one still must muscle his opponent off the ball when the opportunity arises. A slight 5-foot-7 Spaniard might not be up to the task.

Perhaps this is Guardiola just wanting to put his stamp on the team, but to what effect? Moving Javi Martinez back to a spot at centre back that he hated playing at Athletic Bilbao? Forgoing Luiz Gustavo (who would likely be odd man out)? Toni Kroos? Jerome Boateng?

Pep, at this point, with a Thiago signing, could very well lose the dressing room, with Bayern Munich looking nothing like the treble-winning team it was a couple of months ago.

In 2011, Thiago said, "I'd be lying if I said my dream is to succeed at Barcelona. My dream is to succeed in football." Perhaps he should agree to terms with Manchester United. They need him much more than Bayern Munich.

While Alcantara may be a boon in the end, to me he's superfluous to Bayern's needs. They've already got a murder of midfielders.