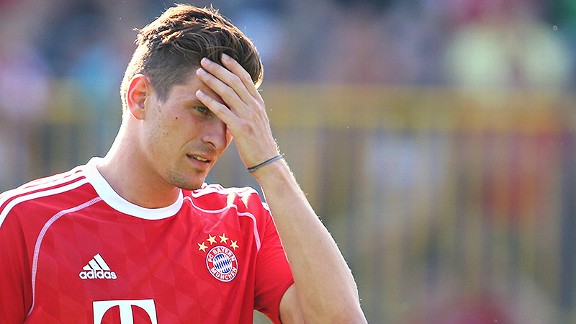 Alexander Hassenstein/Getty ImagesGomez leaves a rich and productive legacy in Munich as he prepares to tackle Serie A.
On May 7, 2007, Luca Toni was unveiled at Bayern Munich after scoring 49 goals in two seasons for Fiorentina. On Monday, Bayern gave a prolific striker back to la Viola -- Mario Gomez -- for the low, low price of 16 million euro up-front plus a reported additional four million in bonuses.

Only a few days ago, it looked like this deal was not going to go through as Fiorentina isn't exactly flush with cash. Sporting director Daniele Prade told reporters that "Gomez is a player that interests us, but in this moment there aren't any agreements to close the negotiation. He will cost a lot and we must adhere to the economic parameters we have set ourselves," continuing, "Our relationship with Bayern Munich is solid though."

Report: Gomez joins Fiorentina

Solid enough, it seems, that Bayern would let the striker leave for likely less than he is worth. But Karl-Heinz Rummenigge gave the honest truth of the deal, noting that "it was Mario Gomez' desire to leave Bayern and join Fiorentina. We've now accommodated his wishes."

Gomez, who joined Bayern Munich in 2009 for a then-Bundesliga record 35 million euros after a stellar four seasons at Stuttgart, would go on to net 112 goals in 172 appearances for Bayern over the next four years, winning two Pokals, two Bundesliga Championships and of course, a Champions League title with the Rekordmeisters.

Said Gomez, "Bayern Munich made it possible for me to achieve the greatest wish of any footballer: Winning the Champions League."

As Gomez came to be a regular starter -- first when coach Louis van Gaal preferred him over Miroslav Klose and again when Ivica Olic was out with injury -- so it went that he lost his regular berth in the same fashion. An ankle injury saw him left out at the beginning of last season before substitute Mario Mandzukic ended up doing a fantastic job for Jupp Heynckes.

Like a lot of other summer transfers, Gomez is looking for regular first-team football ahead of next summer's World Cup. And not being assured of a berth even this season, he made the decision to leave. "I love football, and just want to be playing more," he said.

"Now begins a new chapter for me and I am looking forward to my new club Fiorentina: The city, the country, the language and the culture. And of course the delicious food."

A squealing girl's fan favorite for his astonishing good looks -- and a favorite of guys, as well, for his finishing abilities -- Mario Gomez now takes his back-handed goal celebration wave to Serie A, where he'll play against fellow Germany striker Miroslav Klose.

He leaves the Bundesliga with 13 hat-tricks (three for Stuttgart, 10 for Bayern) as well as the legacy of gomezbutton.de for a whole new nation of supporters.

Use it well and often, Italy.