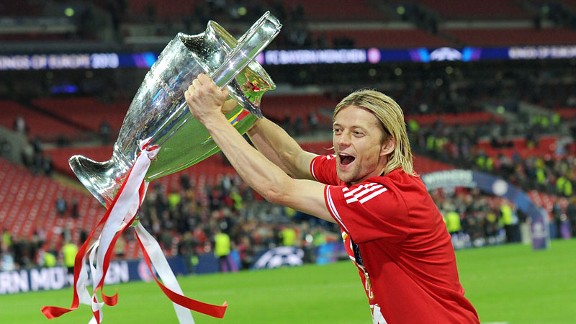 Andrew Yates/Getty ImagesMidfielder Anatoliy Tymoshchuk is leaving Bayern and returning to Zenit St. Petersburg.
Two new Bayern Munich players, Mario Goetze and Jan Kirchhoff, were officially unveiled at Tuesday's press conference -- marshaled most effectively by Matthias Sammer -- while the team bids a fond farewell to a fan favorite in Anatoliy Tymoshchuk.

Tymoshchuk, who got in two training days with Pep Guardiola and Bayern, recently spoke to the team's website before his move to Zenit St. Petersburg: "I can still do a little training here and work on the fitness basics before moving to St. Petersburg. You can't pass up the chance to train at such a high level with teammates like this."

Tymoshchuk joined Bayern Munich from Zenit after leading his club to victory over Rangers in the 2008 Europa League final, and subsequently beating Manchester United in the UEFA Super Cup. The captain of the Ukrainian national team came to the Rekordmeisters on a reported 15 million euro transfer fee, but wouldn't score his first competitive goal for the Munich club until they faced Juventus in the 2010 Champions League.

After winning the double for Bayern that season, Louis van Gaal would famously say that the midfielder's prospects were "not very bright" and "If a player doesn't play or doesn't have bright prospects then I would leave if I were them."

Sour grapes by van Gaal as Tymoshchuk remained a starter through much of 2011. And in to 2012, Jupp Heynckes would find him useful, saying of the Champions League final against Chelsea: "Tymoshchuk is a great team player. He's really important for us, and in a situation when three players are disqualified, his experience and ability to play in different positions is really useful for us." Indeed, he was one of the bright lights in what was a most forgettable night in Munich.

Even with the incoming transfers of Luis Gustavo (in 2011) and Javi Martinez (in 2012) to holding midfield, and his career staring him in the face, Tymo didn't falter. Instead, he was willing to take a back seat role for the betterment of the team, and was rewarded with a treble.

Regarding his return to Zenit: "I've signed up for two seasons with St Petersburg. The club is close to my heart. I won my first European trophy with Zenit. I left in 2009 after two and a half years there, and the fans gave me an unbelievable farewell. So many people came to the airport, they sang and they let off fireworks. I've never forgotten that, so I said to myself at the time: if I do return to Russia, it'll only be to St Petersburg."

Anatoliy Tymoshchuk leaves Bayern (with fireworks, as well) and goes back to Zenit (also greeted with fireworks, again). The 34 year-old will remain a fan favorite for a long time, not only for his dedication to Bayern, but for his spectacular photo sessions.

Farewell, my Ukrainian prince!

And on to the press conference Tuesday morning with the official announcements of former Borussia Dortmund midfielder Mario Goetze and Mainz' defender Jan Kirchhoff joining the treble-winning side.

- Goetze: Bayern are best in the world

Goetze, wearing what looked like a one-off Nike tee, came off as impassive and distant. Although he said all the right things -- "We talked about when I'd be fit again", on his first conversation with Guardiola -- the lack of enthusiasm will not sit well with Bayern supporters. And he's already not right with Dortmund supporters? Perhaps we can chalk it up to a tender age?

"Looking back, it wasn't easy when the news broke I was leaving," said Goetze, "I look forward to the future that will come." Yet, slamming the door shut on BvB: "The past is over and I don't want to talk about it."

On his 37 million euro buyout, Goetze would say: "I don't see the transfer amount as pressure. It's something to be proud of as I've just turned 21."

Next up to the podium was Kirchhoff -- also sporting a Nike tee emblazoned with their slogan: "Go Like Hell". But while Goetze was impassive, Kirchhoff was all smiles -- and happy to be there.

Comparing his former coach to present one: "There are a few tactical parallels to draw between [Thomas] Tuchel and [Pep] Guardiola" -- the former once touted as a possible replacement for Heynckes at Bayern. Kirchhhoff continued: "The first few days were very intense, but, every day is fun. It's an adventure here!"

He continued, "I'll try to find a place in the team and help. I don't care what position I play."

General manager, Sammer, chimed in: "We are well covered with the injury to Holger [Badstuber]. We have flexible players in the squad like Jan."

For all the glory that was the announcement of Goetze, the real information was to be gleaned from Sammer. And Sammer was like a boss.

While Bild had published that Bayern had sent a scout to watch Brasil and Chelsea center-back David Luiz, Sammer squashed the rumors saying, "No. No room for speculation."

And earlier remarking on Mario Gomez, now heavily linked by Sky Italia to Fiorentina for (a paltry) 18 million euro: "[He] stays as long as there is no agreement that satisfies our club."

For all the pre-press conference talk about Goetze saying he's "joined the best club in the world", it certainly didn't come off that way at the presser. And yes, I will chalk it up to age -- and naivety -- at this level. I've got a feeling the veterans on this team will get him where he's supposed to be. If not, he's got an older brother playing at Unterhaching -- and his grandparents still in town.

For now, the Wunderkind's timetable to full training is three weeks. Perhaps Nike can spring for a better shirt for him until then?

The team leaves for their camp in Trentino, Italy this week. But for today, Sammer said: "It's a good day."