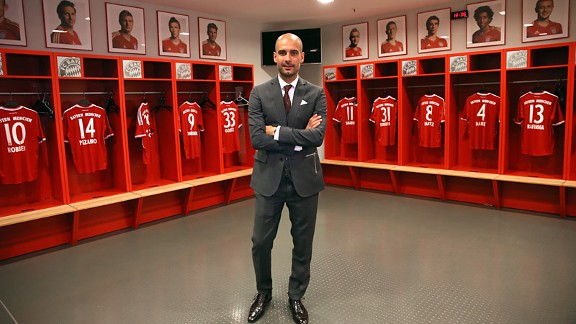 Alexander Hassenstein/AFP/Getty ImagesPep Guardiola is now officially the man in charge in the Bayern Munich locker room.
Pep Guardiola prepared well. Not surprising, considering that he's always had the reputation of being thorough. Pere Guardiola, Pep's brother and agent, told Der Spiegel that the new Bayern coach had been studying German "four hours every day, like a madman" during his year-long sabbatical in New York. Not even family gatherings were safe: "It was absurd -- you go and meet your brother for lunch and he spends the whole time talking German with his teacher."

- Guardiola lives up to the hype

Scores of television cameras and over 250 reporters sandwiched in the press room at the Allianz Arena as Guardiola opened his tenure at Bayern Munich on Monday with these words: "Guten Tag, Gruess Gott, meine Damen und Herren." "Hello, and good day, ladies and gentlemen."

While I would have preferred the even more Bavarian "Griass di" or "Servus," the "Gruess Gott" was a nice touch. After needlessly apologizing for his command of the language, he revealed that his German teacher in New York was a Borussia Dortmund fan: "She almost didn't allow me to come here." And after an initial few Pep-like pauses -- "I'm a little bit nervous" -- he got down to brass tacks, charmingly answering questions in German, Spanish and English.

While plenty of Bayern Munich supporters worldwide have agonized over Guardiola possibly "Barcelona-ing" their beloved treble-winning squad, he seemed to put those fears to rest. "I have to adapt 100 per cent to my players," said Guardiola. "One hundred per cent. Football belongs to the players, not the manager. The fans come to the Arena to watch the players, not me. I have to adapt to the high qualities of our players. Barcelona are different to those who play here. So I have to adapt to the players. The system doesn't matter."

Bayern captain Philipp Lahm had previously stated that he wished to turn a "memorable year into an era." And when asked if this was a new era at Bayern, Guardiola said, "It would be arrogant to say that. I am going to try to maintain the great level and standards set by my predecessor, who did an incredible job."

Understandably, former trainer Jupp Heynckes left huge shoes to fill with Bayern's record-smashing season, but Guardiola had nothing but praise for the now-retired coach: "I have to continue his high level. I have huge respect for his work and his exceptional career and history in the game. There are few things I would change. But very few. What I am interested in is continuity and to maintain this high level. That is the pressure and I have to accept it."

It was a news conference long on plaudits for Heynckes, Bayern Munich, the organization and the rest, but rather short of actual information. Expected, I suppose, as this was Guardiola's coming out. It's hard to discuss tactics and the like when you haven't had a training session yet. But there was still a little bit of information on personnel.

He spoke on no one coming in after Mario Gotze, and integrating youth players into first-team training. But the meatier question was pawned off. When asked about Mario Gomez transferring out of the club, Guardiola said, "You'll have to ask Matthias Sammer."

Sammer, however, didn't answer. But Karl-Heinz Rummenigge did. "There has been no official offer from any club, not even in Italy," he said. "Mario Gomez will train here on Wednesday. For now there is no question of another club for him."

With all the amazing hype and hoopla surrounding this 2013-14 Bayern Munich squad, their first two training sessions Wednesday and Thursday will be held at the Allianz Arena. Both days sold out to 25,000 spectators at 5 euros a seat -- with the funds going to help Bavarian flood victims.

Guardiola's parting words for the day were "Ich bin bereit." You know what, Pep? We're ready, too.