Lewandowski stays in black and yellow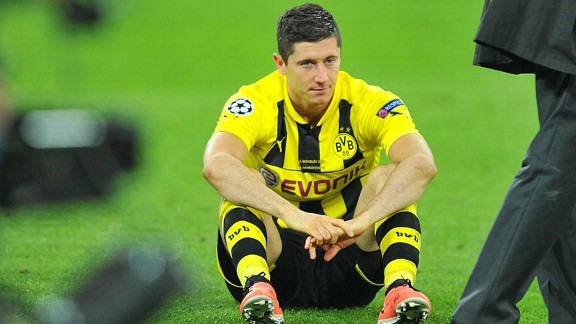 PA PhotosRobert Lewandowski: Wants to jump ship after making his name at BVB.
"Robert [Lewandowski] will definitely play for Borussia Dortmund next season. We need planning certainty." --Borussia Dortmund CEO Aki Watzke in Suddeutsche Zeitung.

And so this annoying tale finally comes to a rest-- for the time being, of course. Lewandowski's agents pushed. Lewandowski himself pushed. But in the end Watzke and Dortmund's general manager Michael Zorc wouldn't budge.

Bild stated that Karl-Heinz Rummenigge did reach out to Lewandowski's agent, Cezary Kucharski, saying that Lewandowski would be welcome at Bayern Munich in 2014; not wishing to see the Polish striker go to Manchester City or Manchester United.

In the end, I would think, it's the best solution to both clubs involved: Bayern are not coughing up some 30-odd million euro, and Dortmund retains a measure of pride after Bayern had already secured the services of Mario Goetze.

I had taken to Twitter recently, refusing to call Lewandowski by name, giving him Voldemort's moniker: "He Who Shall Not Be Named." I got so much flak for daring to have an opinion on this matter from the "Echte Liebe" faithful that I really didn't care what happened anymore-- as long as it stopped happening.

So, good. Everyone's happy. Except Lewandowski, presumably. He now has to face the enmity of Dortmund supporters worldwide, every single one of them knowing he's not playing for his "dream club." But "Robert is a professional," Watzke has said, and he'll likely have another stellar season on BvB's front line. Maybe the Dortmund support will come around after Robert scores a few pretty goals.

There might be a few upset in the Bayern camp as well, as Mario Gomez is certain to transfer over the next couple of weeks-- likely to Serie A's Fiorentina. While some might think it leaves Bayern a little short of attacking options, it's beginning to look like incoming Bayern manager Pep Guardiola thinks differently.

After all, behind Mario Mandzukic, Claudio Pizarro recently re-upped a season. And behind those two, Thomas Mueller -- or even Goetze-- could feature. Although, as of yet, no one knows how Guardiola will line up the team. Until preseason gets underway, everyone is just guessing.

Dortmund gets their man for another year, and Bayern presumably gets him for free in 2014. A lot can happen in a season, however, and the question begs to be asked: What about the winter transfer market?