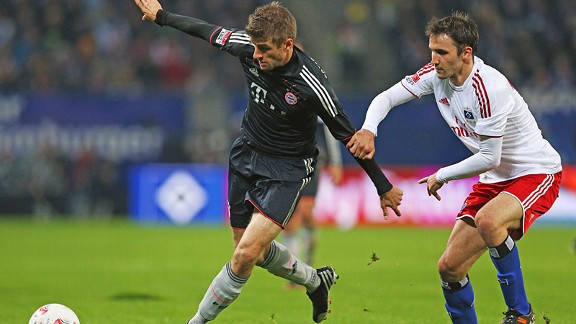 Joern Pollex/Bongarts/Getty ImagesThomas Mueller earned himself a Susie Award for his superb goal last November against Hamburg.
With all sorts of people passing out plaudits and performance scores, deriding or complementing their respective squads, I thought I would do something a bit differently. After all, it's hard not to give everyone a "10" that plays for Bayern Munich -- considering the season they just had. So, instead I used a very informal poll on Twitter (#SusieAwards) to hand out some alternative (and some not) awards, and perhaps have a little bit of fun.

Best Goal

While everyone's sympathetic choice is obviously Arjen Robben's winner in the Champions League final, it certainly wasn't the prettiest goal this season. And there were a lot of them. The overwhelming favorite, as no surprise to most, was Thomas Mueller's physics-defying touchline goal to put Bayern up 2-0 over HSV back in November.

Franck Ribery chipped into the box to Mueller, who was chased out wide by Marcel Jansen and Rene Adler. Adler forced Mueller to the touchline, who would then turn to shoot from the line, over Adler, the ball curling improbably in to the net.

Also worth mentioning: Mario Gomez's lovely trap, fake and slot against Leverkusen in March, and Jerome Boateng scoring his first Bundesliga goal -- a headed match winner against Duesseldorf -- also in March.

Best Goal Celebration

There were a couple nods for Dante trying to teach Bastian Schweinsteiger to samba (with hilarious results), but the winner by a fair stretch was Robben's redemption celebration after scoring the CL match-winner. Overcome by emotion, with tears in his eyes, he screamed "WHAT!" to the Bayern faithful who had slagged him off for so long. A moment of such passion and determination one might never see again.

Worth a look: Manuel Neuer jumping on any substitution available any time Bayern scores. And, on the poor-sportsmanship front -- Philipp Lahm fist-pumping after Gerard Pique's own goal.

Best Assist

Lahm got quite a few mentions for various assists, and it's not hard to see why considering he's got the most on the squad. But, the two that stick out would be Lahm to Ribery against Werder Bremen, and Lahm to Toni Kroos for his volley against Arsenal.

But, again, the favorite comes in the CL final and to Ribery's cheeky backheel to Robben for the win.

Noting, also: While not technically an assist, Mueller's basketball-esque screen on Barcelona's Jordi Alba leading to a Robben goal was mentioned A LOT.

Favorite Match

The Champions League final, again, wins out for... well, it really just should, shouldn't it? But, a fair number brought up the first and second legs against Barcelona. Both of which I admit to watching a bit incredulously; as if to say, "This is almost too good to be true."

Runner-up: The 9-2 mauling of HSV at the Allianz Arena. (That's a lot of Jaeger shots!)

Best Hair

While some (myself, included) were sympathetic to Schweinsteiger's "Mad Men" look, Gomez got a fair share of votes simply because the man inexplicably never has a hair out of place. Never. How does he do it?!

But, the obvious winner here is Dante. With a smile as wide as his afro, he quickly won the hearts of Bayern supporters who turned up to matches, en masse, sporting wigs in support. Heck, even Javi Martinez wore one to the treble celebration that Dante was unable to take a part in! And really, as @redrobbery proves, everyone looks better with Dante's hair.

So concludes a cheeky look at Bayern's superlatives for this season. Feel free to add your own, providing links, in the comments.