Hearts and heads battle over Lewandowski
Borussia Dortmund has nixed Robert Lewandowski's summer move to treble-winning Bayern Munich. Dortmund sporting director Michael Zorc told kicker, "We have communicated to the player and his advisers that we will not agree to a transfer to FC Bayern this summer."

Forgoing close to 30 million euro in possible transfer fees, Dortmund has taken a hard line against Bayern in light of their swoop for young midfield maestro Mario Goetze. Perhaps I'm being a bit naive, but I fail to see where this makes business sense. Or football sense.

-Dortmund won't sell Lewandowski to Bayern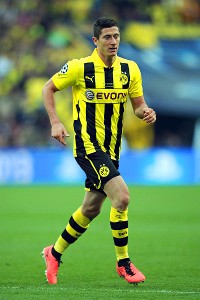 Chris Brunskill/Getty ImagesDortmund are in a better position than ever to handle losing a player like Robert Lewandowski.
Granted, if Lewandowski came to Bayern; then Dortmund would be forced to find a suitable replacement as Julian Schieber, with three goals in 21 appearances for BvB this season, may not be up to the task. The 30 million would probably come out a wash.

While Dortmund nixed FC Bayern specifically, it's unlikely that Lewandowski will take a spot in Spain, Italy or England. After all, he's called Bayern his "dream club". And that's got to stick in the gullet of Dortmund supporters worldwide.

So, while Aki Watzke and Zorc take this stance, they are left with a very talented, yet want-away footballer. And one, in Lewandowski, who will end up at Bayern Munich anyway. On a free. I would think that the dressing room distraction might prove to be a huge negative, but Zorc thinks otherwise: "There will be with him now perhaps a small phase of disappointment. But then he will deliver his usual performance, as does a professional with character."

Hearts and heads battle in both camps regarding this issue. For me, as a Bayern supporter, I am firmly ensconced in the "Koan Lewandowski" side. And I realize that it is completely irrational considering the Polish international's outstanding talent. It's sentimental on my end, as I do not want to see Mario Gomez leave -- "Lewandowski to Bayern" certainly bringing the end of Gomez in a Bayern kit. (Although, it's likely to happen, regardless.)

Manuel Neuer's transfer from Schalke 04 and Goetze's transfer from Dortmund went -- and will g o-- smoothly, simply because both players feature for the German national team. These are two guys many Bayern supporters had already backed. And after getting over the initial shock of having the enemy join your club, you realize you've been cheering for them already. Lewandowski does not have that luxury.

Watzke and Zorc may deny Lewandowski his "new challenge for my future". But at what cost to Dortmund?