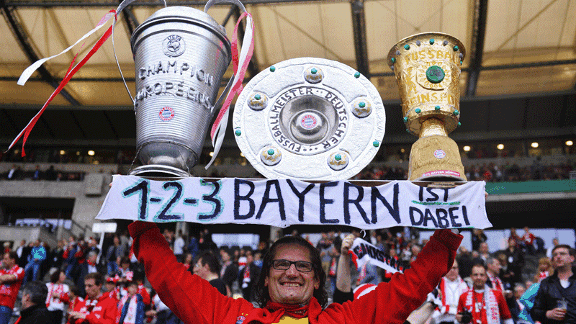 GettyImagesIt has been an unforgettable year for Bayern Munich fans
What a difference a year makes! Last May, after Bastian Schweinsteiger's penalty miss against Chelsea in the Champions League final, I was inconsolable for two full days. Two full days to wrap my head around it all, and put fingers to a keyboard. Two days of cringing when I saw a Chelsea kit, not being able to watch any sports television, and swearing when I saw pictures of John Terry holding up that trophy.

I found myself in a similar situation this season. Not inconsolable, naturally, but yet unable to wrap my head around it all. I mean, Bayern Munich wins the treble, and I would just be stunned. Perhaps it's because of the work I now do: For this site, this season, I have written nearly 140 pieces on Bayern Munich. 140!

Gone are the days when I could just watch a match at my local, the Lion and Eagle, on a Saturday morning yelling at the TV, the opposition, the referee, and yes, at Bayern, too. Now the set-up includes a laptop, my very smart phone, and a legal pad filled with "Susie's Fussball shorthand" -- unintelligable to all but me.

Not that I still don't enjoy matches, mind you, but the emotion is tamped down a bit. Goals -- instead of being celebrated or bemoaned -- are now annotated. The minute is circled, "TOR!" is circled, the players initials follow, and then quick notes of the play leading up. So, Thomas Mueller's November touchline goal against HSV would look like this: "48 TOR! TM. FR chips in to box. TM forced wide by Adler/Jansen. TM to touchline, shoots over Adler out of box, curls in." Kind of dry of the goal of the year, isn't it?

So, I'd been celebrating quietly, busily writing, all season long. It was only against Arsenal, at the Emirates, that my attitude started to change. Although, I was certain at the beginning of the season that Bayern Munich would win three trophies, the feeling only came from a fan's perspective -- I knew not yet how that could be accomplished, and was only blindly supporting my team. But, sitting in that stadium, with abuse being hurled at me over 90 minutes, I began to believe. I could actually see it happening.

With all my usual suspects, plans were made then and there. We would all book flights and hotels early -- for a certain weekend in May -- for the chance that Bayern Munich would be back in it. And there began the story of my best week in football, ever.