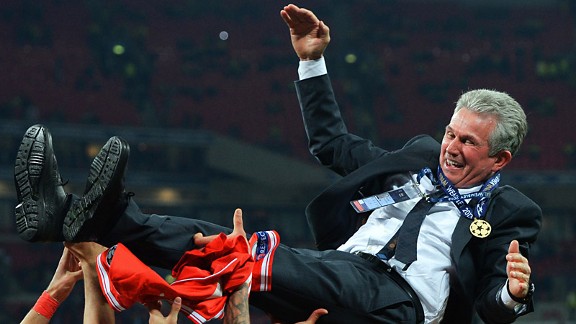 Patrik Stollarz/AFP/Getty ImagesAfter three second-place finishes last season, Jupp Heynckes captured a European treble in his Bayern swan song.
Jupp Heynckes' second Weissbier shower of the season came after Bayern Munich's 3-2 victory over VfB Stuttgart in Saturday's DFB Pokal final. There could have been a third for the Champions League victory, but that tournament, unfortunately, isn't sponsored by Paulaner.

"I'm delighted that won't be happening to me again, because the stuff really stinks," Heynckes commented after changing into dry gear. And, it won't. At least, not in the near future.

- Heynckes says he'll take break

Tuesday saw Heynckes step up to a bank of microphones at the Allianz Arena, and step away from it all. After much speculation on his destination, the 68-year-old coach spoke: "The first thing I'm going to do is go on holiday. I won't be taking up any engagement after 1 July, neither here in Germany or abroad. I'm going to withdraw, recover, and become a private individual."

Linked most heavily in the press to his former club, Real Madrid, Heynckes stated: "Other clubs were interested in hiring me after this season. Rich clubs, where money doesn't matter... such clubs don't interest me."

Over a 50-year career as player and manager, Heynckes has now won everything there is to win. As a striker for Borussia Moenchengladbach, he won the Bundesliga four times and the Pokal once. And playing for the West German national team he collected the 1972 European Championship and 1974 World Cup.

As Real Madrid's manager, he grabbed the Spanish Supercup in 1997 and his first Champions League title in 1998. Two UEFA Intertoto cups with Schalke 04 were sandwiched between his three stints at Bayern Munich.

He won the league with Bayern Munich in 1989 and 1990, but his greatest success came on the heels of ultimate failure. After three second-placed finishes in 2012, Bayern Munich rocked the world with their 2013 record-smashing season: Winning the Bundesliga with six matches to spare, and 25 points up on second-placed Borussia Dortmund; beating their German rivals at Wembley for Heynckes' second Champions League title and then finishing off the season with a DFB Pokal victory over VfB Stuttgart.

It was an overwhelmingly spectacular season that caused Karl-Heinz Rummenigge to quip, "We've broken the record for breaking records."

As wonderful as 2013 was, it didn't come without a price for Heynckes. "This year has been tough. I didn't have any holiday after we lost the Champions League final last season. I have noticed, especially in the last few weeks, that I have reached an age where it takes longer to recover. It was extremely stressful."

Heynckes did, however, refuse to say he will retire in full. "I personally am not in favor of final decision," leaving himself open to a return to football in some capacity in the future. And should he want a return to Munich, Rummenigge said at the Pokal's post-match banquet: "The door is always open for you, not just because of this success, but because of your humanity."

And that perhaps sums up Heynckes the best. Humanity. Even people that hate Bayern Munich don't hate Heynckes. The club and its leaders have often and derisively been described as arrogant, but maybe he has made their historical treble run just a bit more digestible for the very large anti-FCB contingent.

I think his time with Bayern Munich has finally come to an end. If he chooses an office position, it will be with Borussia Moenchengladbach. "Moenchengladbach is my club," he stated after the announcement of Pep Guardiola's hiring. If he does decide to take on another managerial position, however, I hear there's an opening at the DFB in 2014.

But for now, simply, Danke Jupp. Your 50 years of football service will forever be amazed at. And your crowning achievement in 2013 has given every Bayern Munich supporter memories to last a lifetime. Danke, danke, danke.

Jupp Heynckes. Deutscher Fussball Gott.