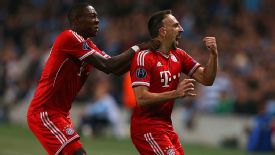 GettyImagesConsistency has been the key word in Franck Ribery's past season.
After winning Best Player in Europe, Franck Ribery was surely the front-runner to win the Ballon d'Or on Jan. 13, 2014, in Switzerland. But then, FIFA -- due to low voter turnout, and wanting to get the playoff World Cup rounds in -- extended the vote. And Cristiano Ronaldo, consequently, would impress mightily with his hat trick over Sweden to appear in Brazil next June.

So what may have been a shoo-in of sorts for the France international now sees Ribery -- with the punters -- as bottom of the top three. Continue Reading...