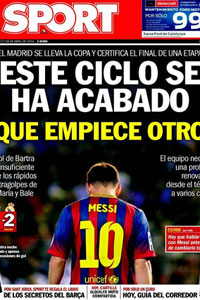 OtherFront cover of SPORT on April 17.
---
Barcelona are struggling to pick up the pieces after a desperately forgettable week which saw all their hopes of silverware this season virtually thrown out of the window. The below-par performances in each and every one of the three competitions entered have raised a huge question mark over the club at both sporting and institutional level.

The Catalan press published a survey in which Cules were asked to share their feelings about the current situation. The results could not be any clearer: 96 percent don't trust the current board to make the changes the squad needs; 93 percent admit Barca deserved to lose the Copa final against Madrid; 90 percent believe that the team no longer has what it takes to win the Liga. Continue Reading...