Barcelona and Real Madrid: A top-heavy Liga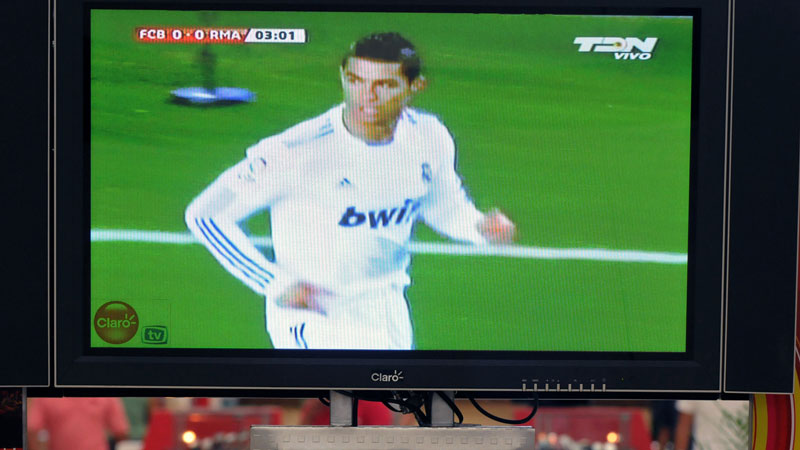 GettyImagesThe summer super league plans to rake in huge amounts of TV revenue
I received a couple of interesting articles from readers this week about the immense dominance that Barcelona and Real Madrid enjoy in Spanish competitions, which you can access here.

Personally, I feel that Blaugranas and Blancos would be dominant in any league. Sure, perhaps the Catalans wouldn't enjoy a 16 point lead over the Manchester clubs in the Premier League but I definitely feel it would be very difficult for them to finish above the top two Spanish teams, especially if we analyse the quality of their squads at this precise moment in time.

Having said that, the main reason why the two giants are so dominant in La Liga is an incredibly top-heavy distribution of money from TV rights. Barcelona and Real Madrid receive a combined 46.6% of the total or, in other words, €140 million each per season. If you then look at the comparative income of clubs such as Atletico Madrid (€42m), Sevilla (€24m), Athletic Bilbao (€17m) or Almeria (€12m), you can only come to one conclusion: This unfair system is devaluating the competition as a whole.

Fact: In the Premier League, Manchester United, Liverpool, City, Chelsea, Arsenal, Aston Villa, Everton and Tottenham all get between €58m and €48m per season, with teams such as Sunderland, Stoke and Wigan getting a considerable €39m on average.

Another factor that worries me is the visibly reduced number of fans who can actually afford to watch their home team play live on a fortnightly basis, both in the stadiums and via pay-per-view. While I understand that minor clubs have made their home tickets more expensive in order to compensate for the unequal distribution of TV income, this fact is pricing their own supporters out.

Considering the depressing economic difficulties that many Spanish families are going through, the situation is becoming a potentially fatal vicious circle.

Outspoken Sevilla president Jose Maria Del Nido famously argued: "Our league is not the worst rubbish in Europe, but in the whole world. It's a third-world competition where two clubs steal the money that the rest of us fight for."

The authorities must take action to even things up immediately or else the whole competition is at risk of becoming less attractive to viewers not only nationally, but also worldwide.

From a Barcelona perspective, it is true that such differences benefit the club that I have supported since birth but, when taking a step back and looking at the situation as a football lover, the overall survival of the competition is a more important matter.

PS: I would not like to end without highlighting the incredible work of Diego Simeone's Atletico Madrid this season. Taking the Colchonero club to second place, only nine points behind the best Barcelona in history and seven above neighbours Real Madrid is highly impressive - even more so considering their abysmal differences in terms of budget and income.

A Sunday morning treat

For the first time since 1965, the Camp Nou will open its doors for an early noon kick off, a game that will see the Blaugranas host 12th-placed Getafe.

Barcelona face this match in the absence of Tito Vilanova once again, who will be missing until late March while he continues to battle against cancer. Fortunately for Cules though, it has been reported that the record-breaking manager continues to be heavily involved in team preparations, deciding line-ups and even making substitutions during games thanks to modern technologies such as Whatsapp or Facetime. Scary to witness how the world is changing at times.

Unfortunately, interim manager Jordi Roura won't be able to field Xavi Hernandez for at least two weeks, as the inspiring midfielder is currently recovering from a hamstring injury. The fact that most of the regular players were away on international duty will certainly affect their fitness levels ahead of the match, with the dreaded FIFA virus lurking around everyone's minds.

Barcelona are currently on a not-so-brilliant run, having only won two of the last six matches in all competitions, and could definitely do with a convincing win in front of the home crowd while the Catalan Carnival celebrations are going on in a stadium full of young Cules who would definitely not be watching Lionel Messi and friends live had it been an late kick off on a Sunday.

The ideal line-up for this match, considering of all the points discussed above, would be: Victor Valdes; Adriano, Javier Mascherano, Carles Puyol, Martin Montoya; Alex Song, Thiago Alcantara, Andres Iniesta; Cristian Tello, Lionel Messi, David Villa.

Have your say

I welcome and appreciate all respectful feedback. Would you like to share any other important points with us?

Never miss an update: Join the 33,000 Cules who already follow at @Barcablog_com and Facebook.