Messi 2018: Barcelona re-sign the best footballer in history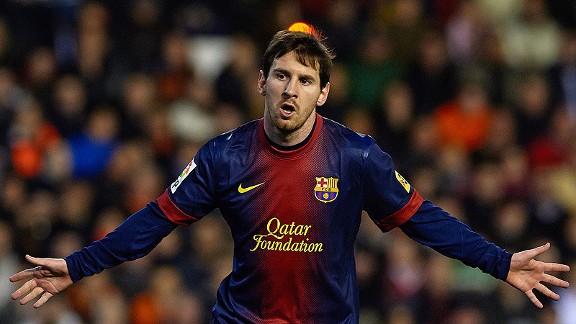 Queimadelos Alonso/Getty ImagesLionel Messi will be staying at the Camp Nou until at least 2018.
Lionel Messi is the best to ever play the game of football. The four-time Ballon d'Or winner is capable of finishing, providing, dribbling, opening spaces, attracting defenders, unlocking games and inspiring teammates at a level that was certainly beyond the wildest imaginations of those fortunate few who saw him as a weak 13-year-old boy who left Argentina chasing his dream.

At age 25, Messi has already become a Barcelona legend, an idol who will be remembered for many centuries to come. The fact that the Argentinean genius came through the La Masia youth system and developed while excelling at each and every one of the several developmental stages makes him even more unique, the ultimate exponent of what the Blaugrana community and future stars aspire to be one day.

In a highly competitive world such as professional football, it has been historically difficult for players and managers from different clubs to agree on virtually anything. Judging by the statements below, La Pulga has obviously managed to shine to such a degree of brilliance that nobody in their right mind really dares to disagree anymore.

Said David Beckham: "Messi is the best in the world, as simple as that. He is a player that when any kid watches him, wants to be him. They want to watch everything he does; the way he conducts himself and the way he works hard for the team. He just goes and enjoys himself. He is a special player."

Former Barcelona teammate Ronaldinho added: "The only regret in my career is not having played enough matches with Lionel Messi. You could always see he was destined to be the best; that boy could do things professionals could only dream of."

Arsene Wenger said: "Messi is from a different planet, certainly the best player in the world and the best I've ever seen."

Zlatan Ibrahimovic commented: "Leo is a fantastic player, the best footballer in the world, which is why he wins every individual award year after year."

I could definitely continue adding endless quotes from hundreds of professionals around the world, but I'm pretty sure you get the idea: The kid is quite special.

I must admit that I didn't personally think much of it when I heard that Messi had agreed to renew his current Barcelona contract until June 2018. Don't get me wrong; I was pleased about the news but I somehow felt it was only natural that the player had chosen to stay at the club that saw him grow from an incredibly timid yet talented teenager to a global icon who inspires millions with his magical performances.

- New deal for Messi

Thinking about it more carefully, though, Messi's new contract is the most important document to ever be signed at the Camp Nou offices.

La Pulga has reached a point of maturity in his career where he is not only capable of delivering mesmerising individual performances, but can also take the rest of the team forward with him. Being the key player in a system that includes other world-class footballers such as Andres Iniesta, Xavi or Cesc Fabregas definitely helps, but his influence is also beginning to be more increasingly evident at international level when on duty with Argentina.

Believe it or not, coaches and the player himself agree that the 25-year-old has plenty of room for development. His desire to stay at the top of world football both at team and individual level and beat every record under the sun definitely won't let him rest any time soon.

Since Messi debuted at the Camp Nou at only 17 years of age, the Catalan giants have managed to win three Champions Leagues, five La Liga titles, two Copas, two Club World Cups, two European Supercups and five Spanish Supercopas, while scoring a record 298 goals in 363 appearances in the process.

Sure, the collective success of Barcelona can definitely not be attributed to one individual, but there is simply no doubt that at least some these trophies wouldn't have made their way to Catalunya had the tiny Argentinean not been part of the squad.

Ultimately, the relationship between Barcelona and Messi is a clear example of a job well done so far, but it certainly doesn't end here. Let's sit back and enjoy witnessing where La Pulga's brilliance takes the club for many years to come.

Have your say

I welcome and appreciate all respectful feedback. Would you like to share any other important points with us?

Never miss an update: Join the 32,000 Cules who already follow at @Barcablog_com and Facebook.