Thanks to Valdes, lead over Madrid back to 16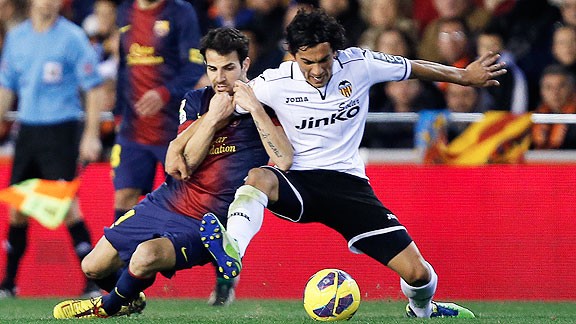 Jose Jordan/AFP/Getty ImagesBarcelona's Cesc Fabregas gets tied with up with Valencia's Tito Costa.
Barcelona achieved a valuable 1-1 draw against Valencia at the Mestalla in Matchday 22 of La Liga Sunday. Lionel Messi scored the goal for the Blaugrana, who enjoyed 66 percent of possession and attempted 10 shots, two on target.
In the absence of Tito Vilanova, who will reportedly stay in New York until the end of March in order to complete the cancer treatment he is currently undergoing, Jordi Roura trusted virtually the same starting lineup which managed to draw against Real Madrid at the Bernabeu last Wednesday in the first leg of the Copa del Rey semifinals. (The only change was Javier Mascherano, and he came out for Carles Puyol in the 55th minute).
The acting manager preferred to stick to this season's ideal XI once again but, personally, I would have used this match to rotate the squad after such a tremendous effort in midweek and give fresher players such as David Villa, Thiago, Adriano, Martin Montoya or Cristian Tello the opportunity to prove their worth from the start after several matches warming the bench.
As always, playing at the Mestalla proved to be an extremely difficult task for Barcelona. The tireless Valencia players applied constant pressure from start to finish, making it much harder for the Blaugrana midfielders to build in their usual manner. In spite of having overall control, the Cules never really looked fully confident on the ball or able to create regular goalscoring chances.
On a positive note though, records continue to fall even when the team fails to win: The Blaugrana have now scored for an amazing 39 consecutive league matches. In fact, the last time the Catalans were goalless was a 0-0 draw against Villarreal Jan. 28, 2012.
If we look back at the historical difficulties that Barcelona has faced to come victorious away at Valencia, this point can be interpreted as another step in the right direction towards lifting the La Liga trophy at the end of the season. The well-deserved 1-0 defeat Real Madrid collected against Granada will certainly help as well, as the difference between the arch-rivals is now back to a massive 16 points.
Player Ratings (0-10; 10=best)
Victor Valdes (8) – Man of the Match - After a fairly decent game, the Catalan keeper stepped it up with a couple of quality saves in the dying minutes. Credit must be given to a player whose individual actions ensured Barcelona didn't leave the Mestalla empty-handed.
Dani Alves (6) – Despite his efforts, the Brazilian fullback didn't perform as energetically as during the recent Clasico. Having said that, he did provide Villa with an outstanding cross which El Guaje failed to direct to the back of the net.
Gerard Pique (6) – Protected the Blaugrana back-line fairly well, but wasn't always able to press the Che forwards quickly enough. Got pickpocketed a couple of times in the later stages, losing possession in dangerous areas.
Javier Mascherano (5) – Started as a central defender instead of Puyol and, after an unconvincing overall performance, was substituted by El Capita early in the second half.
Jordi Alba (8) – The speedy Catalan was determined to excel against his former club and achieved his target. His intelligent forward runs gave the team a much-needed wide option. Powerful tackling when tracking back.
Sergio Busquets (6) – Confident performance. Enabled those around him to get on with the more creative decisions by playing simple, accurate passes. Kept his defensive position well, always prepared to tackle when needed.
Xavi Hernandez (6) – Used his innate passing skills to distribute the ball all around the pitch. Controlled possession in the hope of finding an eventual opening which, unfortunately, never came.
Cesc Fabregas (6) – Rotated across the Barcelona midfield, often interchanging positions with Iniesta and Messi. As the rest of the Barcelona offensive players, was unable to find a clear run towards Guaita's goal.
Lionel Messi (7) – After an intense few days of putting up with Madrid-based media continuously trying to blemish his reputation, it was back to more relevant matters for the Argentine star. Despite not having the best game of his glorious career, La Pulga kept asking questions of the well-organised Valencia back-line with his constant runs, dribbling accelerations and always looking for open teammates. Scored the only Blaugrana goal (his 45th this season) with an emphatic strike from the penalty spot.
Pedro Rodriguez (6) – Very well marked, didn't look sharp enough to beat his Valencia defender. Was clumsily fouled inside the area in the first half, which enabled Messi's goal.
Andres Iniesta (7) – Another remarkable performance from one of the most inspired Cules this season. His movement could have potentially created some advantageous situations but the rocky home back-line always seemed to have an answer.
Substitutes: David Villa (6), Carles Puyol (6), Thiago Alcantara (n/a)
Have your say
What did you think of Barcelona's performance vs. Valencia?
Who was your Man of the Match? What are your player ratings?
I welcome and appreciate all respectful feedback.
Never miss an update: Join the 32,000 Cules who already follow at @Barcablog_com and Facebook.