El Clasico battle heats up; Cuenca to Ajax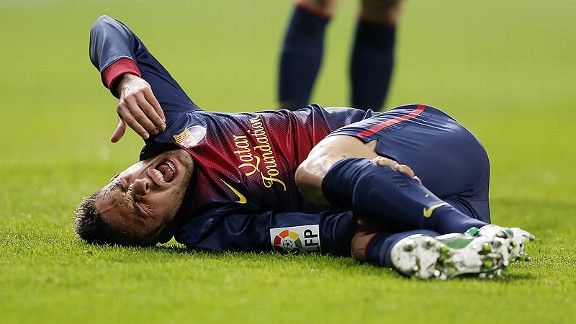 Angel Martinez/Getty ImagesJordi Alba's complaints about rough tackling were only part of the week's escalating tensions between Barca and Real Madrid.
Here we go again. After yet another highly-contested Clasico, coaches, players and other representatives from both clubs have taken to the media to complain about each other's actions before and after Wednesday's game.

The list of accusations is endless but here are the three that have thrown the most fuel into the increasingly heated fire: Dani Alves mentioning racist-sounding abuse, Jose Callejon accusing Lionel Messi of calling Aitor Karanka a 'puppet' and Jordi Alba criticising Michael Essien for a ferocious tackle that left stud marks on his ankle.

More: Callejon, Messi, Karanka

Plenty of controversy to talk about; as such, let's analyse each incident individually:

1. While I understand that the Brazilian full back is probably right to be upset about being abused by fans, the truth is that whether we like it or not, these shameful incidents have been part of Spanish football for quite a while and it is up to the authorities to sort it out, not the abused players themselves.

The RFEF (Spanish football's governing body) should take necessary action against any club whose fans engage in racist chanting, whether it be at the Bernabeu, the Camp Nou or San Mames. Common sense highlights that there are plenty of measures that should be taken immediately if Spanish authorities are truly serious about kicking racism out of football but unfortunately, this is has not yet been the case.

Much tougher fines, bans for fans who visibly demonstrate such behaviours, higher investment on education at a grassroots level or regular respect campaigns as part of the usual game day routines would certainly help improve the situation.

It is regrettable that all the professionals can do is complain via Twitter or in press conferences. Immediate action must be taken, and only a country-wide approach that is agreed upon by all La Liga clubs will eventually have the desired impact.

2. Lionel Messi has been accused by Jose Callejon of spending 90 minutes of his life waiting for Aitor Karanka so that he could call him a puppet. Controversial words, to say the least.

Unfortunately for him, the Real Madrid substitute doesn't have any evidence to prove his words and as a result, many Cules interpret this attack as yet another lame attempt to destabilise the best player on Earth via a press conference. What's more, Catalan television showed the Barcelona players leaving the Bernabeu for Catalunya 45 minutes after the final whistle on the official club coach.

Personally, it's hard for me to believe that Lionel Messi would risk throwing away years of building his 'good guy' image so that he could insult Jose Mourinho's assistant in front of many Real Madrid employees who would definitely waste not time to share such actions with the media immediately.

3. Aggressive tackles are to be expected whenever Real Madrid and Barcelona face each other. Tough challenges have been flying between the two rival clubs for nearly a century and to be honest, the situation is not likely to change any time soon.

Jose Santamaria, Migueli, Fernando Hierro, Miquel Angel Nadal or Pepe, to name a few, have been known to use force in an attempt to intimidate their opponents during El Clasico. Please note that I'm not arguing whether doing so is morally correct or not -- simply stating a fact.

While I can see why Jordi Alba is right to be annoyed by such an aggressive action, the truth is that football is a contact sport where being tackled can only be interpreted as an integral part of the game. It is down to the referee to decide what sanctions each tackle may deserve and considering the obvious difficulty of judging in such a short period of time, all players can do is let them get on with their jobs.

Personally, I feel the La Masia graduate should use his frustration as an incentive to perform to an even highest standard in the return match at the Camp Nou and refrain from making unnecessary complaints to the media who, let's face it, were always going to use his words to increase the 'All-Barcelona-Do-Is-Whine' reputation.

An uneventful transfer window

Considering the remarkably successful results so far, the Blaugrana transfer market has been rightfully quiet. The Camp Nou giants have made a fair share of below-par signings in previous winters, blowing tons of money unnecessarily in the process.

Fortunately, the manager and board have finally learned from their mistakes and realised that home-grown talent must be the way forward to cover eventual gaps given the overall quality of the current squad.

While most rumours have been around the departure of inexplicably neglected striker David Villa, common sense prevailed and the Spanish international will be staying until the end of the season.

In fact, the only deal completed has concerned Isaac Cuenca, who has been loaned to Ajax. It's a positive move that will give the young winger an opportunity to recover fitness after an 8-month absence.

Have your say

I welcome and appreciate all respectful feedback. Would you like to share any other important points with us?

Never miss an update: Join the 32,000 Cules who already follow at @Barcablog_com and Facebook.