El Clasico awaits after thrilling win at Malaga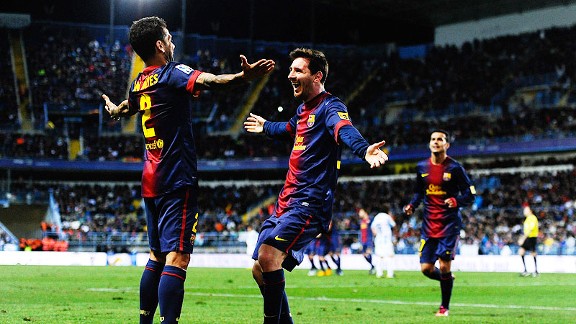 David Ramos/Getty ImagesLionel Messi's goal capped off Barcelona's hard-fought Copa del Rey quarterfinal win over Malaga.
Barcelona achieved an intriguing 2-4 win (4-6 in aggregate) against Malaga at La Rosaleda in the return leg of the Copa del Rey quarterfinals. Pedro Rodriguez, Gerard Pique, Andres Iniesta and Lionel Messi scored the goals for the Blaugrana, who attempted 15 shots, nine of them on target and one that hit the post.

- Barcelona battle past Malaga

Despite having the better chances and a higher possession percentage (70%), the Catalans never really looked fully comfortable due to the high pressure Malaga applied across the whole pitch, working as a unit when dispossessed.

Barcelona did score early, but it was disappointing to see the team dropping the momentary advantage once again, proving how vulnerable the defence can be when players are not fully committed to closing spaces as tightly and quickly as possible.

Despite that fact, the Blaugrana players fought tirelessly to achieve a valuable win which keeps the Catalans' hope of retaining the title alive. The players were absolutely correct to not let the guard down until the very last minute as the match really could have gone either way.

The most demanding fans will surely argue that the overall performance was far from perfect, but being able to come out victorious after such an intense battle away at one of the most passionate grounds in the competition can only be regarded as a success.

Either way, the match is now over and Barcelona qualified for the next round -- which is certainly going to be an entertaining one.

Jordi Roura, who deputised for Tito Vilanova as interim manager while the first team coach had to return to New York to continue his fight towards full recovery, helped the team book their place in an incredibly exciting semifinal showdown against Real Madrid.

Yes, you read that right. To the delight of football lovers around the globe, Barcelona have now gifted fans with a mouth-watering double-header against their arch-rivals in the next round. Expect drama, sweat, blood and tears in what will surely become another thrilling chapter of the most ferocious rivalry in Spanish football.

Undoubtedly, it is an exciting prospect to look forward to, but let's not forget about the present. Barcelona have managed to score 100 goals in just 34 matches since the season started, a clear indication of a job well done.

True, the club hasn't won any titles yet but being in this privileged position at this stage is truly ideal and has definitely surpassed the most optimistic expectations so far.

May the positive results continue for many centuries to come.

Player Ratings (0-10; 10=best)

Pinto (5) -- Beaten a couple of times, didn't look too comfortable when tested.

Dani Alves (7) -- Assisted Pedro for Barcelona's first and Messi for the team's fourth. Incisive, energetic, but imprecise with passing at times. Overall, a positive performance which had glimpses of his former self.

Gerard Pique (7) -- Not always solid defensively. Found the net with an impressive chest control and left-foot volley, making it look as easy as if he was a top striker who scores for a living rather than a mere centre-back. A perfect way to celebrate the birth of Milan, his first-born.

Javier Mascherano (6) -- Caught out of position in the Malaga goals, but was able to stop many counterattacks with well-timed tackles.

Jordi Alba (6) -- A couple impressive, formidable runs showed that his speed continues to be a deadly weapon that Barcelona directors were clever to add to the squad this season. Good defensive display.

Sergio Busquets (6) -- Kept position well, but due to the nature of the game, was taken out of his comfort zone at times. Managed to intercept several counter-attacks before they actually happened.

Xavi Hernandez (7) -- Contributed enormously to most of the goals. His influence was felt all across the pitch. I felt his game became more paused and organised as the match developed, especially after Iniesta's goal.

Cesc Fabregas (8) -- Assisted Iniesta for the third Blaugrana goal after an unexpected turn which surprised his markers, an action that ultimately unbalanced the game.

Lionel Messi (8) -- Another quality performance which helped the team achieve qualification for the next round. I loved the way that, despite being constantly surrounded by countless defenders, his desire to persevere with every attacking action allowed him to win second and even third balls which ultimately gave him the edge. Sealed the win with his 40th goal of the season -- an impressive record by anyone's standards.

Pedro Rodriguez (7) -- Heavily involved, generous with his effort. Eager to drop deep in order to participate in the build-up, then opened up to stretch the pitch. Scored with a confident header after an accurate Alves cross from the right wing.

Andres Iniesta (8) -- Man of the Match - Magical once again. Hit the crossbar after a quick combination with Messi. Assisted Pique with an incredibly accurate cross from a considerable distance. A wonderful one-two with Fabregas enabled him to beat Kameni with a determined finish.

Substitutes: Thiago Alcantara (6), Alexis Sanchez (6), Adriano (6)

Have your say

What did you think of Barcelona's performance vs. Malaga?

Who was your Man of the Match? What are your player ratings?

I welcome and appreciate all respectful feedback.

Never miss an update: Join the 32,000 Cules who already follow at @Barcablog_com and Facebook.