Wanted: Quality goalkeeper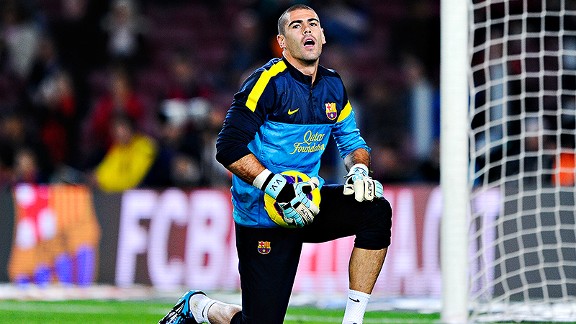 David Ramos/Getty ImagesBarcelona have yet to win since news broke of Victor Valdes' intention to leave the club in 2014.
Victor Valdes' irresponsible decision of informing every single human on Earth about his departure from Barcelona a massive 18 months before his contract expires has definitely upset the balance of the team at a crucial stage of the season -- thanks very much.

After the potentially traumatic departure of the inspirational Pep Guardiola, newcomer Tito Vilanova managed to establish himself as the new leader within the Camp Nou dressing room and take the team to the best ever start to a La Liga season in the competition's history. With the Blaugrana on a seemingly unstoppable winning streak, many wondered what records would fall next on the way to inevitable silverware.

Then Victor Valdes jumped ship for no apparent reason.

Since his agent made public the Catalan keeper's wishes to abandon the club, the media attention on the unexpected story has been tremendous, to the point that it seems to be the only topic that fans can talk about these days.

Andres Iniesta, teammate and best friend within the Blaugrana dressing room was first to defend him: "Without him you cannot understand the trophies this Barca have won. It would be very unfair if the fans did not support Victor. It would be a mistake to start throwing stones among ourselves. As a player I would prefer to have him here as he is the best goalkeeper in the world and will miss him a lot."

Cesc Fabregas followed: "We have to respect Valdes' decision and close the matter there. We have titles to fight for and the game goes on and so does the club."

Ironically, the only one who hasn't said a word about the whole situation is Valdes himself, which amazes me. Personally, I would feel obliged to face the media and explain my version of the story to those fans who have shown their support for over 10 years, rather than allowing others to speak on my behalf.

If the goalkeeper loves the club as much as everyone around him says he does, then he should come forward to try to extinguish the fire that he has single-handedly ignited.

It may be a coincidence, but Barcelona has failed to win any of the matches since Valdes' teammates found out about his decision. Sure, every top team can have a couple of negative results, but it is the way in which the matches were thrown away in the dying minutes that worries me the most. It was due to a lack of concentration, an inability to remain focused and, to put it bluntly, poor goalkeeping and defending when it really mattered.

The upcoming match away at Malaga has now become a major event, a life or death final which will certainly be a challenge in front of one of the more hostile crowds in all of Spain, especially after their promising 2-2 result at the Camp Nou which gives them a real chance to knock the current Copa champions out of the competition at a dangerously early stage.

The transfer circus has already started

Unfortunately, it looks like Valdes has prioritised his desire to break away and use his agent to tell the world about it instead of making the exact same decision behind closed doors, making things easier and cheaper for everyone at the club.

Unsurprisingly, countless rumours and candidate names have already been splashed all over the media. While I have no desire to highlight every single little transfer story, the truth is a couple of them are worth mentioning at this stage:

Pepe Reina's dad has gone on record to mention the fact that the Liverpool keeper would be "delighted to return to his Barcelona." While Papa's eagerness to express his son's intentions to return to the club that gave him his professional breakthrough is appreciated, I have my doubts as it would definitely not be a long-term solution.

Having said that, Reina could become a temporary patch until the very promising Joseph Ondoa is ready to take centre stage. Sure, the 17-year-old Cameroonian keeper who joined Barcelona via the Samuel Eto'o Foundation four seasons ago still has some more maturing to do at La Masia, but reports about him couldn't be any more optimistic.

Another rumour that seems to be going strong is a potential Valdes-De Gea swap with Manchester United. Supposedly, Alex Ferguson would much rather have an experienced keeper at Old Trafford after realising the Under-21 Spanish international's adaption to the Premiership much harder than anticipated.

I won't personally believe anything until I see it, but the deal seems reasonable from a Barcelona perspective -- whether the English club agrees to it is a completely different matter.

Whatever the latest rumours may say, I actually feel the Blaugrana directors should be looking for a young goalkeeper who has already proven to be a solid shot-stopper at professional level, then train on improving his passing ability and footwork once he is at the Camp Nou.

On that basis, my preferences are clear: Thibaut Courtois from Atletico Madrid/Chelsea, Marc Andre Ter Stegen from Borussia Monchengladbach and Vicente Guaita from Valencia. Please note: I have certainly not forgotten about Manuel Neuer but there is simply no reason for him to leave Bayern Munich after establishing himself as a regular starter for club and country and knowing that Guardiola is on his way.

Final word

Whether we like it or not, peace is momentarily broken at Barcelona. How long the transitional period back to normality lasts depends on how many positive results the team can get in the near future.

As for Valdes' replacements, these are early days but don't worry -- there will be plenty of chances to discuss the matter in the coming months.

Next up: Malaga. Players need to focus on football and fight for qualification while ignoring the media circus that the goalkeeper has so inconveniently created around them.

Have your say

I welcome and appreciate all respectful feedback. Would you like to share any other important points with us?

Never miss an update: Join the 32,000 Cules who already follow at @Barcablog_com and Facebook.