Valdes jumps ship; Sociedad stun 10-man Barca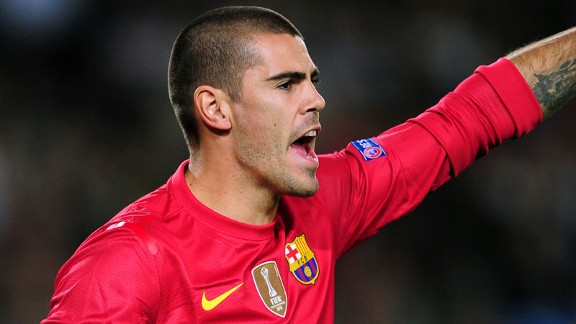 PA PhotosValdes has made the "irrevocable decision" to not sign a new Barca deal
After 11 seasons defending the Camp Nou goal, Victor Valdes has informed Barcelona of his intention to leave when his current contract expires in June 2014. Not the most positive news for a club where continuity and tradition is key to success, but certainly not the end of the world either.

- Match report: Real Sociedad 3-2 Barcelona

In his recent press conference (the only time he has faced the media this season), Victor explained: "People always talk, it doesn't surprise me anymore. Some have always doubted me but the only ones who can talk about goalkeeping are those who have experienced the job. Defending the Barcelona goal for such a long period of time is complicated. I don't discard experiencing other teams, cultures and countries."

The way in which his agents approached the first contract renewal meeting with sporting director Andoni Zubizarreta was shocking. Reportedly, they simply came in, informed him of Valdes' irrevocable decision to leave, refused to hear any potential offers from the club and walked out.

Sure, everyone has the right to choose their own future and the company they want to work for but, ultimately, my feeling is the club that has given him everything in his professional life deserved the chance to at least share the contract offer which could have seen his career out as a Camp Nou legend.

Instead, Valdes has forced his way out in such an abrupt manner that many Cules suspect that he has a much more lucrative deal lined up elsewhere.

While unexpected, this decision becomes less surprising if we look back at the rocky history between goalkeeper and club since he joined the club at only 10 years of age. From refusing to play for the B team as a punishment for disobeying Louis Van Gaal's instructions or missing training while the Dutchman was in charge to the endless, ferocious negotiations before signing his current contract back in 2009, it is obvious Valdes is no stranger to heated conflict.

What concerns me the most is not the fact that Valdes is leaving, but the total lack of judgement in communicating his decision to the media. The timing is terribly wrong, as his team-mates tried to make him realise as soon as he shared the news within the dressing room. With Barcelona currently in a privileged position to fight for the treble, the media circus created as a result of this news can only damage the calm atmosphere which positive results have created around Barca's players and staff.

The club directors would have also preferred the goalkeeper to keep his decision private until a replacement was found while working behind the scenes. The whole of world football now knows Barcelona are looking for a new goalkeeper which, unfortunately, will make the task much more costly and difficult than it could have been had basic common sense been applied.

There is obviously a more positive way to look at the situation: Barcelona have plenty of time to replace a goalkeeper who a remarkable number of fans have considered the weakest player in the starting eleven for a number of seasons.

Personally, I feel Valdes' departure is a considerable loss for Barcelona. The fact that he reached the first team after years of learning the system while at La Masia makes him special in terms of understanding the club's philosophy and the crucial need to play the ball on the floor from his position in order to enable the whole formation to function appropriately.

Having said that, I am confident the Blaugrana coaches can teach those concepts to any of the prospective goalkeepers that the media have highlighted as possible replacements. The list is already large (De Gea, Courtois, Guaita, Ter Stegen, Stekelenburg) and will surely grow over the next few months. I am certainly not looking forward to endless rumours hitting the headlines on a regular basis from now on but I guess it's an inevitable part of the process.

Many Cules around the world will certainly not miss Valdes' sporadic blunders once he's closed the Camp Nou doors behind him, but there was simply no need to upset the club's stability with a massive 18 months to go until his contract expired.

Cules certainly don't want anyone in the squad who isn't fully committed so my message to Valdes is simple: Thanks for the memories and good luck finding a club which will improve your €7 million per season salary while challenging for the biggest titles in world football.

Real Sociedad stun Barca with late winner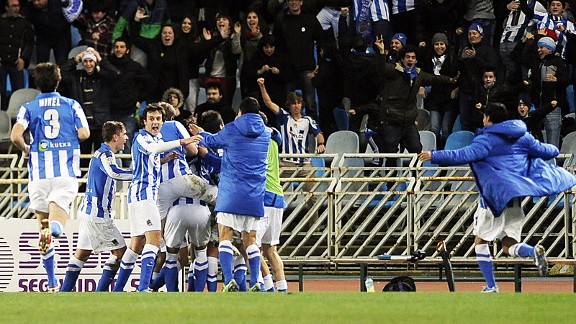 GettyImagesReal Sociedad celebrate their dramatic winner against Barcelona
Barcelona were defeated 3-2 by Real Sociedad at Anoeta in Matchday 20 of La Liga. Lionel Messi and Pedro Rodriguez scored the goals for the Blaugrana, who enjoyed 69 percent of possession and attempted eight shots, three of them on target and two that hit the post.

As expected, Real Sociedad faced this game as if their lives depended on it, giving their all in every play. Tito Vilanova's men, while able to keep possession during longer periods, never really seemed comfortable on the pitch, especially after Gerard Pique's sending-off in the second half.

No need to panic: This was the first Barcelona defeat in La Liga since April 2012 and the distance over the closest rivals at the top of the league continues to be considerable.

However, wasting yet another advantage by allowing a late goal for the second time in just four days must be regarded as a warning, an early reminder that any well-organised, ambitious team can hurt Tito Vilanova's side unless the Blaugrana players remain fully focused.

Player Ratings (0-10; 10=best)

Victor Valdes (5) - Unable to save either goal, seemed to lack concentration at times.

Dani Alves (6) - Great spirit. Assisted Pedro for Barcelona's second after a fantastic overlap from the right wing. Failed to cover Chory Castro tightly enough to block the shot that ultimately became Real Sociedad's first goal.

Carles Puyol (6) - Solid while partnering with Pique, struggled to cover spaces up after Barcelona were reduced to 10 men.

Gerard Pique (3) - A disastrous night at the office. Considering his experience at professional level, getting sent-off for such minor, avoidable offences is ridiculous. A clear example of why Tito Vilanova must ensure all his players remain on task at all times.

Jordi Alba (6) - As efficient as usual when dropping into attacking positions, but challenged defensively by his mark in far too many occasions.

Sergio Busquets (6) - Not his best performance of the season. While he joined in creating play by combining quickly with Xavi and Iniesta, was caught out of position several times.

Xavi Hernandez (6) - Ensured the ball continued to flow effectively in midfield. Kept trying to drive Barcelona into the attacking third despite the numeric disadvantage.

Cesc Fabregas (6) - A confident performance thanks to his mobility, rotation movement and ability to link up with those around him. Would be gutted to have been substituted as a result Pique's sending-off.

Lionel Messi (7) - Scored the opening goal with an accurate shot. Managed to hit the post shortly after with a great display of acceleration and desire. Unable to break the Basque defence during the second half.

Pedro Rodriguez (8) - Man of the Match - Smashed the ball into the post, then went on to score the second Blaugrana goal. Great defensive pressure, as usual. I'm delighted to see his confidence in front of goal coming back in recent games, building on his double against Espanyol. Good to see him returning to his former self.

Andres Iniesta (8) - Assisted Messi for his first after a classy individual effort. Managed to continuously confuse his markers with quick, accurate passes into space. Must be pretty annoyed that his remarkable display of pure skill wasn't rewarded with a victory.

Substitutes: Javier Mascherano (6)

Have your say

I welcome and appreciate all respectful feedback. Would you like to share any other important points with us?

Never miss an update: Join the 32,000 Cules who already follow at @Barcablog_com and Facebook.