High-five: No Messi, no problem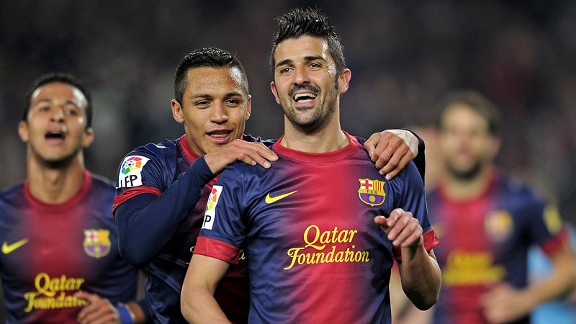 Lluis Gene/AFP/Getty ImagesAlexis Sanchez, front left, and David Villa both scored twice in Barca's win
Barcelona achieved a solid 5-0 win against Cordoba Thursday in the return leg of the Last 16 round of the Copa Del Rey. David Villa and Alexis Sanchez (braces) and Thiago scored for the Blaugrana, who enjoyed 63 percent of possession and attempted 20 shots, 12 on target and one that hit the post.

The Blaugranas qualified for the quarterfinals, where Malaga awaits, with an aggregate 7-0 victory.

Carles Roura managed the team again due to the absence of Tito Vilanova, who rightly decided to prioritise his health to football by travelling to New York for a few days to visit the prestigious Sloan-Kettering Cancer Center.

However, it was pretty much business as usual for a team who can now perform highly with very little input from the sidelines. Players have truly embedded the manager's formation thanks to their remarkable level of maturity and endless hours of focused training, allowing the system to run like clockwork.

As it has been widely documented all over the world's media, Lionel Messi was crowned Ballon d'Or winner for the fourth consecutive time in midweek. Contrary to what many believe though, La Pulga's status as the world's best player is not enough for him to avoid team rotations anymore, in what is a clear improvement from previous seasons when he would be allowed to play every single minute of every match unless unavailable due to injury.

This game gave Cules a chance to see more of those players who, due to the incredibly high standards of the preferred 11, can't seem to find a way to break into the team.

After weeks of hearing far too much speculation about Villa's future, I was delighted to see him back in the Camp Nou doing what he does best: Netting goals thanks to his innate goalscoring instinct.

While it is obvious a player of his caliber has nothing to prove at this stage in his career, the truth is that such an effective performance would have definitely boosted his confidence and make it even harder for the coach to bench him in the future.

El Guaje had to leave with about 13 minutes remaining favoring his right thigh. But tests showed the injury was not serious -- brilliant news.

It was also positive to see the courageous Alexis Sanchez back in the scoresheet. From a team perspective, the fact that Messi's attacking teammates have managed to score in the last two matches is tremendous news. As my mid-season review highlighted, this was definitely one of the areas to improve on after the Christmas break.

All in all, another positive result which certainly shows the strength and depth of the squad as a whole. Sure, Messi is the most influential player in the modern game but this Barcelona squad has proven their undeniable value once again and achieved yet another positive result while he remained an unused substitute for the first time in 19 months.

Player Ratings (0-10; 10=best)

Pinto (6) – Hardly tested in goal but responded when needed.

Dani Alves (6) – Positive performance, joined attack freely with constant overlapping from the right wing.

Martin Montoya (6) – Solid defensively, eager to participate with generous runs and well-timed passing.

Carles Puyol (6) – Organised the defensive line well and kept his area of influence safe throughout. Never challenged.

Javier Mascherano (7) – Managed to stop potential Cordoba counter-attacks before they actually happened. Took Gerard Pique's responsibility of starting the Blaugrana attacks from the back-line in his absence.

Alex Song (7) – His most comfortable performance as a Barcelona player. Ensured the midfield remained compact with his defensive consistency and direct passing. Assisted Thiago for his first.

Sergi Roberto (7) – Kept the ball well in possession with his calm but relentless approach, always looking for the best passing options around him. His accurate first touch, great vision and awareness enabled him to assist Villa for Barcelona's third. Unfortunately was substituted with a disappointing injury which will sideline him at least four weeks.

Thiago (8) – Man of the Match - The leader of the Barcelona midfield in Xavi's absence, which is a sign of his undeniable quality and potential. Read the game well and was able to control distribute the ball well across the pitch. Opened the scoring with an excellent finish after a great run into space. Unlucky to hit the crossbar with a powerful curled shot from mid-range. A remarkable display of class which will definitely put him in contention for more playing time in the near future.

David Villa (8) – Scored his first after dribbling his defender inside the area, then chipping the ball into the most unthinkable gap. His second came with a confident, accurate strike. Should definitely be on the pitch much more often in order to help the team.

Alexis Sanchez (8) – Eager to make diagonal runs from wide positions during the first half, then moved into a more central position after Cesc Fabregas was substituted at half-time. After missing several clear chances due to the lack of composure caused by his burning desire to prove himself, scored with a textbook header and a clever deflection. Finding the net again will definitely give him the confidence boost he so desperately needed -- so pleased for him.

Cesc Fabregas (7) – Replaced Messi as a false striker in the starting lineup with a convincing display of movement, through passes into space and quality touches.

Substitutes: Cristian Tello (7), Marc Bartra (6), Jonathan Dos Santos (6)

Have your say

What did you think of Barcelona's performance vs. Cordoba?

Who was your Man of the Match? What are your player ratings?

I welcome and appreciate all respectful feedback.

Never miss an update: Join the 32,000 Cules who already follow at @Barcablog_com and Facebook.