Lionel Messi golden again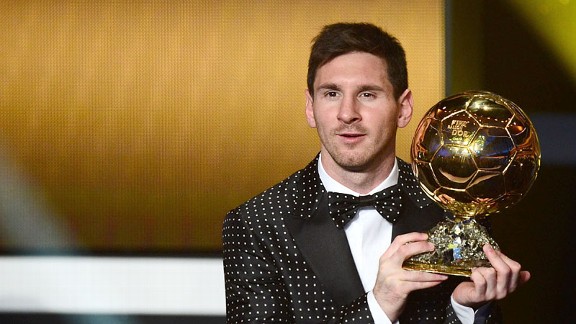 Oliver Morin/Getty ImagesLionel Messi is the only player ever to have won the Ballon d'Or four consecutive times.
The Blaugrana machinery never really stops. Just hours after beating struggling neighbours Espanyol thanks to a long-awaited double by Pedro, the media attention had quickly shifted toward the highly-anticipated Ballon d'Or gala in Zurich.

- Messi wins fourth Ballon d'Or
- Messi sets records with fourth Ballon d'Or

After scoring a record 91 combined goals for Barcelona and Argentina in 2012 and lifting the Club World Cup, Copa del Rey and the Spanish and European Supercups, it was the genius, Lionel Messi, who walked away with the prestigious award in front of the eyes of finalists Andres Iniesta, Cristiano Ronaldo and many football legends, past and present.

In what was an emotional but brief speech, the consecutive four-time winner made his unselfish nature pretty clear once again: "This is impressive. I want to share this trophy with all Barcelona players, especially with Andres Iniesta today, and my teammates on the Argentinean national team."

During the news conference prior to the gala, Messi also explained: "This hasn't been my best year. I'm more interested in team awards than I am about what I might win individually. There have been years where we won more titles that have been better. When I was 8 years old I never dreamed of being the best. I don't dream about it now. The only thing that interests me is to play with the ball and enjoy the game."

As I always say, numbers don't lie: 281 goals for Barcelona since his professional debut back in 2004 at just 17 years of age, making an instant impact. Fourteen goals in the 2011-12 Champions League, becoming the competition's top goal scorer for the fourth consecutive season. Five goals in the match against Bayer Leverkusen. Fifty La Liga goals. Two Golden Boots. Need I say more?

To put it simply, this award takes Messi to the very top of the football power pyramid, making him the only player to win the Ballon d'Or four consecutive times. The fact the tiny kid who came to Barcelona with his determined dad looking for a chance all those years ago has now gathered more individual trophies than Johan Cruyff, Michel Platini or Marco Van Basten is certainly incredible -- Cules can definitely regard the day when his dad and former manager Carles Rexach decided to seal his first Blaugrana contract on a tiny napkin as the best idea in human history.

Last, but certainly not least, I'd like to highlight that Barcelona's golden boy has definitely worked tremendously hard to be where he is today but, as Messi said himself, it is the strength of the team that enables him to shine as an individual. Being the focal point of an attacking formation where a bunch of talented stars such as Iniesta, Xavi Hernandez or Cesc Fabregas use their talent to your benefit would be a dream come true to any professional footballer, and it is only fair that their priceless influence is also highlighted.

Grande Leo!

Guardiola, proud of Tito Vilanova's work

Pep Guardiola, who also confirmed that he will be coaching again next season, explained: "Watching Barcelona is a spectacle. I was lucky enough to be at this fantastic club for a few years and for me, the best prize is to see them playing the same or better than when I was there, being respected for the way they play and for all the things they do well."

Great to see the man who took the Blaugrana to the most successful period in history using the spotlight to recognise the great work his humble successor has carried on since his departure. It was both refreshing and reassuring to hear him praising his successor and the men who took him to the privileged position of being able to choose his next job from the comfort of his luxurious Manhattan apartment.

Have your say

I welcome and appreciate all respectful feedback. Would you like to share any other important points with us?

Never miss an update: Join the 32,000 Cules who already follow at @Barcablog_com and Facebook.