Pedro bounces back to win Catalan derby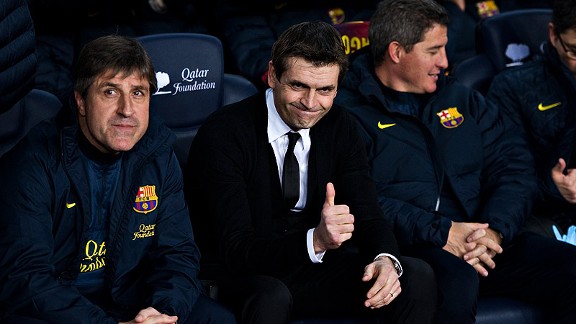 David Ramos/Getty ImagesBarca manager Tito Vilanova had a stress-free return to the Camp Nou bench
Barcelona achieved a comfortable 4-0 win against Espanyol at the Camp Nou in Matchday 18 Sunday. Xavi, Pedro Rodriguez (double) and Lionel Messi scored for the Blaugrana, who enjoyed 78 percent of possession and attempted 19 shots, eight on target and one to the post. This result helps Tito Vilanova's side extend the lead over Atletico Madrid at the top of La Liga to 11 points.

- Four-star return for Tito

This Catalan derby will definitely not go down in history as the most difficult or exciting ever played. The ultra-defensive approach that newly-appointed Perico boss Javier Aguirre adopted during early in the match - consisting of defending with 10 players and hoping to reach lone striker Sergio Garcia with a long counter-attacking clearance - gave the Barcelona midfielders enough time to look for spaces while distributing the ball across the final third.

This conservative approach enabled the home team to lead an electric start, with the talented Blaugranas ensuring the match was virtually over after scoring an impressive four times in the first 28 minutes. The hosts seemed to take the foot off the accelerator and went on to control the game by adapting a less-frantic version of the classic pass-and-move approach.

All in all, a placid evening of football where the Barcelona faithful were gifted with yet another convincing victory over struggling neighbours Espanyol, had the chance to give an emotional Vilanova a thoroughly-deserved standing ovation and witnessed the long-awaited return of the relentless Pedro Rodriguez to the scoresheet after a very difficult few months.

It was reassuring to see Ballon d'Or finalists Lionel Messi and Andres Iniesta leading the team to such a competitive level of performance so shortly after the Christmas break and building on their already impressive 52 out of 54 tally, extending the best start to a La Liga season.

While it's true that Cules have been spoiled by a golden generation of players for a good number of years now, it must be highlighted results have never really been this positive in over 100 years of Blaugrana history and supporters need to realise that this level of success can't possibly last forever. In other words: The team deserves to be trusted but fans must be prepared for whatever adversity may come in the future.

Player Ratings (0-10; 10=best)

Victor Valdes (7) - Only tested once in the whole match, responded well with a confident save. Surely delighted to have kept another clean sheet.

Dani Alves (6) - Spirited display. Unfortunately, his crossing was imprecise at times and, for the first time since he joined Barcelona back in 2008, I found myself thinking others such as Adriano or upcoming youngster Martin Montoya would have been a better choice.

Carles Puyol (7) - Confident performance from the charismatic captain, who looked unbeatable most of the game.

Gerard Pique (7) - Mostly solid but was lucky to get away with a couple of concentration lapses that could have proven costly had Espanyol forwards been a bit more inspired.

Jordi Alba (7) - Continuously asking questions of the Perico defence by constantly overlapping from the left wing, combining well with the creative midfielders.

Sergio Busquets (8) - Another strong performance which reinforces the case of those who argue that he is becoming the silent leader of the best midfield in world football. His accurate assist to Pedro was definitely one of his best ever pieces of skill, incredible class.

Xavi Hernandez (8) - Controlled the Blaugrana midfield with his usual quick passing and clever distribution. Not happy with that, went on to score his fifth goal of the season with a confident strike which ultimately unbalanced the game.

Cesc Fabregas (8) - Returned to the team after over a month's absence and was picked for the starting line-up just three days after being declared fit by the medical staff, which shows what an important player he has become under Vilanova. Didn't disappoint: Created the second Barcelona goal and was fouled inside the area to allow Messi to convert the fourth from the penalty spot.

Lionel Messi (7) - Unsurprisingly, attracted a huge number of Perico defenders who were chasing his shadow the whole match, trying to stop him from getting any clear chances. Participated well, converted the penalty confidently and smashed the post with a long-range free-kick.

Pedro Rodriguez (8) - Man of the Match - At last, the performance that he so desperately needed. Scored a couple of pure instinct goals by simply being in the right place at the right time and keeping calm under pressure. After finding the net for the first time since late September, I honestly hope this is the start of bigger and better things to come from El Canario.

Andres Iniesta (7) - Widened the pitch well when on the wings, got heavily involved when moving diagonally into more central positions. Enabled Alba to display his quick movement, assisted Xavi for his goal and combined well within the Barcelona attacking rotation.

Substitutes: Thiago Alcantara (6), David Villa (6), Alexis Sanchez (6)

Have your say

What did you think of Barcelona's performance vs. Espanyol?

Who was your Man of the Match? What are your player ratings?

I welcome and appreciate all respectful feedback.

Never miss an update: Join the 32,000 Cules who already follow at @Barcablog_com and Facebook.