Why Alexis Sanchez won't leave Barcelona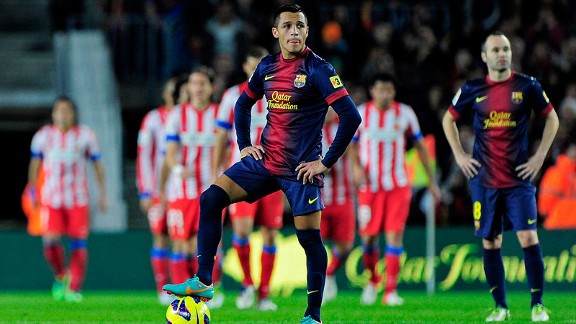 Josep Lago/AFP/Getty ImagesAlexis Sanchez has been unsteady, but has the Barca coaches' backing
The Catalan media has continued to highlight the interest that Italian champions Juventus keep showing in Alexis Sanchez during the winter transfer window. In fact, there seems to be a new rumour about him on a daily basis, a direct reflection of the lack of trust a growing number of Cules have in the Chilean international.

Far from being unsettled by the latest transfer gossip, the forward himself explained: "I am relaxed about the situation. I want to continue adding to the Barcelona team and win more titles. I have started in important games."

As my Blaugrana midseason review highlighted, I have been far from impressed with Alexis' performances this season, especially in the goalscoring department. Netting only one in 1,087 minutes can only be considered a terrible return. But having said that, I still believe the 24-year-old has enough skills to turn it around in the coming months.

In fact, his poor finishing somehow overshadows he does open up many spaces which enable teammates to create scoring chances. Rival defenders also find it increasingly hard to build creatively from their back-line with relentless pressure as soon as Barcelona are dispossessed.

If Pep Guardiola believed Sanchez was worth a 37-million euro investment a couple of summers ago and Tito Vilanova continues to use him ahead of quality forwards such as David Villa and Cristian Tello, it must be because they both trust his abilities and potential to grow into a world-class player worthy of a place by Lionel Messi, Xavi and Andres Iniesta.

Let's face it: Whether fans like it or not, Sanchez isn't leaving the Camp Nou because, at this moment and despite growing criticism, he still has the full confidence of Barcelona coaches.

As a result, all supporters can do at this stage is trust Vilanova's judgement (a man who, don't forget, has taken the team to the league lead with a virtually perfect start) and stand by the player while hoping he justifies his position with plenty of goals and assists in the near future.

Vilanova returns earlier than expected

After a well-deserved Christmas break where players were given the chance to disconnect for a short period to celebrate with families and, ultimately, recharge their batteries for the difficult road ahead, Barcelona have finally returned to training at the Ciutat Esportiva.

Miraculously, Vilanova surprised the world by leading the session himself less than a fortnight after undergoing major surgery for the second time in 13 months. Such a quick recovery has more than surpassed the most optimistic predictions and, once again, shows his relentless desire to carry out his duties with total determination and impeccable professionalism.

Seeing Eric Abidal welcoming his manager back to training will definitely be one of the best images of the whole of 2013 - and yes, I am fully aware the year has only just started.

A Catalan party

As it traditionally happens during the La Liga Christmas break, the Catalan football federation arranged an international friendly which grabbed both sporting and political headlines, sparking endless debate all over Barcelona and beyond.

From a sporting perspective, it was obvious Catalunya manager Johan Cruyff was going to build his team following his traditional attacking formation, which is why the nine Blaugrana players selected didn't surprise anybody. While you would expect the likes of Xavi, Sergio Busquets, Gerard Pique, Carles Puyol and Jordi Alba to produce high-quality football and come out victorious, the match against Nigeria was far from spectacular and ended up a fair 1-1 draw.

While I personally don't have strong views as to whether Catalunya should remain a part of Spain, I would like to highlight that the 28,000 who gathered at Espanyol's Cornella-El Prat stadium ensured the occasion was celebrated in a proud, civilised manner in what was yet another opportunity for Catalans who desire independence to make it clear to those politicians who, in their opinion, need to hear it.

Have your say

I welcome and appreciate all respectful feedback.

Would you like to share any other important points with us?

Never miss an update: Join the 32,000 Cules who already follow at @Barcablog_com and Facebook.