Midseason review: Player ratings (part 2 of 2)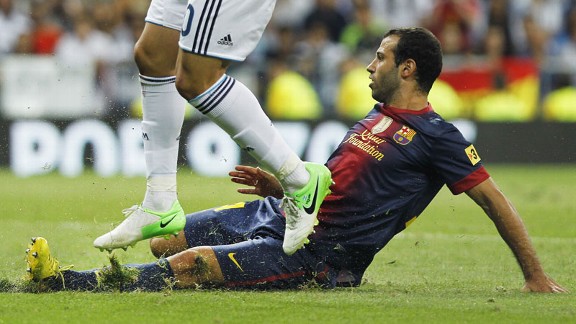 PA PhotosJavier Mascherano: 182 balls recovered in 20 appearances
Thanks for all your feedback in my previous posts, in which the overall performance of the Blaugrana team as a whole was analysed. As were the individual achievements of the following players: Victor Valdes, Dani Alves, Gerard Pique, Cesc Fabregas, Carles Puyol, Xavi Hernandez, David Villa, Andres Iniesta, Alexis Sanchez and Lionel Messi.

As promised, here are my ratings for the rest of the squad:

Barcelona 2012/13 Player Ratings Aug.- Dec. (0-10 scale; 10=best)

Thiago Alcantara (Midfielder) 6: Has spent most of the season sidelined with a knee injury and has therefore been unable to fulfil his full potential as yet. Judging by what we have seen so far, the La Masia graduate will only improve with time, as his confidence, mobility and class remain untouched. Thiago fact: Only 3 full matches played so far, none of them in La Liga.

Jonathan Dos Santos (Midfielder) 6: Refused to listen to Tito Vilanova's advice to leave the Camp Nou on loan in the summer despite having interesting offers from competitive teams such as Sevilla or Mallorca in order to further develop his skills at Primera Division level. That controversial decision, unsurprisingly, lead him to only playing 93 minutes of football in the last four months. Disappointing to see how such a talented youngster turned down the opportunity to play professionally to simply sit in the Camp Nou stands.

Jose Manuel Pinto (Goalkeeper) 7: Has done a good enough job in goal when selected, earning him a new contract until June 2014. After years of watching matches from the bench, many argue it is time for Barcelona to look for a younger alternative who can actually challenge Victor Valdes for the starting spot but it must be said that, if all the club wants is a professional, reliable second keeper, then Pinto is a decent choice despite his 37 years of age. Pinto stat: Only 1 goal conceded in 4 matches.

Javier Mascherano (Defender) 6: Looked unusually vulnerable earlier on as a direct result of the manager's inability to field him together with a fit, consistent partner during most of the season. Luckily, the courageous Argentinean international has picked up lately, definitely influenced by the return of Gerard Pique to heart of the back-line, and is slowly but surely returning back to the confident defender that impressed the world last year. Mascherano fact: 182 balls recovered in 20 appearances.

Marc Bartra (Midfielder) 7: Performed to a remarkably high standard during the earlier defensive crisis, establishing himself as a reliable long-term option to gradually take over from those more experienced defenders who, let's be honest, are not getting any younger. The Catalan centre-back has been mostly unavailable due to minor injuries lately, but is certainly a prospect capable of challenging for a starting spot in the not-so-distant future. Bartra fact: 36 balls recovered in 346 minutes of football so far.

Sergio Busquets (Midfielder) 8: Has been consistently impressive in midfield. The way he covers up for more attacking players such as Xavi, Iniesta or Cesc while always making himself available for quick combinations is the glue that holds the Blaugrana system together. I am fully aware that the Ballon d'Or nominee collected a considerable number of haters earlier on in his career but, seriously, it is time to accept he has grown into a player most managers around the world would love to add to their team. Busquets fact: 1223 passes completed and 144 balls recovered in 16 La Liga appearances.

Pedro Rodriguez (Forward) 5: El Canario is a regular starting forward in a team that has scored 80 goals since September. As a result, having netted only once can only be considered as an unacceptable return, especially if we look back at his impressive 23 goals for Barcelona in the 2009/10 season at only 22 years of age. The way that he frees up space for Messi by stretching the pitch and running diagonally behind defenders is obviously key to the Barcelona attack as a whole but, let's be honest, that doesn't necessarily overshadow his poor goalscoring record. Pedro stat: 1775 minutes played, 35 shots, 1 goal.

Jordi Alba (Defender) 9: Has sparked the left wing with his electric speed, generous effort and delightful partnership with Andres Iniesta, taking the Blaugrana attacking threat to a whole new level. His €14 million transfer from Valencia in the summer can only be considered as one of the smartest sporting decisions in the club's recent history and, more importantly, the general feeling is that his best is still to come. Jordi Alba fact: 1108 passes completed, 19 crosses into the area, 13 passes creating goalscoring chances and 2 goals in 15 La Liga appearances.

Martin Montoya (Defender) 7: Has progressed immensely this year and is now in a position to regularly challenge for a full-back starting spot. His impressive performances while covering Dani Alves' absences due to injury have shown his undeniably clever positioning, optimum fitness and accurate passing skills. Montoya fact: 13 appearances in just 4 months, 3 more than in the whole of last season.

Adriano (Defender) 8: Without a doubt, the most improved player of the season. His traditionally generous effort and ability to reliably fit into virtually any position in the Blaugrana formation have been boosted by a truly unexpected scoring streak which has earned Barcelona a valuable amount of points so far. The fact that the great Dani Alves has been benched in his favour speaks for itself. Adriano fact: 5 goals scored in 11 La Liga appearances.

Eric Abidal (Defender) n/a: Continues to prove what an impressive human being and true professional he is. After a couple of life-threatening operations, many would focus on the possibility of recovering well enough to lead a normal life with his beautiful family while overlooking a cabinet full of individual and collective trophies. Not Eric: His recent return to training shows his firm desire to have yet another shot at professional football despite the cruel adversities he's been faced with.

Isaac Cuenca (Forward) n/a: Sidelined since May with a right knee injury, would be pleased to have rejoined training with the squad in recent weeks. Will definitely find it hard to get his share of playing time in an attacking line-up that even the legendary David Villa seems to be unable to break into, which is why I feel accepting the loan offer from Valencia would be a good option for him until he recovers full fitness.

Alex Song (Midfielder) 6: The &euro:19 million summer signing is fully committed to adapting to the Barcelona formation and has taken all the necessary steps to learn those all-important mechanisms which enable the ball to flow across the pitch. Having said that, the truth is that he failed to make a long-lasting impression when covering for the first-choice central defenders during the back-line injury crisis earlier on in the season. Let's hope he can show his worth as a midfielder in the near future. Song fact: 16 appearances, 11 of them as a starter.

Marc Muniesa (Defender) n/a: After debuting under Pep Guardiola back in May 2009, many expected the 20 year-old Catalan to be an established member of the first team by now. Unfortunately, his earlier career has been hit by a devastating string of long-term injuries which have kept him from showing his unique class in the lower ranks at professional level. Football can be cruel at times, but let's hope this is just a necessary step towards success.

Cristian Tello (Forward) 7: Has been electric this season, with Tito Vilanova using his blistering pace and confident attitude as a deadly weapon capable of unbalancing matches from the bench, often facing terribly tired defenders who could do very little against him. The Catalan prospect's ability to easily find the net must be considered as a firm alternative to struggling forwards Alexis and Pedro. Tello fact: 3 goals and 2 assists in 9 La Liga appearances.

Have your say

I welcome and appreciate all respectful feedback.

Would you like to share any other important points with us?

Never miss an update: Join the 32,000 Cules who already follow at @Barcablog_com and Facebook.