Barcelona midseason review: 10/10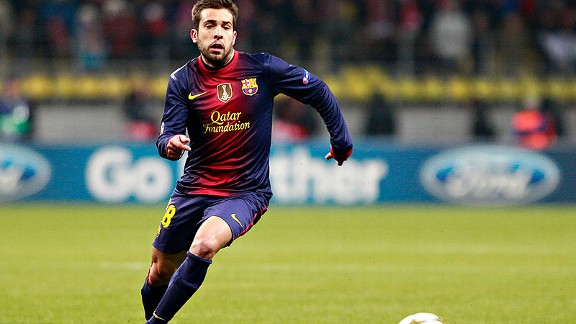 Dmitry Korotayev/Epsilon/Getty ImagesThe addition of Jordi Alba over the summer has injected a new dynamic to the Barcelona attack this season.
After leading the Catalan giants to the most successful period in the club's history, winning 14 out of 19 titles in just four seasons, the voluntary departure of inspirational manager Pep Guardiola had the potential to send the club into a dark period of institutional uncertainty and sporting instability.

- New contract for Pinto
- Barcelona dedicate win to Vilanova

Fortunately, the board's decision to trust his relatively unknown assistant Tito Vilanova has paid off, as the calm newcomer surprisingly has taken Barcelona to the best ever start to a La Liga season, winning a jaw-dropping 49 out of a possible 51 points thus far.

Cules can obviously be tremendously proud of such a remarkable streak of positive results, but it is the way in which the games have been won that makes this record even more impressive. The traditional pass-and-move philosophy continues to be the key principle, but the dynamics of the game have evolved into a slightly more anarchic formation where players interchange positions much more freely, enabling spaces for others to run into which has proven to be a much more effective weapon against ultra-defensive rivals.

Remarkably, the recent devastating news about Vilanova's ongoing fight against cancer only managed to make the coach himself and his players more determined to reach glory, an opportunity to turn a negative into yet another success story.

The way in which the media constantly highlighted the influence of Guardiola whenever titles were won in previous seasons created the impression that these players could only succeed under him. With the utmost respect to our legendary manager, reality has shown that is not the case.

Full credit must be given to the collective effort of the best generation of players in the club's history. If one thing has become clear during the first trimester of the season, it is that a squad with this level of quality, professionalism and commitment can be trusted to make themselves and the highly-demanding Blaugrana community proud.

I would like to take this opportunity to highlight the work of my Top Three performers in the 2012/13 season so far:

1. Lionel Messi has continued to impress and managed to set the bar even higher than ever before with an extraterrestrial 91 goals for club and country in 2012. There are simply no words to describe what La Pulga contributes to the sport on a weekly basis. I am fairly certain that none of us will ever see anyone surpass this landmark achievement in our lifetime -- unless Messi manages to improve on it again next year, of course.

2. Jordi Alba has sparked the left wing with his electric speed, generous effort and delightful partnership with Andres Iniesta, taking the Blaugrana attacking threat to a whole new level. His 14 million euro transfer from Valencia in the summer can only be considered as one of the smartest sporting decisions in the club's recent history and, more importantly, the general feeling is that his best is still to come.

3. Gerard Pique has finally reached a point of maturity in his career which has enabled him to take the lead, making him truly indispensable by bringing that defensive stability which Barcelona so desperately needed. Vilanova has successfully granted him more freedom within the system, enabling him to join attack whenever he finds a clear gap and allowing him to play a mixture of calm and direct football even from the back-line.

Final Word

Reaching the halfway point of the season leading the league with a comfortable nine point cushion over Atletico Madrid and 16 over struggling Real Madrid, plus having qualified for the round of 16 in the Champions League and Copa Del Rey can only be considered as a major success so far.

Raw data clearly shows that the title race is far from over, with many crucial matches and potential challenges to be faced over the coming months. But at this moment in time, it is fair to say that Cules can look back at the last four months with an undeniable sense of a job well done and looking forward to the likely possibility of regaining former success in the near future.

PS: On a personal note, I would like to thank all of those who take their time to regularly read and comment on this blog, making it one of the fastest-growing discussion platforms for Barcelona supporters around the world. As a born Catalan, the fact that even the official fcbarcelona.com site has regularly highlighted our community fills me with pride.

Merry Christmas and Happy New Year to you -- Looking forward to an even better 2013!

Have your say

I welcome and appreciate all respectful feedback.

Would you like to share any other important points with us?

Never miss an update: Join the 32,000 Cules who already follow at @Barcablog_com and Facebook.