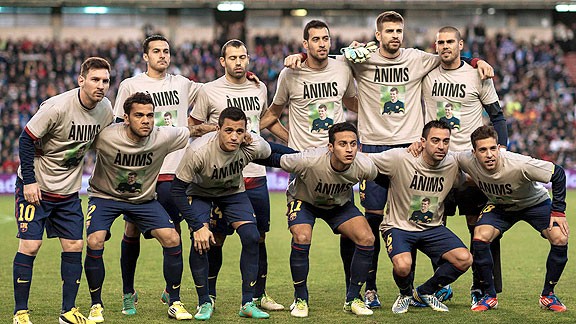 Victor Fraile/Getty ImagesBarcelona players wore t-shirts expressing their best wishes for manager Tito Vilanova
Barcelona achieved a valuable 3-1 win against Valladolid at the Jose Zorrilla Saturday. Xavi Hernandez, Lionel Messi and Cristian Tello scored for the Blaugrana, who enjoyed 66 percent of possession and attempted 11 shots, five on target and two that hit the post. This result helps Tito Vilanova's side mantain the 9-point lead over Atletico Madrid (and extend it to 16 over Real) at the top of the La Liga table.

The match was definitely overshadowed by the news that Tito Vilanova underwent surgery for a recurrence of parotid gland cancer Thursday. Fortunately, the latest developments at Vall d'Hebron hospital have been so positive since the intervention the Barcelona coach was allowed to return home before the match at Pucela kicked off.

Seeing his players jumping on the pitch with supportive t-shirts and, perhaps more important, grabbing yet another crucial away victory must have definitely brought a slight sense of happiness to a man who has been undeservedly attacked by bad news once again.

Sure, Tito still has at least six tough weeks of chemo and radiotherapy ahead of him, but knowing the Blaugrana family is behind him will surely help the calm coach on his way back to full recovery.

As for the match, it was a tough challenge as expected, especially given the circumstances. Jordi Roura took over as temporary manager, but the spirit remained largely untouched. Carles Puyol and Andres Iniesta were rested, while David Villa was benched for the fifth consecutive time in La Liga.

It is obvious El Guaje won't be impressed with his alarming lack of playing time in recent times but, for the record, I will say I certainly don't see him leaving the Camp Nou during the winter transfer window.

Valladolid displayed dynamic play, freedom of movement, constant running into gaps, anarchic rotation of positions across the whole pitch. They were a difficult opponent but, ultimately, it is fair to say that the Blaugrana pass-and-move philosophy proved too strong for the home team to defend against over 90 minutes.

This well-deserved victory extends Barcelona's best-ever La Liga start to 49 out of a possible 51 points won. Sure, this is a truly remarkable streak of positive results which makes Barcelona a very strong contender for the league trophy, but let's not get carried away: There are many more points to play for and the race to the title is far from over.

Player Ratings (0-10; 10=best)

Victor Valdes (6) – A relatively quiet evening. Unfortunately, what looked like another clean sheet was spoiled by a late Javi Guerra goal.

Dani Alves (6) – Generous effort when joining into attack, providing opportunities to stretch the play. His passing was imprecise at times.

Gerard Pique (7) – Solid in defence, kept position well. Looked incredibly confident throughout the whole match.

Javier Mascherano (7) – Continued to grow as a central defender with yet another convincing performance. Great to have the powerful Argentine slowly but surely returning to his best form.

Jordi Alba (7) – Another electric performance from, undoubtedly, the best addition to the Barcelona squad in recent history. Aggressive in defence, constantly overlapping in attack. His accurate cross allowed Xavi to unbalance the game.

Sergio Busquets (6) – Plenty of tidy work in midfield. His quick, decisive combinations kept the ball flowing throughout the game.

Xavi Hernandez (8) – Man Of The Match - Ensured consistency with well-selected openings and clever passing. Scored the first Blaugrana goal, his forth of the season, a great way to celebrate his new contract.

Thiago Alcantara (6) – Preferred to Andres Iniesta in the starting lineup. Contributed creatively, got involved in most of the Blaugrana attacks. Another step in the right direction on his way back to regaining optimum match fitness.

Lionel Messi (8) – Hit post with a trademark free kick late into the first half; went on to score his 91st goal of the year with a perfect accurate shot after nutmegging one of his markers shortly after. A legendary, extraterrestrial record which is much more likely to happen on a video game than real life. I seriously doubt anyone will ever be able to beat what La Pulga has achieved in 2012.

Alexis Sanchez (4) – Good effort to stretch the Valladolid defence. Unfortunately, his inability to convert even the most obvious of chances is beyond worrying at this stage. The fact that Cristian Tello only needed one minute to score as much as the Chilean winger has done in the whole season doesn't look too positive either.

Pedro Rodriguez (5) – Another tireless performance from the spirited winger. Failed to score once again, but the truth is his defensive work-rate and constant mobility really helped the team by creating spaces for other to run into.

Substitutes: David Villa (6), Andres Iniesta (6), Cristian Tello (8)

Have your say

What did you think of Barcelona's performance vs. Valladolid?

Who was your Man of the Match? What are your player ratings?

I welcome and appreciate all respectful feedback.

Never miss an update: Join the 32,000 Cules who already follow at @Barcablog_com and Facebook.