Gerard Pique reaches new heights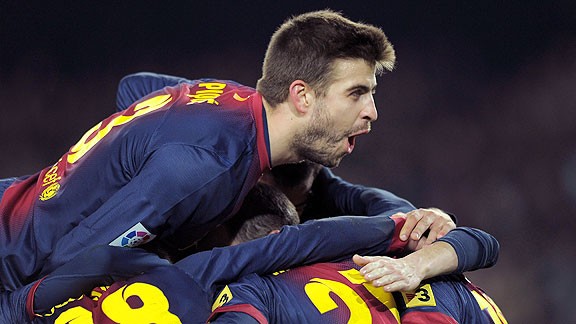 Lluis Gene?AFP/Getty ImagesGerard Pique has been soaring this season for Barcelona.
After a season plagued by an inability to recover from constant injuries and a lack of concentration due to off-the-pitch distractions, we can now safely say that Gerard Pique is finally back to his best.

- Ibra backing Iniesta for Ballon d'Or
- Messi extends contract
- Corrigan: Barca with clear path to title

Despite having achieved the best start to a season in La Liga history, the truth is that Tito Vilanova has struggled to field a reliable back-line since he took over as manager. The temporary experiments of Adriano, Alex Song, Marc Bartra and even Javier Mascherano were not disastrous but, let's face it, a team of Barcelona's calibre cannot afford to field anything but world-class defenders in order to fulfil the huge expectations.

Many Cules argue that president Sandro Rosell and sporting director Andoni Zubizarreta should have signed an experienced central defender last summer. I am fully convinced that the Barcelona board initially agreed with the idea, but their plans were upset due to Seydou Keita's shocking decision to swap the opportunity to achieve further glory at the Camp Nou for a lucrative retirement at Dalian Aerbin in the Chinese Super League.

Considering the Malian's ability to slot into virtually any midfield position, it was clear that covering his absence was also going to become a top priority. Regular readers may remember how I spent most of the off-season arguing that either Javi Martinez or Thiago Silva would have been perfect to cover the gap but, ultimately, the truth is that the Blaugrana were priced out of the market by PSG and Bayern Munich. The signing of Alex Song from Arsenal shortly after made sense given the circumstances, but it still left the Catalan giants without that experienced, pure centre-back that fans have been demanding for so many years.

Fortunately, positive conclusions can be drawn when analysing the squad in depth. The fact is that if current members remain fit and healthy (which is obviously a challenge in itself, given the recent record and age which certain key players are reaching), Barcelona actually have enough defensive players to compete at the highest level: The charisma of Carles Puyol, the intelligence of Mascherano, the electricity of Jordi Alba, the determination of Dani Alves, the power of Adriano, the desire of Martin Montoya and the potential of Bartra. Add in the hypothetical return of Eric Abidal and impact of Marc Muniesa and you end up with a remarkable selection of international players which most rivals envy.

But at this moment in time, and based on recent performances, it is the commanding figure of Pique that makes the difference.

Determined heading ability, powerful tackling, intelligent sprinting, generous solidarity and calm passing. The Catalan giant has now reached a point of maturity in his career which has enabled him to take the lead, making him truly indispensable in central defence.

His experiences at La Masia, Zaragoza and Manchester United definitely helped his progression, but it was the many seasons of learning from Puyol, Abidal and Rafael Marquez at their peak which took him to the next level. At 25 years of age, the Ballon d'Or nominee has now taken a step forward, bringing that defensive stability which Barcelona so desperately needed.

I would certainly not like to end this analysis without highlighting the undeniable impact that Vilanova is having on this whole process. The famously turbulent relationship between the Catalan defender and Pep Guardiola has been firmly left in the past, with the new manager giving him more freedom within the system, enabling him to join attack whenever he finds a clear gap and allowing him to play more direct football even from the back-line.

In a way, Vilanova simply coaches Pique in the same manner as he did at Barcelona's Cadete B back in 2001 (a legendary youth team which also included Lionel Messi and Cesc Fabregas) by simply allowing him to develop his skills with trust and enough moral support to ensure his focus remains on winning football matches rather than unnecessary off-pitch distractions.

May this thoroughly improved Pique remain focused, fit and healthy for many years to come. The strength of the Blaugrana defence lies firmly within his boots.

Have your say

I welcome and appreciate all respectful feedback.

Would you like to share any other important points with us?

Never miss an update: Join the 32,000 Cules who already follow at @Barcablog_com and Facebook.