Building the future: Xavi and Tello 2016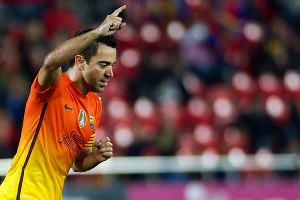 Jaime Reina/AFP/Getty ImagesGoing nowhere: Xavi wants to see out his career with Barcelona.
The winter transfer window is about to open and, as it happens every single year, many clubs around the world are hoping to grab a bargain which could improve their current squads in a desperate attempt to become that little bit closer to achieving those ambitious targets set at the beginning of the season.

Barcelona, however, are expected to be silent witnesses during the whole process, satisfied with the way president Sandro Rosell and sporting director Andoni Zubizarreta did their homework back in the summer. The unexpected ultra-positive streak of results, with coach Tito Vilanova leading the Blaugranas to the best start to a La Liga season in history, clearly exemplifies the depth of a squad during a period in which 12 out of 22 players were sidelined due to injury in the first trimester of the competition.

The harmonic peace period at the Camp Nou has driven the club towards ensuring the current structure remains solid and offering a couple of players the chance to commit to the Barcelona project on a long-term basis.

Midfield maestro Xavi Hernandez is set to sign a fully deserved contract extension that will keep him at the Camp Nou until June 2016, provided he plays at least half of the matches each season.

Xavi explained: "I'm really happy. It's almost done, now they just have to draw up the contract. The two sides didn't take long to reach an agreement. It will be sorted soon and could be announced next week. I don't know if I'll still be around after 2016. It depends whether I still have something to offer the club at the age of 36. I couldn't be happier, this is my childhood club and I've really enjoyed the last few years".

Numbers rarely lie: 650 club appearances, 15 years as a professional, 23 titles (including 6 Ligas, 3 Champions Leagues with Barcelona plus the World Cup and 2 European championships with Spain). Many in his position would be working towards an exotic retirement in some faraway league where he would be given the chance to break the bank while combining some unexciting football competition with lucrative advertising deals.

Not Xavi: The Catalan commander is determined to extend his already impressive legacy at the club which has given him the chance to achieve his dreams, fully conscious of the great opportunity provided by starring alongside world-class teammates Lionel Messi, Andres Iniesta or Cesc Fabregas, to name a few.

As long as his fitness remains at a decent level, there is simply no question that Xavi's intelligence, class, desire, leadership, experience and love for the Blaugrana colours are simply indispensable qualities that must be passed on to youngsters such as Sergio Busquets, Thiago Alcantara or Sergi Roberto, who have the responsibility of becoming the Blaugranas role models of the future.

On a separate note, Barcelona have now officially confirmed that Cristian Tello has also agreed a new deal until June 2016, with his released clause fixed at 10 million euros, to be signed next Monday.

Don't get me wrong: I am delighted the electric 21-year-old winger has been rewarded with an improved contract in accordance with his undeniable progression but I am highly suspicious as to why such a ridiculously low buyout clause has been agreed.

It really doesn't feel as if the Barcelona board truly want to keep the youngster in the long-term. In fact, it actually looks like the Catalan winger has been issued with a 10 million euro price-tag instead of a fully-supportive agreement.

I must admit I am disappointed with the fact that one of the most exciting attacking prospects to land at the Camp Nou in recent times may be snatched for such minor compensation.

The Barcelona board agreed to spend 39 million on Alexis Sanchez a couple of summers ago. Is the Chilean forward really worth four times more than Tello? Based on what they have each brought to the team since their arrival, I honestly have no evidence to believe that is the case.

Anyway, back to La Liga. Despite the fact that the media will undoubtedly try to hype Sunday's clash against Atletico Madrid as a ferocious goalscoring battle between Lionel Messi and Radamel Falcao, the truth is that the game will be decided on the overall strength of the team rather than individual brilliance.

As I have explained in the past, full respect must be given the way Diego Simeone has managed to reignite the spark at the Vicente Calderon after years of living in the shadows of mega-rich neighbours Real Madrid.

These two teams haven't met as the Top 2 in La Liga since 1996. If history is anything to go by, expect fireworks and spectacular goals in a match which could potentially unbalance the whole competition.

Have your say
Would you like to share any other important points with us?

I welcome and appreciate all respectful feedback.

Never miss an update: Join the 32,000 Cules who already follow at @Barcablog_com and Facebook.