Insatiable Messi keeps scoring for fun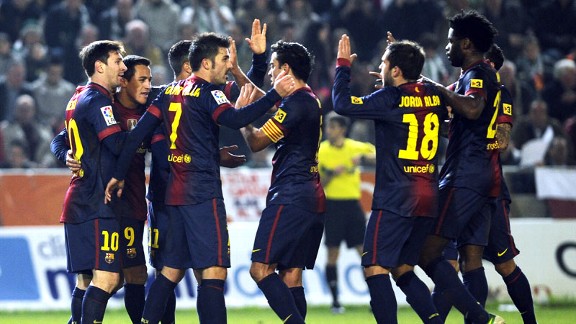 CRISTINA QUICLER/AFP/Getty ImagesLionel Messi receives congratulations from Barcelona teammates after scoring one of his two goals in Wednesday night's 2-0 Copa del Rey win over Cordoba.
Barcelona achieved a hard-fought 0-2 win against Cordoba at the passionate Nuevo Arcangel in the away leg of the Copa Del Rey round of 16. Lionel Messi scored both goals for the Blaugrana, who enjoyed 59 percent of possession and attempted 13 shots, six of them on target.

- Video: Messi's record challenged
- Report: Messi's double drives Barca

A highly competitive eleven

Given the terribly physical challenge posed by the "Verdiblancos", it is clear that Barcelona was right to field an extremely experienced team tonight. Handling the pressure of such a devoted away crowd and talented, brave opponents who were ready to use the opportunity to showcase their talents at the big stage was a difficult task that Tito Vilanova was intelligent enough to not underestimate.

One clear example was how despite the midfield line being the furthest away from the manager's ideal eleven, the absences of Cesc Fabregas (injured), Andres Iniesta and Sergio Busquets were effectively covered by the strength of Alex Song, the freshness of Thiago Alcantara and the omnipresence of Blaugrana commander Xavi Hernandez.

Sure, it would have probably made sense to rest most key players ahead of the massive match against Atletico Madrid on Sunday, but now that injured players are gradually coming back, Barcelona are regaining enough squad depth to truly challenge for all titles throughout the course of the season.

I'd also like to highlight the tremendous dedication that such big names demonstrated against a relatively unknown rival who is currently placed in 11th place in Segunda Division, showing total respect for a competition which many so-called experts wrongly consider as minor, blatantly ignoring its 109 years of history.

Lionel Messi strikes again

It just gets better and better. "La Pulga" has managed to improve his already impressive record, running his current tally to 88 goals for club and country this calendar year. But the story doesn't end here. With two more Barcelona matches to be played before the end of 2012, against Atletico Madrid and Valladolid, it seems likely that the Argentinean genius may improve the record even further, making it even more unreachable for future challengers.

Ironically, the best aspect of this whole "Torpedo Messi" hype is the fact that the tiny striker himself doesn't seem to care that much about it, playing its importance down at every opportunity. All he ever talks about, while sporting a cheeky smile, is achieving collective success and his heart-felt gratitude towards his teammates, coaches and fans -- a humble leader who understands that his success is due to innate skills and being part of a golden generation of players.

Player Ratings (0-10; 10=best)

Pinto (7) -- Responded well when tested. As usual, slightly uncomfortable when playing the ball with his feet.

Dani Alves (6) -- Generous effort, widened the right side with constant overlaps.

Gerard Pique (8) -- One of his most confident performances of the season. Solid tackling, great positioning, calm when building creative play from the back line.

Javier Mascherano (6) -- Not always able to defend the Cordoba forwards, but totally committed to keeping the clean sheet.

Jordi Alba (6) -- Eager to join attack, continuously overlapping and giving an extra wide option on the left wing. Tracked back well.

Alex Song (7) -- Great improvement in terms of positioning, which allowed him to build play much more regularly. Assertive defending.

Xavi Hernandez (7) -- After a relatively quiet first half by his standards, he came back in true fashion after the break, controlling the whole of the Blaugrana attack with his privileged footballing brain.

Thiago Alcantara (7) -- The very talented youngster proved his worth once again with his mobility, exquisite ball control and ability to apply the pass-and-move philosophy. Unlucky that his long-distance strike smashed the crossbar. Will definitely increase his importance within the team in the near future, given Fabregas' absence.

David Villa (7) -- After controversially remaining an unused sub against Betis, "El Guaje" came back with his usual desire to create spaces. Unlucky to not be awarded a clear penalty in the first half. Assisted Messi for his first.

Lionel Messi (8) -- Man Of The Match - Extended his legendary record with yet another double, his 13th of the season.

Pedro Rodriguez (6) -- While his work-rate and ability to run into spaces is beyond any doubt, questions must be asked after 19 matches without finding the net. As of late, found himself in clear positions and missed desperately. I really can't wait to see him scoring again, as he has a key part to play if Barcelona are to regain their former success this season.

Substitutes: Alexis Sanchez (7), Martin Montoya (6), Cristian Tello (6)

Have your say

What did you think of Barcelona's performance vs. Cordoba?

Who was your Man of the Match? What are your player ratings?

I welcome and appreciate all respectful feedback.

Never miss an update: Join the 32,000 Cules who already follow at @Barcablog_com and Facebook.