Torpedo Messi makes history by sinking Betis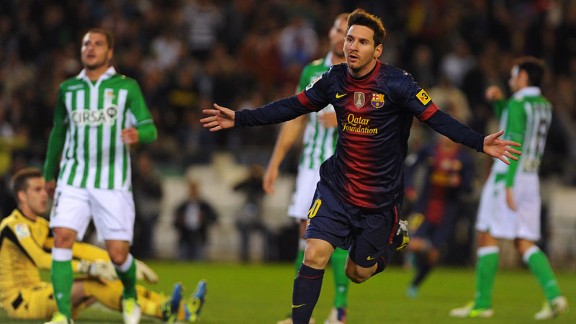 GettyImagesLionel Messi celebrates after netting the opening goal at Real Betis, equalling Gerd Muller's record of 85 goals in a calendar year
Barcelona achieved an uncomfortable 2-1 victory against Betis at the Benito Villamarin Sunday. Lionel Messi scored the goals for the Blaugrana, who enjoyed 69 percent of possession and attempted 13 shots, eight on target. Tito Vilanova's side maintained the six-point lead at the top of the table over Atletico Madrid.

After being dramatically stretched off for what initially looked like a career-threatening injury in midweek, Messi was back to work again. The result? The Argentinean genius beat Gerd Muller's record, which had been standing for a tremendous 40 years, within the first half hour. Outrageous.

That anyone can score 86 goals in 66 games of modern football escapes my imagination. There are simply no words to describe what La Pulga contributes to the sport on a weekly basis. I am fairly certain that not one of us will ever see anyone surpass this landmark achievement in our lifetime – unless Messi manages to improve it again next year, of course.

- Hunter: Messi's special year

- Tyler: Put mark in context

- Match report

Despite the magnitude of his achievement, his goals and consequent celebrations clearly summarise the type of person he is: Humble, capable of making the impossible look simple and always ready to move on into the next big challenge. At this stage, debating whether the team suffers from Messi-dependence can rightfully be interpreted as an irrelevant matter – Let's just enjoy witnessing football history being made.

Barcelona have collected a massive 43 out 45 possible points, with 50 goals in 15 matches. However, they have allowed 17 goals, seven more than Malaga, five more than Real Madrid and even one more than relegation-threatened Osasuna.

Sure, the Blaugranas have enough quality in the squad to opt for the "We are going to score more goals that you" philosophy when fully fit. But this is certainly a far too dangerous game to play when you are bound to challenge for every title until late June.

Considering the great team effort which allowed Vilanova's side to achieve a comfortable 2-0 advantage very early on, the midfielders should have ensured such advantage was administered until the end of the match.

Instead, Betis were allowed to come back, with the Blaugranas allowing far too many spaces due to an alarming decrease of defensive pressing intensity. Los Verdiblancos were instantly lifted, looking immensely thankful for the unexpected opportunity and didn't hesitate to use the momentary morale boost to be more adventurous upfront.

I must admit I was shocked to see how Vilanova preferred to introduce Alexis Sanchez instead of David Villa to replace Cesc Fabregas after the Catalan picked up an early injury.

While I can understand the Chilean forward needs playing time after recovering from injury, I still feel El Guaje would have posed a much deeper goalscoring threat at one of the most difficult away challenges in La Liga. Perhaps the coach valued Alexis' defensive commitment and ability to drag defenders out of position. But, ultimately, football is about goals and it is hard to accept that the best Spanish goalscorer of all-time remains sat on the bench while the team is so desperate for a killer blow to finish the match.

Let's be clear: The fact fullback Adriano, with five, has scored more than twice as much as Alexis and Pedro combined this season is laughable.

Player Ratings (0-10; 10=best)

Victor Valdes (5) – Fortunate to not concede any more goals after a couple of clumsy blocks - Betis also hit the post twice.

Adriano (6) – Committed defensive performance, eager to contribute in attack. Crossing could have been better at times, though.

Carles Puyol (6) – Partnered reasonably well with Pique but was replaced by Javier Mascherano at half-time in what was a precautionary decision.

Gerard Pique (7) – Solid in the air, had to dig deep in order to battle with the constant Betis threat during the second half.

Jordi Alba (6) – Played Ruben Castro on and allowed him to score the only Betis goal, but made up for his early mistake with constant offensive overlapping. Inexplicably missed the chance to score an insurance goal in the late stages.

Sergio Busquets (5) – Contributed well to the creative build-up, but largely struggled to control the game in his usual manner.

Xavi Hernandez (6) – Constantly eager to distribute the game flow across the Betis final third, but couldn't always impose the traditional pass-and-move philosophy. His 650th game for Barcelona, another legendary achievement to celebrate.

Andres Iniesta (7) – Quality passes, great touches, classy back-heels, 360 pirouettes. Always able to contribute when combining in midfield and drop between the Betis back-line to create controlled chaos. Assisted Messi for his second.

Cesc Fabregas (n/a) – Substituted after just 10 minutes with a thigh muscle injury which will probably sideline him for a couple of weeks. Further tests will confirm.

Lionel Messi (9) – Man Of The Match – Legendary, the top goalscorer of all-time. His records will forever remain in the memories of those who are fortunate enough to witness his brilliance.

Pedro Rodriguez (5) – Willing to help the team by stretching the pitch and offering attacking support. Seemed frustrated at times, which doesn't surprise me after not scoring in the last 18 matches. In desperate need of self-confidence.

Substitutes: Alexis Sanchez (5), Javier Mascherano (6), Thiago Alcantara (6)

Have your say 


What did you think of Barcelona's performance vs. Betis? 



Who was your Man of the Match? What are your player ratings? 



I welcome and appreciate all respectful feedback.

Never miss an update: Join the 32,000 Cules who already follow at @Barcablog_com and Facebook.