Is Gerard Deulofeu ready for Camp Nou glory?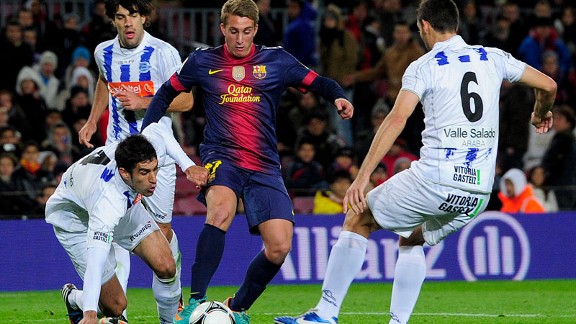 Josep Lago/Getty ImagesGerard Deulofeu played with Barca's first team in the Copa del Rey match against Alaves Nov. 28
With so many first-team Barca players coming out of the La Masia academy on a regular basis, it is only natural fans around the world may sometimes get a partial impression about the many difficulties involved in this laborious process.

While Cules can be extremely proud about having world-class stars in graduates such as Lionel Messi, Andres Iniesta or Xavi Hernandez, it must be highlighted they have reached the top of world football after years of personal sacrifice, endless training sessions and taking their coaches' advice on board with extraordinary ability and dedication.

Andres Iniesta explained: "After thinking about it for weeks, I asked my dad to accept Barcelona's offer to join La Masia at only 12 years of age. I remember how my mum and dad would travel from Albacete every weekend to watch me play, but we all cried desperately every Sunday night whenever they traveled back home. Sometimes they even had to lie to me, telling me that they would pick me up from school the next day. I remember Victor Valdes used to take care of me, he was like my brother. Some other kids were brilliant players, but didn't last two weeks in that environment, for whatever reason. Every story is different, you need to be mentally strong at all times.:

Success at the professional level doesn't come cheap. Let's face it: While children who join La Masia are supervised and given guidance at all times, they are still gifted young people who are living away from home. Such freedom can be a truly bad influence at times: The last thing a fit, confident, popular teenager wants to do on a Saturday night is going to bed early because they have a match the next day. When you are the best player in your age group, accepting criticism from your manager can be seen as a waste of time or interpreted as a direct attack.

Gerard Deulofeu undoubtedly possesses all the necessary skills to succeed in world football: raw pace, quick feet, lethal dribbling. Having made his first-team debut under Pep Guardiola in March 2011, many Cules are wondering why the talented Catalan winger, who leads the Segunda Division pichichi with eight goals, has failed to break into the professional team.

Having watched him play several games at the Ciutat Esportiva and Mini Estadi since he joined La Masia at the age of 9, I have no hesitation in saying that the Catalan youngster is a special player who is capable of bringing an extra spark of magic, who can unbalance games with his innate, electrical talent.

At the same time, I must admit that former Blaugrana academy members Jeffren Suarez, Jorge Troiteiro, Gai Assulin and Giovani Dos Santos had the ability to do just that but for whatever reason failed to establish themselves in the first team.

Having signed a contract worth 150,000 Euros a season with Nike when he was only 14, young Deulofeu has been tipped to be the next big player to wow the Camp Nou for quite a long time. Whether we like it or not, carrying such huge expectations on your shoulders has the potential of affecting your development unless you have an incredibly tough mentality.

If you have watched Barcelona B regularly this season, you may have noticed that Gerard is capable of leading the attack with constant dribbling slaloms but can also disappear from matches during long periods if things don't always go his way. Sure, he can then come back and surprise us all with a top-corner finish, but this lack of consistency could be extremely detrimental to his team as a whole -- which I believe is why the first-team coach isn't calling him regularly yet.

Said Tito Vilanova: "Gerard Deulofeu is a player with a lot to offer, but he still needs to improve a lot before he can form part of the first team. We have to see how he adapts to games. He is still very, very young."

Final Word

Deulofeu could definitely become a key player for Barcelona in the future but, at this moment, must focus on patiently completing his personal development in Segunda Division.

If the Blaugrana coaches all agree on keeping him there, it must be because they can still see some areas for improvement which must be addressed before becoming a Camp Nou regular.

As a life-long Cule, seeing upcoming La Masia youngsters developing into reliable professionals fills me with joy. I sincerely hope to be celebrating Deulofeu's goals in the not-so-distant future.

Having said that, it will be his amount of patience, ability to take constructive criticism on board and, ultimately, dedication towards reaching the next footballing level what will determine whether we are looking at a potential Blaugrana star or simply at another promising youngster who regrettably fell at the last hurdle.

Have your say

I welcome and appreciate all respectful feedback.

Would you like to share any other important points with us?

Over 31,000 Cules follow all my posts and comments at at Barcablog.com and Facebook already. Feel free to join if you would like to keep updated.