Unstoppable -- Record Barcelona extend La Liga lead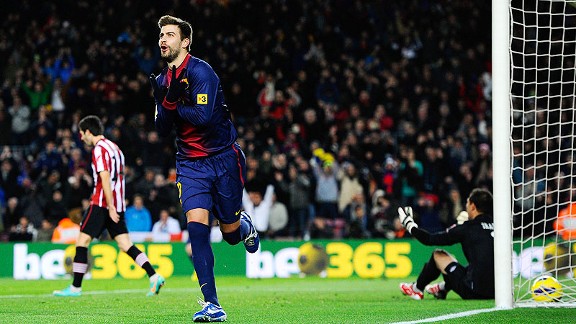 David Ramos/Getty ImagesGerard Pique opened the scoring in the first half for Barcelona who thoroughly dominated Athletic Bilbao at the Camp Nou.
Barcelona achieved a well-deserved 5-1 win against Athletic Bilbao at the Camp Nou in Matchday 14 of La Liga. Gerard Pique, Lionel Messi (double), Adriano and Cesc Fabregas scored the goals for the Blaugrana, who enjoyed 56 percent of possession and attempted 19 shots, 10 of them on target. This result helps Tito Vilanova's side extend the lead at the top of the table to six points over Atletico Madrid.

- Report: Messi's brace helps Barca cruise

It's official -- the best generation of players in Blaugrana history have achieved the best-ever start to a La Liga season, with 40 out of 42 possible points so far. After many years of excellence under Pep Guardiola, Cules continue to be thoroughly spoiled and are now witnessing those glistening results bettered by his successor. Immense credit must be given to Vilanova, the debutant coach who has achieved the incredibly challenging task of ensuring the squad remained together and focused on bringing further success to the Camp Nou.

With most of the Spanish media focused on the Madrid derby (which Real ended up winning 2-0), the clash against Los Leones had the potential to be a tricky one. No need to worry though -- this was certainly one of the best collective Barcelona performances of the season, a match were the team achieved a better balance between defense and attack.

Despite the fact that Marcelo Bielsa's defensive formation held for the first 20 minutes, it was clear that the Blaugrana had the edge and would end up imposing the pass-and-move philosophy, which was always well-paced, fresh and ambitious. With Xavi and Sergio Busquets controlling those all-important transitions, it was mostly up to the magical Andres Iniesta and highly-mobile Fabregas to break into Bilbao's final third.

And then there was Messi, of course, who ended up making the difference in the end, as he generally does. His continuous attempts to dribble, move into space and throw quick one-twos with everyone around him was virtually unstoppable. La Pulga achieved his ninth double of the season, his fifth in as many games, and is now only one goal away from equalling Gerd Muller's record of 85 goals in a calendar year. Considering the Argentinean genius still has five more matches to play before the end of 2012, it would certainly not be surprising if we are currently witnessing the best goal-scoring season in football history.

Cules should ensure that every minute of football this team offers us is thoroughly enjoyed -- a mature approach, relentless pressing, delightful passing, deadly effectiveness, intelligent leadership, world-class players.

Player Ratings (0-10; 10=best)

Victor Valdes (6) -- Confident performance, would be disappointed by not keeping a clean sheet.

Adriano (7) -- Scored his fifth goal of the season, a tremendous achievement.

Javier Mascherano (6) -- Solid, as he has been since the return of Pique to central defense.

Gerard Pique (8) -- A generous display of discipline, professionalism and strength.

Jordi Alba (8) -- A constant attacking threat, his overlaps were lethal once again.

Sergio Busquets (6) -- Contributed to the creative play with accurate, quick combinations.

Xavi Hernandez (7) -- Controlled the game with his creativity and ability to connect with those around him.

Cesc Fabregas (7) -- Made himself available at all times, always eager to contribute and give an extra option.

Lionel Messi (8) -- Man of the Match - Made the difference once again, a superb performance.

Pedro (6) -- Worked hard for the team, widening the pitch and creating chances for others. Once again, unlucky not to score.

Andres Iniesta (8) -- Spectacular display of generosity, class and technical ability.

Substitutes: Martin Montoya (6), Thiago Alcantara (6), Alex Song (6)

Blaugrana Reaction

Tito Vilanova: "I am prouder of the team performance than the record. We are hungry for titles; we need to continue to fight to become even stronger. There are always thing to improve, but we need to keep working this hard to make it harder for other teams to defeat us. These players have so much quality that we can go on to great things if we work together."

Cesc Fabregas: "The most important factor was winning the three points, that's what counts towards the season. The record will be talked about for the next 20 years, but we simply went on the pitch and did what we had to do."

Have your say

What did you think of Barcelona's performance vs. Athletic Bilbao?

Who was your Man of the Match? What are your player ratings?

I welcome and appreciate all respectful feedback.

Over 31,000 Cules follow all my posts and comments at @Barcablog_com and Facebook already. Feel free to join if you would like to keep updated.