David Villa ensures Blaugrana qualify for last 16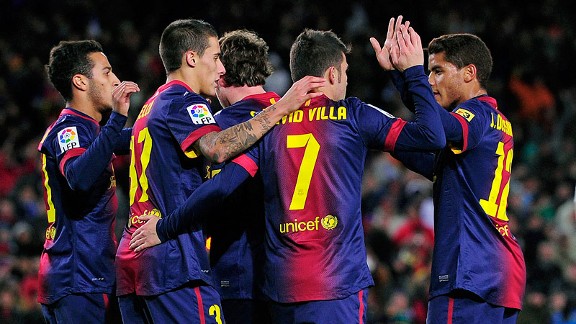 Josep Lago/AFP/Getty Images
Barcelona achieved a 3-1 victory against Alaves at the Camp Nou Wednesday in the return leg of the Copa Del Rey round of 32. David Villa (brace) and Adriano scored for the Blaugranas, who enjoyed 70 percent of possession and attempted 17 shots, 7 on target. The aggregate 6-1 scoreline qualifies Tito Vilanova's side for the next round, where they will face Cordoba.

Player Ratings (0-10; 10=best)

Pinto - 5 - A decent overall performance but quite insecure at times. Let's hope Victor Valdes remains fit and healthy for many years to come.

- Barca advance in Copa del Rey

Martin Montoya - 6 - Not his best performance under Vilanova, with some uncharacteristic defensive errors in the earlier stages. Improved as the match went on, especially when supporting the creative midfielders by opening up the pitch.

Carles Puyol - 6 - A solid display from the charismatic leader. Would surely be disappointed the team was unable to keep a clean sheet.

Javier Mascherano - 6 - Like the rest of the Blaugrana defenders, the Argentinean international seemed to lack the required level of concentration during most of the first half but was able to get better as the game progressed.

Adriano - 7 - Should have done better to avoid Alaves' goal, but was capable of somehow redeeming himself with a confident equalizer after a quick combination with Thiago. Good to see the polyvalent fullback getting more playing time in his way to recovering full fitness. Despite being sidelined for a considerable number of games, the Brazilian is, with 4, the 4th Barcelona player with the most goals this season.

Alex Song - 5 - The Cameroon international was given yet another chance to prove his worth in midfield, looking strong defensively but out of position at times during the creative attacking phases. Another step in the right direction though: As Cesc Fabregas himself found out in his first year, the Blaugrana pass-and-move philosophy is formed by many complex mechanisms which take time to be assimilated. His commitment and skills are certainly there; let's hope Song also has the tenacity to adapt to the system sooner rather than later.

Jonathan Dos Santos - 6 - Contributed well to ensure the ball kept flowing in midfield, but wasn't always great at keeping possession. While it was good to see the La Masia youngster getting his first start of the season, I can't help but wondering why he refused to join Sevilla on loan last summer in order to get more regular playing time at Primera Division level.

Sergi Roberto - 7 - The 20-year-old stood up to the challenge with his accurate passing, which speaks wonders of his personality and the way he has already mastered the team's formation by progressing through the youth system. Sure, he wasn't always brilliant at controlling the tempo but the playing time he got today will encourage him to continue to grow as a player so that he can get another first team chance in the near future.

Thiago Alcantara - 8 - Took responsibility for the Blaugrana midfield in the absence of world-class players such as Xavi or Andres Iniesta. The most consistent player in an ultra-young lineup where talent and creativity clearly outgrew organisation and composure. Assisted Adriano for the first Blaugrana goal.

David Villa - 8 - Once again: Say Villa, say goal. Always eager to move into space, whether he was playing as a central striker or dropped closer to wing to throw diagonal runs. El Guaje scored his 300th and 301st goals since his professional debut back in 2000. Surprisingly, this was only his first full game this season, which clearly highlights how difficult it is even for players of his caliber and experience to get regular playing time.

Cristian Tello - 8 - Another electric performance from the incredibly speedy winger, who is virtually unstoppable when full of confidence and inspired; Alaves simply had no answer to defend him. Generously assisted David Villa for his second. Let's hope Cules can see more of him in coming games, as he is on fire at the moment.

Substitutes:

Gerard Deulofeu - 7 - Substituted Dos Santos after 67 minutes. After impressing with Barcelona B since the beginning of the season, becoming the Segunda Division top goalscorer with eight goals in the process, many actually expected the Catalan youngster to start this match. It wasn't to be, but the wait was worth it: Glimpses of a highly incisive, speedy young winger who is already a fan favourite despite not having had a chance to prove his worth at first team level yet. Definitely one to watch for the future but, for now, please let him continue to perfect his game as far away from the spotlight as possible.

Carles Planas - 6 - Substituted Adriano after 72 minutes. The 21-year-old left-back became the first La Masia graduate to make his first team debut under Tito Vilanova.

Cesc Fabregas - 6 - Substituted Puyol after 79 minutes and slotted into midfield well.

Coach:

Tito Vilanova - 7 - Decided to rest key players such as Lionel Messi, Xavi, Andres Iniesta, Gerard Pique or Victor Valdes given the positive 3-0 advantage achieved at Vitoria in the away leg of the tie, and still managed to achieve a positive overall result which will help celebrate the club's 113th birthday. I would have personally liked to see more of Gerard Deulofeu but I guess we will have to wait and see what the future may bring.

Time to move on now, as there is not a second to waste: The long road towards re-claiming the La Liga title continues on Saturday with a difficult clash against Athletic Bilbao.

Have your say

What did you think of Barcelona's performance vs. Alaves?

Who was your Man of the Match? What are your player ratings?

I welcome and appreciate all respectful feedback.

Over 31,000 Cules follow all my posts and comments at @Barcablog_com and Facebook already. Feel free to join if you would like to keep updated.