La Liga is not over yet Barca, be wary of Atletico and Real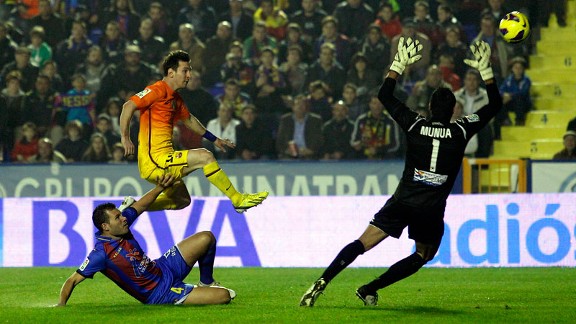 GettyImagesA Lionel messi brace at the weekend gave Barca fans reason to celebrate
With the world still in awe of the way that the first-ever La Masia XI managed to confidently defeat high-flying Levante over the weekend, it somehow feels as if things at the Camp Nou couldn't get any better. Records are constantly falling, winning seems to be second nature. It is definitely a great situation to be in, but one that could easily change for the worse if the Blaugranas become complacent or overconfident.

La Liga is certainly not over and no, this is not just the politically correct thing to say at this stage but, quite bluntly, the absolute truth. While the reasons for the momentary euphoria are understandable given the current result bonanza, I certainly did not enjoy hearing the "campeones, campeones" chants coming from the Blaugrana end at the Ciutat De Valencia over the weekend. Far too early to be celebrating something the team isn't even close to winning any time soon.

Fact: Barcelona are only three points ahead of Atletico Madrid with 75 more points to be played for in La Liga.

Contrary to what many may believe, seeing Los Colchoneros challenging Tito Vilanova's side for the top league spot is definitely not a coincidence. The way in which Diego Simeone has managed to reignite the spark in a club where attention has traditionally been focussed on the drama outside the pitch rather than the team itself is admirable.

Having a world-class striker such as Radamel Falcao is certainly the icing on the cake, but let's not forget that it is those endless hours which their charismatic leader spends fixing misconceptions in the training ground that make all the difference.

Fully-deserved respect must be given to what Atletico Madrid has achieved so far and, perhaps even more importantly, to the potential title threat they have already become.

And then there is Real Madrid, of course.

Los Blancos' recent defeat at Real Betis meant falling further behind in the league table and seeing themselves in the position of currently trailing 11 points behind Barcelona. It's definitely a hard pill to swallow for Jose Mourinho, who started his latest press conference by explaining he wouldn't make any excuses for his team's loss and, moments later, went on to blame the referee, the Spanish federation's calendar and even his own board of directors for leaving him alone whenever a complaint is made.

After winning one La Liga, one Copa Del Rey and one Spanish Supercopa since joining Los Blancos back in May 2010, many are beginning to wonder whether their manager's continuous confrontational attitude is actually worth the hassle.

Legendary former coach Vicente Del Bosque explained: "The best three coaches of the year? Pep Guardiola, Roberto Di Matteo and Cesare Prandelli. My decision is based on sporting merits and overall behaviour. I have nothing against Jose Mourinho, but nobody can teach me what being a Madridista means as I have known it for years."

The Madrid-based media have gone one step further by publishing articles such as the highly-critical "Mourinho against the world", "Bad guy Mourinho goes on the rampage" or "Ozil singled out by Mourinho, again" in a clear attempt to convince fans that there must be a better to way to see their club returning to their former stylish success and traditions.

Oh well. I am convinced that Cules watching from the distance are not terribly upset about the situation at the Bernabeu. But, realistically, it must be expected that a squad with such individual talent will eventually come back to form and challenge the Blaugranas until the dying moments of the league season. I refuse to believe that a team full of world-class professionals will fail to find a way to solve their differences for the overall benefit of their club, fans and, ultimately, their own careers.

Final Word

Barcelona have been impressive this season in terms of results and the return of important players such as Gerard Pique and Carles Puyol is showing clear reasons to expect further improvement in the near future.

Having said that, football is an unpredictable sport where nothing can be taken for granted. The most important match is always the next - long-term goals count for nothing. There is simply no guarantee to expect both Atletico and Real Madrid to stay behind Barcelona for the whole of the season.

Let's not get carried away with unjustified celebrations and focus on the job in hand.

Have your say

I welcome and appreciate all respectful feedback.

Would you like to share any other important points with us?

Over 31,000 Cules follow all my posts and comments at@Barcablog_com and Facebook already. Feel free to join if you would like to keep updated.