La Masia XI shoots Barcelona eleven clear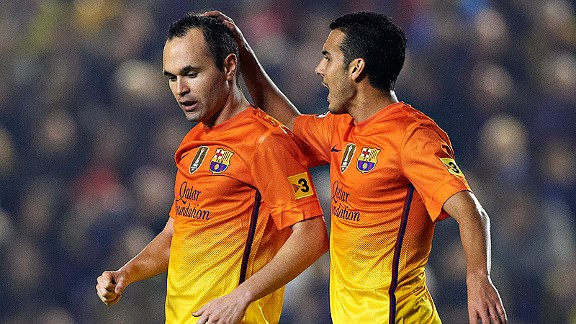 Manuel Queimadelos Alonso/Getty ImagesA vintage Andres Iniesta effort -- one goal and three assists vs. Levante -- ensured that Barcelona to keeps its lead atop La Liga.
Barcelona achieved a well-deserved 4-0 victory against Levante at the Ciutat de Valencia in Matchday 13 of La Liga. Lionel Messi (double), Andres Iniesta and Cesc Fabregas scored the goals for the Blaugranas, who enjoyed 77 percent of possession and attempted 13 shots, seven of them on target. This win helps Tito Vilanova's side extend its advantage over Real Madrid to a remarkable eleven points in the overall league standings.

Player Ratings (0-10; 10=best)

Victor Valdes, 9 -- His second consecutive clean sheet, this one thanks to yet another great individual effort that La Pantera desperately needed in order to boost his self-confidence. Was forced to make a couple of merit saves, responding assertively, then went on to save a penalty in the latter stages of the match.

Dani Alves, 6 -- After a confident start, Alves was unlucky to pick up a thigh muscle injury very early on. I hope the courageous Brazilian can come back to the team soon as his performances have definitely improved recently.

Carles Puyol, 7 -- Despite being visibly slower than Martins, his presence was decisive once again. His vast experience, charismatic attitude and solid partnership with Gerard Pique has given Barcelona exactly what the team was missing in the early stages of the season: Defensive consistency.

Gerard Pique, 7 -- Partnered well with Puyol, even covering up for him in a couple of quick Levante counterattacks. Added his traditional calmness to build creative play from the back, constantly feeding Sergio Busquets, Xavi, Cesc Fabregas and Andres Iniesta. Could have scored but his header went wide after making poor contact.

Jordi Alba, 7 -- His constant eagerness to push forward and combine with Iniesta made the Levante defenders chase his shadow during the whole match. Brave when overlapping and determined to track back when caught out of position.

Sergio Busquets, 6 -- Kept position well and intervened quickly whenever the Blaugranas were dispossessed. His continuous participation was key for the pass-and-move philosophy to succeed once again, ensuring the ball kept flowing from side to side until spaces were found around goal.

Andres Iniesta, 9 -- Man Of The Match -- Assisted Messi for the first and second Blaugrana goals, hammered home the third himself with a superb long-range strike and assisted Cesc for the fourth. An expert in gradually tearing rival defences apart and extremely difficult to defend against. Accurate in control, highly mobile and eager to participate. A great way to celebrate his 422 games for Barcelona, surpassing Guillermo Amor to become the 6th player with the most all-time appearances for the club.

Xavi Hernandez, 7 -- Found it hard to break the fiery, compact Levante defense during the first half but ended up succeeding as the game wore on. There has been talk about him negotiating a new contract this week, which I hope happens as a matter of urgency: Despite being in his 15th season at the Camp Nou, The Commander remains a key man in the Blaugrana midfield.

Cesc Fabregas, 7 -- Managed to add much needed mobility and participated in many creative combinations that ended up unbalancing the game in Barca's favor. Continuously ran from deep to put himself into goalscoring positions, especially after the half-time break when Levante left more space at the back. Also managed to score the fourth Barcelona goal after cleverly dribbling the Levante keeper.

Lionel Messi, 8 -- Defended by a very tight Levante back four during the first half, when he didn't find much space at all. Luckily for Barcelona, everything changed after the break: La Pulga scored the first with a cheeky flick over Gustavo Munua and the second with a virtually unstoppable short-range strike. His tally is now 82 goals for club and country in the 2012 calendar year, taking him dangerously close to Gerd Muller's all-time record.

Pedro, 7 -- Looked good coming inside from the wings, accelerating into spaces and creating problems for his marker. Unfortunately, he didn't seem too confident whenever he found himself in striking positions, definitely a cause for his ongoing 17-game goalscoring drought. A spirited performance nonetheless.

Substitutes:

Martin Montoya, 7 -- Substituted Dani Alves after 13 minutes and made an old Cule dream come true: A team with eleven La Masia graduates. Another display of great positioning, desire and passing from the Catalan youngster.

Adriano, 6 -- Substituted Jordi Alba after 74 minutes, making a solid comeback to the team after being sidelined for three weeks.

Thiago, 6 -- Substituted Xavi after 77 minutes. Valuable playing time that points him in the right direction after tearing ligaments in his right knee in late September. This kid has tons of talent: Expect him to become a very important part of this team in the near future.

Coach:

Tito Vilanova, 8 -- With 37 out of a possible 39 points won so far, Pep Guardiola's successor has officially equalled La Liga's best-ever start. Credit must be given to a confident newcomer who has managed to keep this group of players hungry for victory, eager to improve and ready to compete for reaching even higher heights. Fielding the first ever La Masia eleven will also go down as one of the proudest moments in over 100 years of Blaugrana history.

Have your say

What did you think of Barcelona's performance vs. Levante?

Who was your Man of the Match? What are your player ratings?

I welcome and appreciate all respectful feedback.

Over 33,000 Cules follow all my posts and comments at @Barcablog_com and Facebook already. Feel free to join if you would like to keep updated.