Lionel Messi: From Russia with goals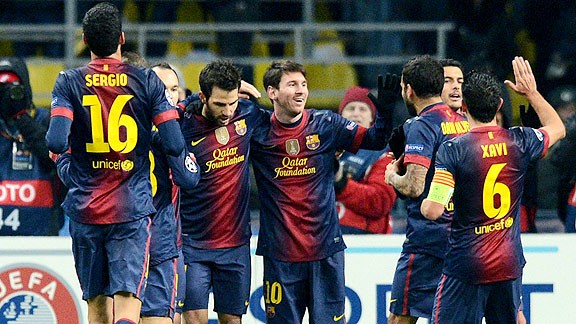 Natalia Kolesnikova/AFP/Getty ImagesLeo Messi celebrates one of his two goals in Barcelona's 3-0 Champions League win over Spartak Moscow.
Barcelona achieved a convincing 0-3 win against Spartak Moscow at the Luzhniki Stadium in Matchday Five of the Champions League. Dani Alves and Lionel Messi (double) scored the goals for the Blaugrana, who enjoyed 67 percent of possession and attempted 12 shots, seven of them on target. This result enables Tito Vilanova's side to qualify for the knock-out stages of the competition, having won 12 out of 15 possible points in Group G so far.

Player Ratings (0-10; 10=best)

Victor Valdes -- 7 -- A clean sheet at last. Despite the fact that Spartak actually had several good chances to score, he wasn't forced into making many saves at all. The momentary injury scare after Wellington clumsily collided with him made me wonder what Barcelona would do if he was missing. While Pinto would be a decent short-term solution, he is definitely not someone who can be relied upon in the long run. Here's a new point to consider in the near future, Tito.

Dani Alves -- 7 -- Was preferred to upcoming youngster Martin Montoya and didn't disappoint, scoring the first Blaugrana goal with a powerful strike after picking up a loose ball just outside the Spartak area. Not as strong defensively though, which could be a worry against more challenging teams as the competition progresses.

Javier Mascherano -- 7 -- Looked much more like his former self thanks to the positive return of Pique to the starting eleven, moving much more freely while chasing. Made a couple of remarkable tackles which stopped potentially dangerous counterattacks.

Gerard Pique -- 7 -- Built on his previous performance last weekend, showing an even more solid presence in central defense. The way that he calmly initiates creative play from the back line is incredibly valuable for this team.

Jordi Alba -- 7 -- The speedy left back used his undeniable stamina to constantly overlap players to make himself available in Barcelona's attacking third, often stretching the Russian defenders out of position.

Sergio Busquets -- 7 -- Returned to the starting eleven after his two-match Champions League ban. Quick passing, tremendous tactical discipline. Sure, he did caught out of position a couple of times during the first half, but there is simply no point in denying it any longer: Whatever haters may say, the Catalan Octopus plays an essential role in one of the best club teams the world has ever seen and, at just 24 years of age, his importance to the team can only grow in the future.

Andres Iniesta -- 7 -- Great movement and passing display once again. A clear example: I was particularly impressed with a magical sequence of one-two passes with Cesc during the second half. Pure class. Was unlucky to not put away at least one of the goal-scoring chances he enjoyed.

Xavi Hernandez -- 8 -- Ensured the traditional pass-and-move philosophy was used in order to stretch the rival defense, allowing spaces to be created. The fact the team was leading 0-3 at half-time exemplifies that The Commander's control of pace and flow was spot on once again.

Cesc Fabregas -- 7 -- A continuing effort to unlock the Spartak defense, constantly running into space from deep, building patiently in midfield. Dropped to the wing several times in an attempt to stretch the pitch and found different ways to break in. The way that he combined with Messi, Busquets, Xavi and Iniesta was key to the Blaugrana victory.

Lionel Messi -- 8 -- Man Of The Match When Cules think they have seen it all, the Argentinean wizard comes out with a cheeky smile and continues to get better and better. Scored Barcelona's second with an accurate right-foot shot and the third after dribbling around the goalkeeper following one of his classic diagonal runs. Messi has already scored 80 goals for club and country this year, an incredible record. The fact that he has been involved in 73% of Barcelona's goals in the Champions League this season, with five goals and three assists, also shows his tremendous impact on the overall team performance. Words just escape me -- The best ever!

Pedro -- 7 -- Great effort to run into space and create opportunities for others around him. Assisted Messi for the team's third. Wasted a couple of chances, perhaps due to the anxiety caused by not having scored for Barcelona in 15 games. Disappointing to see him get booked after a clear dive inside the area -- He could have actually scored if he has chosen to stay on his feet instead.

Substitutes:

Alex Song -- 6 -- Substituted Xavi after 81 minutes.

Gerard Deulofeu -- 6 -- Substituted Pedro after 84 minutes. A great reward for the promising youngster, who will certainly appreciate being trusted in the biggest competition in club football. Definitely one to watch for the future.

Martin Montoya -- 6 -- Substituted Alba after 87 minutes.

Coach:

Tito Vilanova -- 7 -- Another match, another victory. I'm certainly not trying to burst anyone's bubble but I'd like to highlight the point that, despite the fact that the team keeps getting positive results, the number of chances that rivals create without actually doing much is a worry which needs to be addressed. Sure, many goals are scored, but titles won't be picked up at the end of the season unless a defensive balance is securely established.

Anyway, let's celebrate the fact that Barcelona has qualified for the next round with one match to spare after scoring 11 goals and displaying mesmerising football once again.

Have your say

What did you think of Barcelona's performance vs. Spartak Moscow?

Who was your Man of the Match? What are your player ratings?

I welcome and appreciate all respectful feedback.

Over 31,000 Cules follow all my posts and comments at @Barcablog_com and Facebook already. Feel free to join if you would like to keep updated.