Can Martin Montoya replace Dani Alves?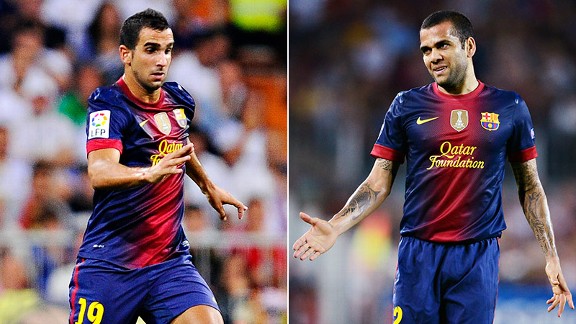 Getty ImagesRight back Martin Montoya, left, has emerged this season for Barcelona giving manager Tito Vilanova an alternative to Dani Alves, right.
Martin Montoya has been in top form so far this season. Having already made seven appearances, the 21-year-old has consistently proven to be a reliable, hard-working full-back who is able to balance attack and defense with ease.

As a youngster who joined La Masia at just eight years of age, Montoya is fully aware of the complicated mechanisms which underpin the Blaugrana formation and what the club means to millions of Cules around the world. His desire, stamina and conscientious work ethic have enabled him to reach the first team, having also collected valuable experience at international level after having been regularly called up by Spain's youth teams in the process.

Despite making his professional debut back in February 2011, the youngster had to wait a further 18 months until he got a real chance to prove his worth more regularly. The Catalan prospect has been repeatedly selected by Tito Vilanova during the recent absence of Dani Alves, sidelined with a thigh injury. Montoya's impact has been so positive that the experienced Brazilian is finding it hard to regain his place in the starting eleven despite having now recovered fitness.

Montoya explained: "I'm really happy. I was hoping to play, but I didn't expect quite so many games. Dani is the best full back in the business, even though he's not at 100% right now. I've got to learn from him I'd love to take over from him one day. We both love attacking football. We are okay as defenders too: We try not to let our opponents settle, but Alves has so much talent! I've still got to improve tactically."

The Brazilian international played a major role in taking Barcelona to the top of world football, constantly zooming down the right flank and terrorizing rivals with his deadly combinations with Lionel Messi, Thierry Henry, Pedro or whoever else he happened to share the wing with. For that, Cules will be forever grateful.

At 29 years of age though, it is definitely the right moment for Vilanova to start reducing his appearances while easing young Montoya into the team. Evolution is a key part of Blaugrana history: Xavi gradually replaced and improved Pep Guardiola's legacy, Sergio Busquets developed while shadowing Yaya Toure and Seydou Keita and Lionel Messi wouldn't be where he is today if it wasn't for Samuel Eto'o and Ronaldinho.

If Montoya is to own Barcelona's right-back position in the future, he needs to ensure he learns from Alves, one of the best to ever play in that position. Luckily for Barcelona, the best man for the mentoring job is training alongside him on a daily basis.

In the meantime, I will definitely enjoy seeing how the experienced Brazilian battles to reconquer his place despite the remarkable effort from the upcoming youngster. From a general perspective, this rivalry between the two players will only increase motivation and whole-team performance, which can only be considered as a major positive.

Spartak Moscow preview

Vilanova explained ahead of the upcoming match at Spartak Moscow: "You can't beat anyone easily in the Champions League. Against Spartak we'll try to win so that we can qualify but if we don't win we still have a game at the Camp Nou. We know coach Unai Emery well and he's always caused us difficulties. He's a manager that always presents a very organized defence and offence. We have a lot of respect for Spartak and I believe that it will be a hard game just like the one at the Camp Nou."

Barcelona have a golden chance to qualify for the knock-out stages of the Champions League. I strongly believe that qualification must be sealed as soon as possible in order to avoid unwanted surprises. A draw at Moscow would ensure the Blaugrana progress into the next round but, given the quality of the squad, the target must be grabbing the victory despite the predictable freezing conditions, and the obvious boost the Russian supporters will surely give their home team.

I would opt for a classic 4-3-3 formation and field: Valdes; Alves, Puyol, Pique, Alba; Busquets, Xavi, Cesc; Iniesta, Messi, Villa.

Have your say

I welcome and appreciate all respectful feedback.

Would you like to share any other important points with us?

Over 31,000 Cules follow all my posts and comments at @Barcablog_com and Facebook already. Feel free to join if you would like to keep updated.