Unstoppable Messi continues hunt for Blaugrana glory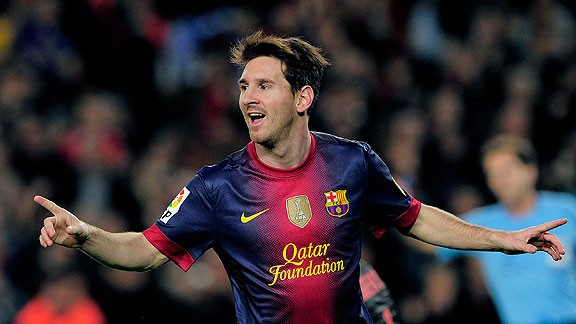 Josep Lago/AFP/Getty ImagesTwo goals and an assist made for another vintage Lionel Messi afternoon.
Barcelona achieved a comfortable 3-1 victory against Zaragoza at the Camp Nou in Matchday 12 of La Liga on Saturday. Lionel Messi (double) and Alex Song scored the goals for the Blaugranas, who enjoyed 63 percent of possession and attempted 8 shots, 3 of which were on target while another hit the post.

The win helps Tito Vilanova's side retain its place at the top of the La Liga table.

Player Ratings (0-10; 10=best)

Victor Valdes, 6: Couldn't do much to save the shot that led to Zaragoza's only goal of the match as his defenders failed to press quickly enough after a corner kick. Fact is that Barcelona has only managed to keep three clean sheets in the league this season. Worrying, to say the least.

Jordi Alba, 8: Zoomed down the left flank continuously during the match, overlapping more advanced players in order to provide extra support. Assisted Messi for the first Blaugrana goal after a confident individual effort. Despite his clear attacking focus, his pace got him out of trouble when tracking back.

Carles Puyol, 7: His long-awaited return sparked the entire team, its mentality instantly boosted thanks to his experience, commitment and charisma. His obvious disappointment once he realized he was being substituted after being away from the team for 45 days with an injured elbow says it all -- namely that his desire to achieve further success despite having already won 19 club titles since his professional debut 14 years ago remains intact.

Gerard Pique, 7: Great to see his partnership with "El Capita" back in the starting eleven. Ensured the defensive line wasn't broken by the Zaragoza attackers and added much needed consistency. Let's hope that pair remain fit and can reestablish their general level of authority.

Martin Montoya, 7: Balanced his defensive responsibilities with overlapping Pedro on the right wing, even managing to assist Messi for his second. His failure to convincingly clear a corner kick lead to Zaragoza's first goal. Despite that error, it was another solid display from a youngster who is ferociously competing with Dani Alves to become the preferred choice at right back.

Alex Song, 8: Scored his first ever Blaugrana goal with a powerful shot after a skilful individual effort by Lionel Messi. The Cameroonian international completed his best Blaugrana performance, well supported by Puyol and Pique from the centre back positions and connecting more comfortably with more creative midfielders as well. Will certainly need more playing time to polish certain aspects, as evidenced by the fact that he failed to push out quick enough to press Montanes for the Zaragoza goal. Great to see how the 19 million euro summer signing is beginning to blossom when trusted in his preferred defensive midfielder position.

Andres Iniesta, 7: Dropped into spaces when on the run and got involved in the build-up in order to keep the pass-and-move game going. Moved freely across the Blaugrana midfield, dropping to the left wing to complete lethal combinations with the speedy Jordi Alba. Unlucky to be denied by the crossbar after a brilliant curled effort.

Xavi Hernandez, 7: The Commander controlled the match from beginning to end, enabling those around him to perform to their best with plenty of mobility, short combinations and wide distribution. A classic display of how to pace a game of football, Barcelona-style.

David Villa, 6: Created spaces for those around him, taking his mark off his defensive position in many occasions with diagonal runs. No goals from him today but yet another positive appearance that contributed to the team's victory.

Lionel Messi, 9: Man Of The Match. Scored the first Barcelona goal, assisted for the second and netted the third. The Argentinean Genius has grabbed 17 goals in just 12 games this season, making for a total of 275 Barcelona goals since his debut nine years ago. The way he makes football look so easy is simply mind-blowing. While I agree that his natural influence in the team overshadows the work of others at times, the truth is that his effectiveness and leadership are reaching new heights in world football. The best ever.

Pedro, 6: Contributed to the team by opening up space around the pitch and recovering control when dispossessed. Unfortunately, he can't find a way to transfer his impressive goalscoring record with Spain to club level. Let's hope for improvement in the future.

Substitutes:

Cristian Tello, 6: Replaced Villa after 60 minutes. A spirited display that showed why the coach continues to include him in the squad rotation. I do feel that he is becoming a bit predictable at times though, as he tends to zoom down the wing, then cut back repeatedly. Part of the learning process, I suppose.

Marc Bartra, 6: Replaced Puyol after 75 minutes. Didn't get into much trouble at the back as the game was already very well-controlled by Barcelona with a quarter of an hour left. More playing time, more experience acquired.

Cesc Fabregas, 6: Replaced Pedro after 77 minutes. Always looked to make an impact by getting involved in the final third. I have a feeling he was largely rested for the upcoming Champions League clash against Spartak Moscow in midweek.

Coach:

Tito Vilanova, 7: Having experimented with far too many back four combinations due to various absences, the Catalan coach would have been pleased to see the success of the Puyol-Pique partnership in central defence. No sign of the dreaded FIFA virus: His relentless Barcelona managed to extend the best-ever La Liga start having claimed 34 out of a possible 36 points so far.

Have your say

What did you think of Barcelona's performance vs. Zaragoza?

Who was your Man of the Match? What are your player ratings?

I welcome and appreciate all respectful feedback.

Over 31,000 Cules follow all my posts and comments at @Barcablog_com and Facebook already. Feel free to join if you would like to keep updated.