Clubs must exterminate the FIFA virus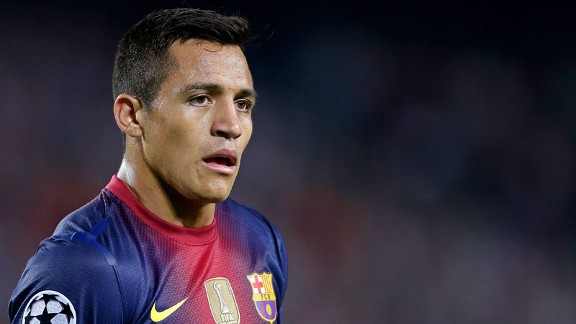 VI Images/Getty ImagesThe international break means Barcelona will be without Alexis Sanchez for an extended period.
All over the world, fourteen Barcelona internationals have played a total of 828 minutes this week in defense of their national colors. Pedro and David Villa scored three goals in Spain's 5-1 victory at Panama, a match in which Vicente Del Bosque preferred Victor Valdes to Iker Casillas in his starting lineup. Unfortunately, I'm afraid that the positive news ends there.

Alexis Sanchez will be out for the next four weeks with an injured ligament in his right foot. Players such as Lionel Messi, Javier Mascherano, Sergio Busquets, Dani Alves and even Marc Bartra were asked to play their matches in full, adding to their already relentless match schedule. In the meantime, Barcelona has been paying their huge salaries and preparing for the upcoming La Liga clash against Zaragoza with less than half the squad.

Whenever there is an international break, the Blaugrana directors start to feel shivers up their spines. Sending the club's best players away into different training and match-day routines after months of carefully supervised, tailor-made sessions is definitely far from ideal.

Sure, players have the right to defend their national teams during official competitions but the amount of times they are required to travel all across the planet to take part in money-making friendlies is far from ideal.

For me, knowing that the core of your team will most definitely lack the required fitness to face your next opponent after an international break is simply unacceptable. The worst thing is that as things currently stand, nothing can be done to change this situation. The manager of any major European team can consider himself lucky to have all his players come back injury-free. Simply ridiculous.

Tito Vilanova explained: "There are no easy games and certainly not with the players coming off the international break. It's important to get our players back. If that happens we can start to make rotations in the team. We need to see how they feel when they get up on Saturday and if there are any vestiges of jet lag."

This problem is obviously not exclusive to Barcelona. Arch-rivals Real Madrid were severely hit by the FIFA virus recently with the Brazilian Marcelo picking up a two-month injury last time round. Despite being a long-life Cule, I honestly take no pleasure in seeing how any rival teams lose their players in this way. As a football lover, I would love to be able to see the best players competing for the clubs that pay their wages whenever required.

FIFA's secretary Jerome Valcke announced earlier this year: "An accident that prevents a player from playing for his club for some time is now covered. This groundbreaking insurance policy could pay out cover up to 7.7 million euros. The ultimate beneficiary is the club that pays the salaries." -- I personally find this new Club Protection Programme to be pretty complex; you may want to learn more about it here.

I am aware that FIFA has also taken some other steps towards making this situation more bearable. After years of continuously applying fierce pressure on football's governing body, Europe's top clubs doubled their compensation when releasing their players for the Euro 2012 championships last summer, getting a total of 100 million euro in return.

While recent decisions are positive and may alleviate the economical repercussions, they don't solve the sporting aspect of the problem. Conversations to change the current international calendar (including the meaningless friendly at the end of August) are ongoing but there really isn't a clear answer for the key questions just yet: How can a player who has spent hours flying across the world perform to their best a couple of days later? Is it really fair for a top club manager to prepare for a competitive match with less than half of his squad?

A victory against Zaragoza in La Liga is essential in order to continue at the top of the table: Let's hope Barcelona can rise above the challenge despite the unforgiving FIFA virus.

Have your say

I welcome and appreciate all respectful feedback.

Would you like to share any other important points with us?

As regular readers have realized, I enjoy engaging in debate using the ESPN conversation gadget. Over 31,000 Cules follow all my posts and comments at @Barcablog_com and Facebook already. Feel free to join if you would like to keep updated.