Can Neymar improve the Barcelona attack?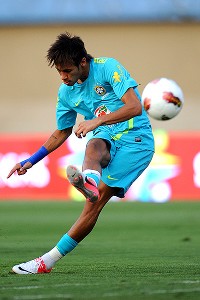 GettyImages / Pedro Ladeira/AFP/GettyImagesIf Neymar came to the Camp Nou, which is looking likely, some Barcelona attackers may be sent packing.
Recent developments indicate that Neymar may be closer to landing at the Camp Nou than most believe. As this document published in the official Barcelona website illustrates, Sandro Rosell has gone one step further and has agreed to "immobilize" a total of 40 million euros so that "the club can fulfill its long-term sporting agreement", having already "paid 10 million euros this season."

Unsurprisingly, both Barcelona and Santos have been quick to deny the evidence, but it really does look like the deal has been made and it is only a matter of time until the Brazilian youngster joins forces with Xavi, Andres Iniesta and record-breaker Lionel Messi in a move that could give Barcelona a major boost in order to remain within the European football elite for many years to come.

Having scored 121 goals in 199 appearances for Santos at just 20 years of age, it is obvious that major names have been eager to share their opinion on a transfer that could potentially upset the balance of world football if the most optimistic predictions eventually come true.

Dani Alves explained: "I hope Neymar comes to Barcelona as he would certainly increase the overall quality of the squad. He would definitely adapt to the Blaugrana philosophy. He is humble enough to accept the help given when things don't work out for him. That means he wants to improve, which is why I recommend him."

Deco also added his opinion on the matter: "For me, there are three players who are above the rest: Neymar, Cristiano Ronaldo and Lionel Messi. Neymar is impressive, he will continue to do what he is currently doing in Brazil in whatever league he chooses to play next."

While it is definitely reassuring to hear these opinions on a player who may very well end up joining the club in the near future, his hypothetical arrival would inevitably lead to an even more limited amount of playing time for the rest of the current attacking players. Lionel Messi is the best player to ever play the game, his ability to break records on a weekly basis is simply unreal and, at 25 years of age, it's obvious that he will continue to be the key man for many years to come. But what about the others?

Here is the current situation of the rest of our attackers:

- David Villa has managed to overcome a broken tibia and score six goals in just 540 minutes of football this season. The veteran striker keeps proving that, while form is temporary, class is permanent.

- Pedro generally increases the overall defensive work-rate of the team but must improve his very poor goal return of one goal in 14 matches. Must improve in that respect in order to secure his place in next year's squad.

- Alexis Sanchez has delivered committed performances but keeps being hugely ineffective in front of goal. After only netting one goal so far, rumors of a transfer elsewhere have begun to arise. Despite reports that an offer from Juventus was recently dismissed, his future remains uncertain.

- Cristian Tello has impressed with his blistering pace whenever he's been given a chance. The youngster has a special flair, he adds a more incisive electricity to the wings. His future looks bright and I am sure that increased playing time would allow him to improve even further.

- Isaac Cuenca is currently recovering from a long-term injury. Will find it very difficult to make his mark when he eventually comes back given the quality of the rest of his teammates.

- Gerard Deulofeu, who already has six Segunda Division goals to his name this season, is patiently waiting for his chance at Barcelona B. The best player in the European Under-19 championships has huge expectations on his shoulders, which is perhaps the reason why Tito Vilanova has refused to call him up regularly with the first team so far.

- Bojan Krkic and Ibrahim Afellay will see their loan periods ended next summer. Would they have improved enough earn a return to the Camp Nou by then? It certainly remains to be seen, but it doesn't look too promising for them at this moment in time.

Much has been written about the need for Barcelona to sign an experienced reference striker as a Plan B. While I am in favor of investing some of the transfer budget on a player who can bring extra height to unbalance matches in the later stages, Tito Vilanova has already clarified that the club will not change its philosophy regardless of how many times the team crashes into defensive walls such as the ones prepared by Celtic or Chelsea in recent times.

In other words: The Blaugranas will only invest in improving their current Plan A -- which is why signing Neymar could certainly be the next step forward. Adding another creative player with such an impressive goalscoring record would give the current formation another dimension, another major threat to worry about.

While the way in which Lionel Messi keeps breaking one record after another is legendary, I would personally prefer a team where the goals are shared more evenly across the four, five main attackers.

Neymar could be the answer to Barcelona's attacking needs in the near future. For now though, I guess we may have to wait and see whether the club can secure the signing of one of the hottest prospects in world football.

Have your say

I welcome and appreciate all respectful feedback and questions.

Would you like to share any other important points with us?

Over 31,000 Cules follow all my posts and comments at @Barcablog_com and Facebook already. Feel free to join if you would like to keep updated.