Records fall as Messi helps Barca beat Mallorca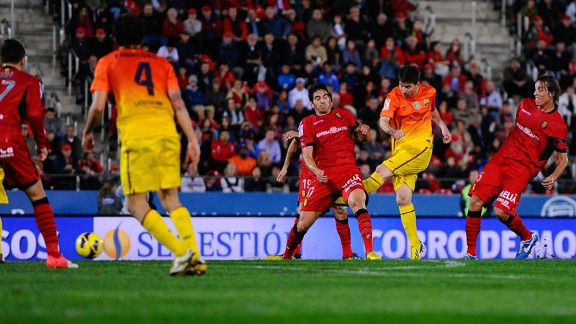 GettyImagesLionel Messi nets the second goal for Barcelona against Mallorca.
Barcelona managed a comfortable win against Mallorca at the Estadio Iberostar on Matchday 11 of La Liga. Xavi, Lionel Messi (double) and Cristian Tello scored the goals for the Blaugranas, who enjoyed 73 percent of possession and attempted 12 shots, five of them on target. This result helps Tito Vilanova's side stay at the top of the table for one more week.

Player Ratings (0-10; 10=best)

Victor Valdes - 6 - Blocked some dangerous crosses and a couple of close shots. Beaten twice by a team who have lost six matches consecutively but, to be fair, was unable to do much to save them.

Dani Alves - 6 - Dropping into attacking positions, as usual. Kept trying to run towards the open space behind the Mallorca defence from the right wing. Completely caught out of position on several occasions though, which ultimately allowed Pereira to score unchallenged.

Javier Mascherano - 6 - Looked much more relaxed and in control, definitely thanks to the return of Pique to the team. While his overall performance improved, he still needs to eradicate sporadic mistakes in order to return to the form he showed during the two previous seasons.

Gerard Pique - 7 - After reappearing against Celtic in midweek, the Catalan Giant was finally back in starting line-up, making an instant impact. The Blaugrana back-line looked much more solid as a result, concentration levels seemed back to the required standard. A string of well-timed tackles and powerful headers added to a remarkable return.

Jordi Alba - 6 - Constantly overlapping on the left flank, determined to provide the team with an open attacking option given the ultra-defensive formation used by the hosts. Continuously focused on creating space for others but able to track back whenever needed.

Sergio Busquets - 5 - Participated in the build-up play eagerly, providing Barcelona with a valuable link between defence and attack. Allowed Mallorca back into the match with a clumsy handball inside the area, that could have been a costly mistake.

Xavi Hernandez - 8 - The Commander was crucial to re-focus the team after they alarmingly switched off during the second half, deflating the momentum Mallorca had gained after scoring twice in the space of three minutes. His opening goal, after a majestic curled freekick, ultimately unbalanced the match in the Blaugranas' favour.

Cesc Fabregas - 7 - His determination to constantly rotate with those around him while alternating different positions definitely confused the Mallorca defenders, who were chasing shadows for the majority of the match. Also made some valuable defensive tackles which ensured the pressure remained in Mallorca's defensive third throughout most of the match.

David Villa - 6 - Failed to create any clear goalscoring chances, but contributed well to the relentless pass-and-move philosophy by offering support and width. His overall performance failed to build on his success in recent matches, but his desire and commitment can't be overlooked.

Lionel Messi - 8 - Man Of The Match - Once again, La Pulga refused to disappoint millions of expecting Cules around the world and helped Barcelona when it was most needed. Netted the team's second with a powerful shot which Aouate should have easily blocked, then went on to produce another delightful strike which gave the Catalans the victory. With 76 goals in a single calendar year, Messi has now beaten the record that Pele established back in 1958. Ballon d'Or winner? Only time will tell.

Cristian Tello - 8 - Used his blistering pace to constantly reach the by-line, giving his marker countless trouble. Grabbed the team's third goal with a superb strike just before half-time. I am convinced that his unrivalled speed will be an even more lethal weapon with time, once he achieves a higher degree of control over his crosses and gains much-needed experience.

Substitutes:

Alexis Sanchez - 7 - Substituted Villa after 65 minutes. Assisted Messi for Barcelona's fourth with a classy chest control. A spirited, positive performance which shows he is giving his all to return to the starting eleven in the near future.

Marc Bartra - 6 - Substituted Mascherano after 83 minutes. Will be disappointed to see how the returning Pique was given the start but must understand that more playing time will come his way if he continues to perform reliably.

Martin Montoya - 6 - Substituted Alba after 86 minutes. The youngster didn't feature for long but contributed well in a very limited space of time. I hope he is given a chance to prove his worth at international level in the mid-week friendly against Panama. Vicente Del Bosque has definitely chosen the right prospect for the future of La Roja.

Coach:

Tito Vilanova - 7 - Fielded a reasonable team which got the job done, managing to rest Andres Iniesta and Pedro at the same time. Must be worried about the fact that Barcelona allowed their opponents back into the game despite leading 0-3 away from home, but extremely pleased to see how Barcelona scored three goals with long shots from outside the area for the first time since March 2010.

Credit must be given to these players and coach, who have taken the club to its best ever start to a La Liga season with 31 out of 33 points won so far.

Blaugrana Reaction

Tito Vilanova: "We played a great game, a great first half, we went 3-0 up. We didn't immediately get into rhythm during the second half and, unfortunately, these days every mistake leads to a goal. The return of Pique is very good news, he didn't make any mistakes at all. Tello played a great game, we know what he can do but he has also improved defensively, he's a more complete player every day."

Gerard Pique: "When you don't play for so long you may always have some doubts, but I felt pretty well during the match. The team went through difficult moments in second half, but controlled over all. It certainly was a great win, taking us to the best start in Liga history after 11 games, 31 from 33 possible points! Not bad at all! Messi has scored another stunning goal, was again crucial, that's why we have him, that's why we enjoy him."

Victor Valdes: "Three more points and we continue as leaders. Now it's time to rest, tomorrow we travel to Panama with the national team."

Have your say: What did you think of Barcelona's performance against Mallorca?

Who was your Man of the Match? What are your player ratings?

I welcome and appreciate all respectful feedback.