Barcelona denied by Celtic wall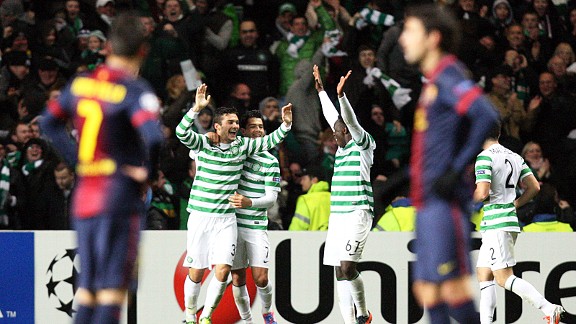 GettyImagesCeltic celebrate Tom Watt's goal as Barcelona wait to get the match restarted
Barcelona lost 2-1 against Celtic at Parkhead on Matchday 4 of the Champions League. Lionel Messi scored the goal for the Blaugranas, who enjoyed 76 percent of possession and attempted 23 shots, seven of them on target and two that hit the post. After this result, Tito Vilanova's side still lead Group G having won nine out of a 12 possible points so far.

- Hoops stun Barca for famous win
- Tyler: One for the ages as Celtic stun Barca
- Blog: 125 year history inspires Celtic to Barca win

Player Ratings (0-10; 10=best)

Victor Valdes - 5 - Couldn't do much to save Wanyama's goal, as he towered above the Barcelona defence far too easily. He was beaten by a confident Watt shot for the second goal. On a slightly more positive note, I liked how his confidence with his back-line increased the moment Gerard Pique came on, as he immediately went back to playing the ball of the floor from the back rather than opting for longer balls to the wings. A sign of better things to come.

Dani Alves - 6 - Kept joining attack constantly, providing the team with an option to continuously widen the right wing. His countless crosses weren't as effective as they could have been, but his attacking desire and effort can't be denied.

Javier Mascherano - 5 - As of late, failed to transmit a sense of security to the rest of the team for a whole game, and failed to handle the pace of Watt in the later stages. He is certainly missing having an experienced central defender by his side, as his weaknesses are being exposed far too often.

Marc Bartra - 5 - The La Masia graduate didn't look as comfortable as in previous matches. A miscommunication with Valdes could have cost the team dearly, but the youngster managed to somehow amend his mistake with a decisive block.

Jordi Alba - 5 - Combined well with Iniesta and the rest of the midfield when joining attack, opening up the pitch with speedy forward runs. An unforgiveable defensive mismatch enabled Wanyama to score with a virtually free header after a Celtic corner, as the Catalan's mark was obviously more powerful in the air.

Alex Song - 3 - Seemed rushed at times, to the point that he could have easily been sent off due to a clumsy challenge after just 18 minutes. Despite playing in his preferred defensive midfield position, he looked uncomfortable and failed to impress as a result. The good news for the team is that Sergio Busquets will be available for selection as his two-match ban is now over.

Andres Iniesta - 6 - Despite his continued attempts to combine with those around him, was unable to find the key to unlock the Celtic defence. El Blanquito looked his best when opting for quick, one-touch football rather than more sluggish, longer possessions.

Xavi Hernandez - 5 - Dictated the pace of the game, organised attacks, constantly looked for options. Not always able to increase the flow to the necessary speed though, making the match feel like a repeat of the away match at Chelsea last season. An unusual mistake when failing to clear a long ball enabled Watt to score the goal that ended up unbalancing the match in Celtic's favour.

Alexis Sanchez - 5 - Unlucky to hit the post with a subtle header during the first half, denied by an inspired Forster several times after that. Only able to beat his marker on a few occasions. Good spirit but ultimately ineffective when facing the Hoops wall.

Lionel Messi - 6 - First Blaugrana to create some danger after the Celtic goal, hitting the crossbar after a quick combination with Iniesta. Attempted a total of six shots, but failed to beat an impressive Forster until the 91st minute, when he finally grabbed a well-deserved goal after a quick play full of quality first-touches.

Pedro - 5 - As happened to most of his team-mates, he struggled to beat the well-organised Hoops defence. Given how both Alves and Alba kept dropping into the wings, I would have loved to see him create clearer chances by dropping into space. Definitely not his best performance.

Substitutes:

David Villa - 5 - Substituted Alexis after 64 minutes but was unable to change the game.

Gerard Pique - 5 - Substituted Bartra after 70 minutes, returning to the team at last. While slotting back into a more defensive position when needed, spent most of his time as a central midfielder who zoomed into the striking position, hoping to use his height to finish at least one of the numerous Barcelona crosses, but it wasn't to be.

Cesc Fabregas - 5 - Substituted Song after 70 minutes. Added an extra brain upfront, but couldn't create as much danger as Cules would have hoped for.

Coach:

Tito Vilanova - 5 - After fielding a reasonable line-up given the numerous absences, tried to change the game with substitutions that didn't end up working too well which shows that, in football, things can go either way. Having said that, it is worrying to see how, despite famously fail to break Chelsea last season, the team finds itself in the same position over five months later: An organised team who gave the ball up and executed speedy counterattacks managed to come out victorious.

This was Barcelona's first away defeat in the Champions League group stage in over six years, but there is no need to panic. A draw against Spartak Moscow will ensure the Blaugranas qualify for the knock-out stages.

Blaugrana Reaction

Tito Vilanova: "I don't like to lose, but if we have to lose, let it be this way. We interpreted the game well, knew what we wanted to do, created many chances, but didn't finish well and their keeper was great. Congratulations to Celtic for the game, and to the Celtic fans for the spectacular role they play."

Andres Iniesta: "A loss, but we stay in the fight for the first spot. Isolated actions caused the game to slip away. Let's keep going, boys!"

Victor Valdes: "Difficult game at a pitch where crowd puts a lot of pressure. We tried until the end, but it wasn't to be. Time to keep working."

Have your say

What did you think of Barcelona's performance vs. Celtic?

Who was your Man of the Match? What are your player ratings?

I welcome and appreciate all respectful feedback.

Over 31,000 Cules follow all my posts and comments at @Barcablog_com and Facebook already. Feel free to join if you would like to keep updated.