Has Tito Vilanova surpassed Pep Guardiola already?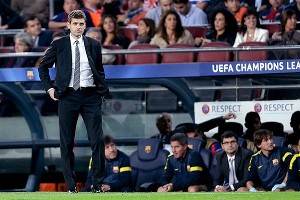 VI Images/Getty ImagesBarcelona has adopted a more direct approach under Tito Vilanova.
Tito Vilanova has led Barcelona to the best ever start in La Liga, winning 28 out of a possible 30 points so far. Considering his remarkable current run, many Cules are beginning to wonder whether Pep Guardiola was highly successful because of his unique coaching methods or immensely lucky to have the best players in the club's history at his disposal.

Great results, different style

It is fair to say that Blaugrana supporters must be pleased with the team's achievements so far, especially if we consider the new manager's lack of experience at professional level. Having said that, the current streak of positive results has been achieved after some very narrow victories where the play didn't feel as attractive as it was during the four previous seasons.

Pep Guardiola can only be considered as a club legend after graduating with honours at La Masia, enjoying an immaculate playing career under Johan Cruyff, then famously returning to lead Barcelona to an unprecedented 14 out of 19 titles in what is, and will probably remain for many years to come, the most successful era since the club was founded back in 1899.

The Catalan mastermind became more than a coach. His romantic pass-and-move approach became a reference in world football, with admiration coming from all four corners of the Earth. The humble way in which Pep related to players, fans and the media brought the club together. It actually came to a point when even the most radical rivals came to generally respect his style and decisions.

But Pep Guardiola became increasingly tired of his job and left, leaving a huge power gap behind. President Rosell didn't hesitate to transfer all the responsibility to Tito Vilanova, the reliable assistant who had been supporting the departing coach for the past four seasons.

Under Tito, Barcelona has adapted a more direct approach. The team has been winning because of insistence and desire, rather than brilliance or beautiful football. Matches are certainly becoming more exciting to watch for neutrals, which is not necessarily a good thing. Ongoing defensive absences have hurt the team dearly so far, to the point that Vilanova has been forced to use numerous back-line combinations. Unfortunately, the days when Alves-Puyol-Pique-Abidal were fit and unbeatable may never return.

Fact: Barcelona have conceded 12 goals in the first 10 Liga games this season, the same as in the first 20 games last season.

For me, the main difference is the protagonist role that Cesc Fabregas has been given. After an irregular debut season where he didn't quite understand what Guardiola wanted from him, the Fab Four has blossomed under the new system. The increased team speed definitely favours his anarchic nature, enabling him to provide those around him with sharp killer passes.

Fact: Only 9.7% of passes are in Barcelona's own defensive third this season, compared to 13% last season.

Who is the better coach?

Pep Guardiola won a tremendous amount of titles with Barcelona and Cules will undeniably be forever grateful. Tito Vilanova hasn't won a single title since he took charge just over 100 days ago, but his achievements in this time have already surpassed his predecessor's.

While I understand that fans and analysts love comparisons, there is simply no way to decide who the better manager is, based on the fact that both seem to have found a way to make their respective teams successful at different times. Guardiola's delightful philosophy was terribly inspiring, but Tito Vilanova was right to change it as it had become far too easy for rivals to defend against.

Last, but definitely not least, I would like to highlight the fact that it is mostly down to the players, not the managers, to win matches. It's a no brainer: A squad that boasts three Ballon d'Or finalists and a huge number of international players is more likely to succeed than others of inferior quality. Having said that, it is also true that it takes a great coach to ensure world-class stars work for the greater good of the team rather than themselves.

Final Word

Barcelona has been relatively successful over the last 20 years thanks to the work started by Johan Cruyff and Josep Lluis Nunez in the late 1980s. Whether the coach is Frank Rijkaard, Pep Guardiola or Tito Vilanova, the truth is that the deeper philosophy remains unchanged.

Remaining faithful to the original model while improving with the times has been and continues to be the key for Barcelona to move forward.

Have your say

I welcome and appreciate all respectful feedback and questions.

Would you like to share any other important points with us?

Over 31,000 Cules follow all my posts and comments at @Barcablog_com and Facebook already. Feel free to join if you would like to keep updated.