Should David Villa start ahead of Alexis Sanchez?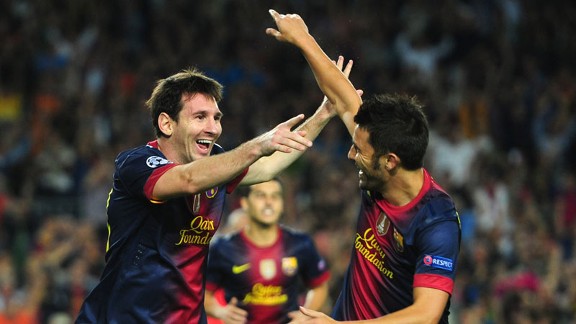 PA PhotosDavid Villa's goals should take the burden off Lionel Messi
After scoring his fifth goal in just 334 minutes of football this season, Cules around the world are joyfully celebrating the return of one of the best strikers in European football history: David Villa.

- Messi dismisses talk of tension with Villa

El Guaje went through an incredibly slow recovery process since breaking his tibia last December. Tito Vilanova was incredibly patient during his absence but the way he has administered his playing time recently was beginning to frustrate fans. I personally couldn't understand why a player who had been training for over three months and was even called up for the Spain national team in the meantime was only used for around ten minutes per game.

Fortunately, and judging by his two consecutive starts against Alaves and Rayo, it seems like the new manager has finally realized that Barcelona need David Villa in order to successfully fulfil the club's high expectations. As I have explained many times before, the main reason why the Blaugranas failed to win La Liga or Champions League last season was the lack of support for Lionel Messi, who ended up as the only player who could actually unbalance games. With the rest of creative players severely fatigued or suffering from long-term injuries, rivals who simply prevented La Pulga from getting into goalscoring positions and counter-attacked with long-balls were able to emerge victorious.

David Villa explained after scoring for his second consecutive game: "I'm pleased, I'm returning to form and that's really good for me, I feel good on the pitch. I'm in the best club in the world and the competition to get playing time is very fierce, we play a lot of games and there are a lot of competitions. I'm at the manager's disposal."

As usually happens in professional football though, the rise of a player has a virtually inevitable knock-on effect. The increased playing time that El Guaje has already began to get seems to be filling Alexis Sanchez with doubts and causing him to worry about his situation in the team.

The €38.5 million signing landed at the Camp Nou as Pep Guardiola was a firm admirer of his direct approach, confident dribbling and relentless defensive work-rate while at Udinese. Despite a disappointing first year, when continued injuries stopped him from showing his undeniable potential, Tito Vilanova has already given Alexis nine starts and a total of twelve appearances in an obvious attempt to allow the Chilean forward to prove himself.

Unfortunately, Alexis Sanchez only has one goal and two assists to his name so far. However harsh this may sound, I honestly find myself feeling that the team as a whole would improve if players such as Cristian Tello or Villa had been chosen instead. As a life-long Cule though, I have learnt that some forwards must to hit rock bottom before they begin to shine. I truly believe that Alexis Sanchez will be no different. His work-rate and quality is such that goals should come in the near future.

On a side note, I'd also like to highlight the fact that Tito Vilanova has already managed to raise the impact of Cesc Fabregas and Pedro on the team to the point that they are both becoming key players when creating and, perhaps even more importantly, finishing chances. Their recent form has made Barcelona much more electric, exciting to watch and unpredictable than last season.

Final Word

A team of the calibre of Barcelona can simply not depend on one player, regardless of his quality and status as the world's best. Considering the way in which three-times (should be four soon) Ballon d'Or winner Lionel Messi is able to not only score over 50 goals per season but also assist team-mates around him, Cules are right to expect at least 20 goals from every other regular Barcelona forward.

It is now down to Vilanova to decide who deserves to start, always ensuring the best players are chosen for every particular match. If Pedro and Cesc keep their current level, Villa continues to enjoy enough playing time and Alexis is able to rediscover his former confidence, Barcelona should be considered a major candidate to challenge for every single competition this year.

As for Lionel Messi: May the Argentinean genius continue to delight true football fans around the world with his magic for many centuries to come.

Have your say

I welcome and appreciate all respectful feedback and questions.

Would you like to share any other important points with us?

Over 31,000 Cules follow all my posts and comments at @Barcablog_com and Facebook already. Feel free to join if you would like to keep updated.