The Copa champions start with a bang at Alaves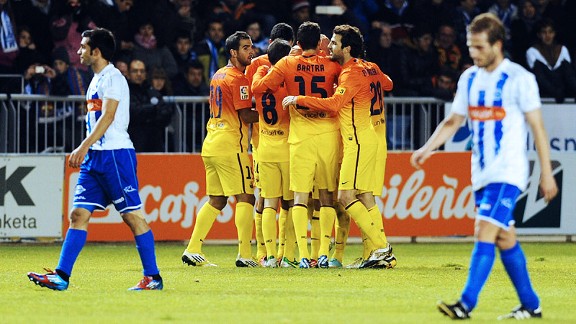 Rafa Rivas/AFP/Getty ImagesBarca showed respect vs. Alaves yet still strolled to victory.
Barcelona managed a convincing 0-3 win against Alaves at the Estadio Mendizorroza in the away leg of the Copa Del Rey, final 32. David Villa, Andres Iniesta and Cesc Fabregas scored the goals for the Blaugrana, who enjoyed 64 percent of possession and attempted 20 shots, nine of them on target.

Player Ratings (0-10; 10=best)

Pinto, 6: A rather eventless night for Barcelona's reserve keeper. Performed well in the rare occasions when he was involved.

Dani Alves, 7: Pushed forward continuously, combining well with the midfielders and constantly overlapping Alexis. One of his brilliant crosses created Barcelona's third goal. This much-improved performance will help the Brazilian in his competition with Montoya for a starting spot as the Catalan youngster has been outstanding during his absence. Good to have him back, too: Alves brings an extra offensive edge when in top form.

Javier Mascherano, 6: Solid display, never unsettled by the Alaves forwards. His partnership with Bartra looked particularly reliable. May the positive defensive feeling continue for many games to come.

Marc Bartra, 7: Showed his potential with yet another first team appearance in central defense. Quick reactions and a solid display. I love how he tried to build from the back, preferring short passes to long balls. I hope Tito continues to trust him in upcoming matches as the 21-year-old has been outstanding so far when given a chance to prove his worth.

Martin Montoya, 6: Another professional display by the improving defender, playing as left back given the return of Dani Alves. Eager but controlled when joining attack and quick to come back if needed.

Sergio Busquets, 6: Helped Barcelona keep the order and composure to the midfield in Xavi's absence. Ready to stop potential counterattacks before they actually happened. As usual, proved why his Ballon d'Or nomination is fully deserved with yet another convincing performance.

Cesc Fabregas, 6: Wasn't as effective as he has been of late but still managed to make his presence felt in midfield: he constantly made himself available and sped the game up at times with his anarchic ability. A well-timed recovery enabled Iniesta's goal before he scored the third with an easy header after a brilliant run.

Sergi Roberto, 7: Continuously running from deep into the false striker position, the youngster complemented Busquets, Cesc and Iniesta well with efficient, quick combinations in Alaves' defensive third. I liked his confident but humble attitude; let's hope Cules can see more of him sooner rather than later.

David Villa, 7: Man Of The Match. Say Villa, say goal: El Guaje scored once again, his fifth this season adding to his tremendous goalscoring record in very limited playing time. Also assisted Iniesta for Barcelona's second. I enjoyed seeing him drop into space, normally between the left and central defenders, and constantly fighting against the offside rule. If Barcelona are to be successful this season, there is simply no question that Villa's goals will have an important part to play.

Alexis Sanchez, 7: Perhaps motivated by being dropped from the starting lineup in the Rayo vs. Barcelona match, Alexis showed an increased desire to run into goalscoring positions and added a much more incisive edge to his game. Let's hope Alexis keeps improving and starts scoring goals more regularly, as I am sure the Barcelona team would benefit as soon as he shows the Camp Nou what he is truly capable of.

Andres Iniesta, 6: Controlled the midfield pace well, taking the overall responsibility from the absent Xavi. While I felt the ball could have flowed slightly quicker at times, El Blanquito still managed to assist Villa and score a classy goal which ultimately unbalanced the game.

Substitutes:

Alex Song, 6: Substituted Busquets after 55 minutes and contributed to creation in with quick passes and some effective tackles.

Cristian Tello, 6: Substituted Villa after 70 minutes. Added an extra, much more speedy attacking option that widened the pitch.

Jonathan Dos Santos, 6: Substituted Iniesta after 74 minutes. Slotted into midfield well.

Coach:

Tito Vilanova, 7: Showed Alaves considerable respect and decided to field a team full of first team players, adding just Sergi Roberto from Barcelona B. The coach must be pleased with the team's obvious defensive improvement (visible despite facing an inferior Segunda Division B team) and overall team composure. I look forward to seeing upcoming youngsters such as Sergi Roberto, Gerard Deulofeu and hopefully Alex Grimaldo being given some well-deserved playing time in the return match.

Blaugrana Reaction

Tito Vilanova: "These players have won it all, they come here and they put in a great performance against a team that plays in Segunda División B. It's worth taking notice of the effort they put in. It's up to us to do the same thing we did here in the return leg, we have to take the match seriously."

David Villa: "I'm pleased, I'm returning to form and that's really good for me, I feel good on the pitch. I'm in the best club in the world and the competition to get playing time is very fierce, we play a lot of games and there are a lot of competitions. I'm at the manager's disposition."

Marc Bartra: "We moved the ball around well and we worked hard to score, I'm pleased because we managed to not concede any goals. When you work hard you get playing time and you need to take advantage of the time you're given so you can keep on playing"

Pinto: "I'd like to take it one step at a time and I want the manager to send out the team that he thinks is the best, I'm ready for anything he needs me for. Bartra, is getting better little by little, he's comfortable on the pitch and I thought he played a good match. I still need to get to know him better, but he has a lot to give to this team."

Have your say

What did you think of Barcelona's performance vs. Alaves?

Who was your Man of the Match? What are your player ratings?

I welcome and appreciate all respectful feedback.

Over 31,000 Cules follow all my posts and comments at @Barcablog_com and Facebook already. Feel free to join if you would like to keep updated.