Marc Bartra: Fresh La Masia blood for the Blaugrana defence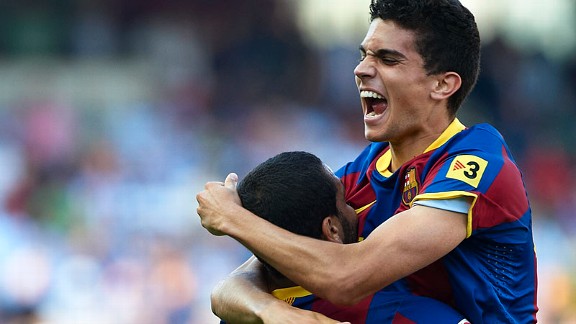 EmpicsMarc Bartra: Injuries have handed the youngster a big chance at Barcelona
After years of preparing at La Masia for a golden opportunity, Marc Bartra performed to a remarkable level in his first chance to prove his worth this season. Cules had been eagerly awaiting the arrival of fresh blood to a particularly weak defensive line and, judging by his confident display against Celtic in the Champions League in midweek, it is fair to say that the Camp Nou may have found a great new prospect to cheer on for years to come.

The promising youngster explained after his impressive performance: "I am very happy, it is one of my happiest days since I joined Barcelona, every player who has grown up here hopes to be able to play in games like that. It's just like a dream; this is the team in my heart. I felt fine on the pitch, I really enjoyed it. I think that I am physically in very good shape and that also helps."

Considering the ongoing injury worries, we can argue that Marc Bartra is exactly what Barcelona needed right now. The decision to not sign an expensive but experienced centre-back during the summer transfer window, added to the continuous or long-term injuries suffered by each and every one of Barca's ideal back four (Dani Alves, Carles Puyol, Gerard Pique and Eric Abidal) seriously damaged the team's defensive power. After using new-signing Alex Song out of position for a few games, the coach finally realised that, if he wanted a long-term solution, he needed to look elsewhere.

Giving Marc Bartra a chance was a brave but obvious decision given the circumstances, as Tito Vilanova shared with the media: "Marc is very quick and good in the air so I knew he could help us. I know I've been asked a lot about him lately but if he is here it is because that's what I've decided. We could have signed a centre-back but we didn't, and that was my decision."

Since joining La Masia back in 2002, the defender has always excelled when progressing through the youth ranks, as shows the fact that he has been regularly selected for the Spanish national team from a very early age. Having said that, fans need to be patient and avoid comparing him to legendary Blaugrana defenders such as Carles Puyol as, quite frankly, his journey has only just begun. Despite the obvious excitement for a possible bright future, it is simply far too early to start piling up the pressure on the 21-year-old.

Success at professional level, especially at Barcelona, depends not only on talent but also on a wide range of factors such as self-belief, confidence from your coach and, perhaps even more importantly, being in the right place at the right time - which is now.

I would also like to highlight the fact that, independently of how well Marc Bartra performs in the near future, I would still encourage Sandro Rosell to invest as much of our transfer budget is needed in order to reinforce the defensive line. Let's be honest here: Players such as Eric Abidal or Carles Puyol have enabled Barcelona to enjoy the most successful era in the club's history but, at 33 and 34 years of age and having been sidelined for many months due to a variety of reasons, it is time to start thinking about replacing them with at least one world-class defender who can perform to a similarly high standard. Such a move would also benefit young Bartra, who would have yet another great model to learn from as he continues his progression.

I am extremely excited to see how Marc Bartra can improve the defensive line in upcoming games and wish him all the best for the future. I hope that Tito Vilanova continues to trust the Catalan defender in order to build his confidence by giving him enough playing time so that, ultimately, he can challenge the more established players for a starting spot once everyone is back.

Have your say

I welcome and appreciate all respectful feedback.

Would you like to share any other important points with us?

As regular readers have realised, I enjoy engaging in debate using the ESPN conversation gadget. Over 31,000 Cules follow all my posts and comments at @Barcablog_com and Facebook already. Feel free to join if you would like to keep updated.