Jordi Alba: Better late than never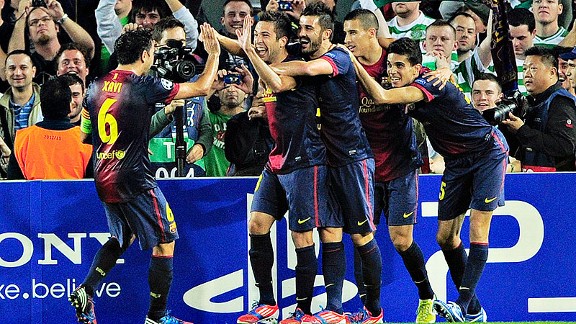 Josep Lago/AFP/Getty ImagesBarcelona are making a habit of conceding first but still finding a way to win.
Barcelona managed a dramatic late 2-1 win against Celtic Glasgow at the Camp Nou in Matchday 3 of the Champions League. Andres Iniesta and Jordi Alba scored the goals for the Blaugranas, who enjoyed 76 percent of possession and attempted a massive 25 shots, 10 of them on target and one to the post. This result helps Tito Vilanova's side stay at the top of Group G with 9 out of 9 possible points won so far.

Another goal received from a set piece

I am getting increasingly tired of writing about the same issue game after game, but it cannot be overlooked. As it has happened many times recently, Barcelona were unable to defend set pieces and conceded miserably as a result. It really feels as if any decent tall striker is capable of causing the Blaugrana defense constant problems these days. Not good enough, a solution must be urgently found.

Fact: After just 13 matches, this was the 7th time Barcelona have conceded the first goal this season.

No way through the Celtic defense

Following the early goal, Celtic adopted an even more defensive approach and rarely got out of their own final third.

Based on previous experience, Cules now know that controlling possession doesn't necessarily mean much at European level. The pass-and-move principle lacked an extra gear at times, that added spark of magic which combines desire, perseverance and runs into space. The Blaugranas continuously applied pressure and tried to widen the pitch as much as possible, especially from the left via Alexis Sanchez, Iniesta and Alba, but it simply wasn't working.

Interestingly enough, I felt as if the team had gone back to end of last season, when Pep Guardiola's style struggled to break rival defences that literally parked the bus and hoped for an isolated set-piece or quick counterattack after a long clearance. I strongly believe the recent, more direct approach would have been more useful.

Better late than never

Despite numerous attempts on goal, Barcelona were constantly hitting their heads against the wall. To be fair, though, Celtic defended courageously, always kept their shape, managed to narrow spaces and very rarely got dragged out of position.

As usual, though, Barcelona kept faithful to the attacking philosophy until the final whistle and, once again, sealed the victory in the late stages of the match. Although some may argue this is just due to luck or other simplistic theories, the truth is that rivals find it extremely difficult to keep such concentration levels for the whole game, as fatigue is likely to eventually take its toll.

Fact: Barcelona have scored 73% of winning goals after the 74th minute this season.

Player Ratings (0-10; 10=best)

Victor Valdes – 6 – Decent performance, starting the Barcelona play from the back. Couldn't really do much to save Celtic's goal, as it came from an unavoidable deflection.

Adriano – 6 – Played in his preferred full-back position, joined attack freely as he didn't normally have anyone to mark. His brilliant cross enabled Jordi Alba to score the winner.

Marc Bartra – 7 – At last, was selected to play his first match of the season and, despite the expectations on his shoulders considering the current defensive situation, performed confidently and to a high standard. Could have even scored a couple of times after dropping into advanced positions. Let's hope he is trusted more often!

Javier Mascherano – 5 – Didn't always look comfortable, especially when defending set pieces. Desperately unlucky to have deflected Celtic's first goal into his own net, his second own-goal of the season.

Jordi Alba – 7 – Man Of The Match - Constantly overlapping his left winger, creating 2-on-1 situations, always looking for that deadly cross in. Scored the valuable 94th minute winner with a sneaky touch after a great cross from Adriano. Great spirit, never gave up.

Alex Song – 6 – Solid and well-positioned, supported the more creative midfielders by covering their backs and participating in quick triangular combinations well.

Andres Iniesta – 7 – The creative playmaker kept the game going and persevered in order to find openings. Scored after a sublime combination with Messi and Xavi, a wonderful effort.

Xavi Hernandez – 6 – Organised the Barcelona offense with his usual analytical style and was determined to ensure the ball kept flowing despite the obvious difficulties.

Alexis Sanchez – 5 – Courageous display but, ultimately, unable to beat his marker or put himself into goalscoring positions.

Lionel Messi – 7 – Tried to combine with midfielders, run into the striking position from deep, collecting from the wing and even staying as a more classic striker during different phases of the game but, unfortunately, was unable to score today as he was denied by Forster in more than one occasion. Great effort and desire, as usual, which encouraged those around him.

Pedro – 6 – Widened the pitch, offering another attacking option from the right wing.

Substitutes:

Cristian Tello – 6 – Substituted Pedro after 75 minutes, adding some fresher pace and giving the Celtic defense another dangerous forward to worry about.

David Villa – 6 – Substituted Alexis after 79 minutes. Initially took the central striker role, allowing Messi to drop deeper into midfield in search for space, then dropped towards the wings. His highly-mobile nature confused the rival defense. Hit the post in the 90th minute in what was his only clear chance.

Coach:

Tito Vilanova – 6 – Left on-form Cesc Fabregas out of the lineup. I must admit I missed the anarchic touch that the Catalan midfielder has brought to the team in recent times. I also felt the substitutions came a bit too late but ultimately changed the game for the better.

Fact: With this victory, Tito becomes only the second coach in Barcelona history to win his first three Champions League games – after Carles Rexach back in 2001.

Have your say

What did you think of Barcelona's performance vs. Celtic Glasgow?

Who was your Man of the Match? What are your player ratings?

I welcome and appreciate all respectful feedback.

Over 31,000 Cules follow all my posts and comments at @Barcablog_com and Facebook already. Feel free to join if you would like to keep updated.