Blaming Victor Valdes won't solve a deeper problem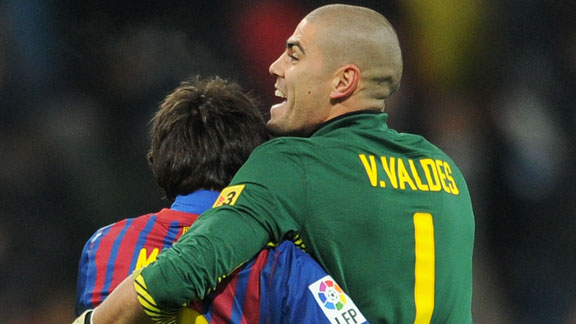 GettyImagesVictor Valdes is one of the best around
Victor Valdes has been defending the Barcelona goal since his debut against Legia Warsaw back in 2002, making a record 546 appearances and winning 19 titles in the process. During this time, La Pantera has won the prestigious Zamora trophy (awarded to the goalkeeper with the best goals-to-games ratio) a remarkable five times despite competing with the highly-regarded Iker Casillas for such recognition.

Considering all of the above, Valdes' position as a world-class goalkeeper throughout his career as a whole is not in question. Whether we like it or not though, modern football is about the here and now; whatever a player may have achieved in the past counts for nothing.

Many Cules expressed a considerably different view on the Blaugrana keeper after his below-par performance at the Riazor against Deportivo on Saturday. Like most of our readers, I agree Victor Valdes could and should have done better in at least two of those goals and, unfortunately for the team, this was not the first time that a match was unbalanced after goalkeeping blunders this season.

However, the fact that Barcelona hadn't conceded this many goals since the 4-3 defeat at Atletico Madrid back in 2009 indicates that the blame can simply not be placed on one player's shoulders. Every single player on that Gallego pitch contributed to scoring those five goals but, at the same time, was responsible for the team conceding four. Football is a team game: We win together, we lose together.

Since Tito Vilanova took over as manager, I have observed a shift towards a more direct approach, a relentless evolution of the previous model which is very similar to the original Johan Cruyff model in the 1990s. While I will forever be a firm admirer of the pass-and-move style under Pep Guardiola, the cruel truth is that most rivals studied that carefully crafted system in such depth that it became less and less effective as years went by. It was clear that Barcelona had reached the dreaded evolve or die point.

Fully aware of the challenge ahead, Vilanova faced the task in hand with bravery and self-belief despite his lack of managerial experience. I was obviously expecting a difficult transition but losing all of our first-choice defenders within just two months of starting the competition was, to be fair, pretty impossible to foresee. The fact that Barcelona were unable to sign an experienced, top-class central defender isn't helping either. Alex Song is fully committed to learn but constantly playing him out of position is a temporary patch rather than a long-term solution. Meanwhile, Under-21 international and pure central defender Marc Bartra keeps waiting for his chance while watching most matches from the bench.

But the issue here is even deeper, in my opinion. More direct play means more scattered possession, many more risks taken in the final third of the pitch. Every unfinished play upfront allows rivals to build quick counter-attacks with just a couple of long-balls and, given the disappointing defensive vulnerability, quick runners find themselves facing Victor Valdes far too often, far too easily.

The problem can be solved

There's no need to panic though: Tito Vilanova is a clever guy and I'm fully confident he can turn the situation around by focusing on three key areas during training and team talks:

1. Ensure the team defends as a whole. Pep Guardiola's Barcelona became successful thanks to a mesmerising, tantalising attack but, perhaps even more importantly, because of the now famous six second rule. The coach demanded that ball possession was recovered after a ridiculously short period of time, which ensured the Blaugrana team remained compact and in control, stopping rival transitions before they even started. Tito is a new coach, but the players are virtually the same and should therefore be able to go back to defending in that same manner - intensity must return as a matter of urgency.

2. The more experienced defenders will recover soon. Gerard Pique is virtually ready to come back. Carles Puyol is not far off. Dani Alves will improve, as I doubt he can get much worse given his quality and experience. I even believe Eric Abidal will complete a miraculous recovery and return to the pitch in the near future. Javier Mascherano will look more comfortable next to an experienced center-back rather than leading the defensive line himself. Alex Song will learn as his commitment and skill is beyond question. Marc Bartra will be given a chance and, as Martin Montoya has already began to do, will prove his worth.

3. Victor Valdes is capable of bouncing back. La Pantera is one of those players who can be brilliant or terrible depending on his frame of mind. The Barcelona coach and captains must take care of him during this difficult time and ensure his confidence comes back sooner rather than later. The player himself must do some thinking and accept that goalkeeping at such a high-profile club brings unlimited praise and severe criticism in equal measure. The key is finding the happy middle and move forward believing in your unquestionable abilities rather than listening to transfer talk in the media.

Final Word

Barcelona has a tendency of self-destructing at times. Judging by the Catalan media's focus on our defensive vulnerability one may think that the club is firmly stuck in the relegation battle. Reality shows different: The Blaugranas are leading La Liga after eight matches and have a comfortable eight point advantage over main rivals Real Madrid despite the continuous absence of key players.

Sure, the overall team performance and some individuals aren't always brilliant but, seriously, I am convinced that the situation can be fixed with the key adjustments highlighted above.

This is a time to trust the Barcelona players and coach – Let's do just that.

Have your say

I welcome and appreciate all respectful feedback.

Would you like to share any other important points with us?

As regular readers have realised, I enjoy engaging in debate using the ESPN conversation gadget. Over 31,000 Cules follow all my posts and comments at @Barcablog_com and Facebook already. Feel free to join if you would like to keep updated.