Andres Iniesta feels Catalan. So what?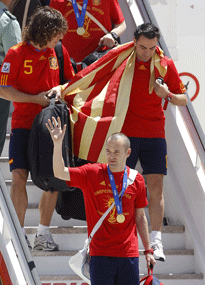 PA PhotosThere is nothing wrong with Barcelona players stating their affection for Catalunya
Andres Iniesta, the hero who led Spain to World Cup glory for the first time in history a couple of years ago, is facing severe criticism from conveniently forgetful fans for simply sharing his feelings about living in Catalunya.

The 2012 UEFA Best Player explained: "I was born in La Mancha but I've lived in Catalunya for a longer time and I love it here. I've now spent more time in Barcelona than in Albacete and I feel Catalan as well as Spanish. I understand why people protested in favor of Catalan independence in the Camp Nou. They were expressions of freedom. Everyone has the right to express their feelings freely."

Since El Blanquito Blaugrana landed at La Masia at just 12 years of age, he has conducted himself in a highly-professional manner, always being respectful on and off the pitch. His focus has always been on improving his own technique rather than self-promoting in front of the eyes of the media or boasting about his remarkable achievements. His quiet but friendly approach has earned him respect from team-mates and opponents around the world.

Despite his 28 years of age, Andres Iniesta has already lifted 19 titles for Barcelona and a remarkable five with Spain (Under-17 and Under-19 European Championships, 2008 and 2012 senior European Championships, plus the unforgettable World Cup in 2010). Doubting his commitment to La Roja after 76 international appearances and such undeniable success is absurd, to say the least.

Fact: Perhaps unknown to most, the truth is that Andres Iniesta alternated his appearances with Spain and Catalunya as a youngster, as this photo next to his inseparable friend Victor Valdes shows.

A talented kid moved out of his hometown in search for his dreams, grabbing the chance of a lifetime with both hands. Despite the difficulties, he succeeded, proved his worth and, after many years in his adopted city, has gone on to understand, respect and appreciate the local culture.

I can simply not understand how anyone could have a problem with that.

On a related note, I admire that the Camp Nou fans managed to celebrate their heritage and express their desire for Catalan independence in a civilised way during the recent clash against Real Madrid. For me, the most impressive factor was how Cules only got distracted from football for a couple of minutes during the match but ensured their focus came back to supporting the team once their passionate point was made.

Xavi Hernandez recently explained: "Cules gave us a lesson of democracy during El Clasico. People have the right to show their feelings and what they want for their future. Seeing that massive senyera around the Camp Nou made my hairs stand on end. We are Barcelona, we represent Catalunya and we support what Catalans want."

On a personal note, I am against mixing football and politics and, to be honest, don't have a strong view on whether Catalunya should remain as a Spanish region or not. As long as we continue to play in La Liga (which Sandro Rosell has already confirmed), I would be happy with whatever outcome. Having said that, it's obvious that there have been many occasions in history when Catalans have disagreed with the way Spain has dealt with difficult issues, which is one of the main reasons why the long-lasting Barcelona vs Real Madrid sporting rivalry has been so ferocious over the years.

While I am unsure about what may end up happening (if anything) in regards to Catalunya's wish for independence, I strongly believe that people have the right to express whichever opinion they may have in the matter as long as they do so in a non-violent manner.

Have your say

I welcome and appreciate all respectful feedback.

Would you like to share any other important points with us?

As regular readers have realized I enjoy engaging in debate using the ESPN conversation gadget. Over 31,000 Cules follow all my posts and comments at @Barcablog_com and Facebook already. Feel free to join if you would like to keep updated.